Wedding Reunion with the Best Man by Donna Alward: Arabella Pemberton, called Bella by family and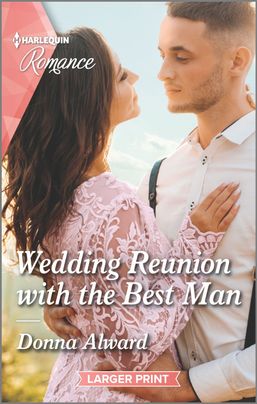 friends, has been a huge success in her family's business. She has always stayed in the background of Aurora, Inc. A horrible accident seventeen years ago left her scarred both physically and emotionally. When she comes in contact with Burke Phillips at a wedding, the past comes rushing back. Burke was in the car that horrible night that left the driver dead. Burke went into medicine as a sort of penance for his guilt about what happened. He never knew how badly injured Bellas was since his injuries were minor and he moved on.
Bella had a huge crush on Burke when she was a teenager. When she encounters the handsome, adult Burke at the wedding festivities , she tries to act aloof. but the old feelings resurface. Will the two of them become close over their shared past or will it only serve to drive them apart again?
The author develops the two main characters fully. We see how their secrets and hurts have shaped their lives in the past thirteen years. Both have thrown themselves completely into their respective careers, leaving no time for relationships. Burke seems to avoid serious relationships with women at all costs. He is kind and loving with Bella accepting her scars and tells her she is beautiful. We all need that type unconditional love. At the same time you want to reach through the book and shake him because he can't move on and only seems to hurt Bella again.
Bella grows during the novel and has to learn to accept herself and not hide. Bella's journey is a lesson in the fact that we can't truly love someone else until we love ourselves. I really enjoyed Bella's loving care of her mother, Aurora. Bella was willing to step up and take risks. The character of Charlotte was charming and she added extra depth to the plot.
I love how Donna Alward incorporates beautiful locations and yummy cuisine into the story line. The French phrases included show that I still remember a few words from my long ago high school French classes. All these details lend a very authentic feel.
I have previously read and reviewed the second novel in the Heirs to An Empire. Both work very well as stand alones. Of course, the reader will want to read all three in this tasty trilogy.
Book Info:

Publication: May 25, 2021 | Harlequin Romance | Heirs to an Empire #3
A family wedding…
…An unexpected reunion
Twelve years ago Arabella Pemberton and Burke Phillips were in a life-changing car accident. Though Burke escaped with surface wounds, successful businesswoman Bella still carries the physical and emotional scars of that night. When they're reunited at a wedding in Italy, old feelings reignite, and Bella realizes that Burke is the one person she can truly share herself with, the one person who can show her what she's been missing…
An Heirs to an Empire novel