Weekend with the Best Man by Leah Martyn: Whenever a door shuts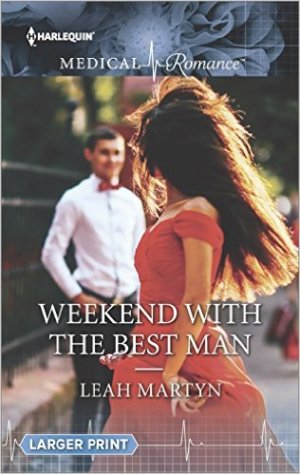 a window opens, right?
Lindsey Stewart new she was good at her job. By the books, but a nurse couldn't really be anything other than that. So when Dr. Dan Rossi looks like he might be affecting her world it's up to her to bring it to his attention, right? The only problem is she isn't really sure what else she is bringing to his attention.
Dr. Dan Rossi isn't sure where he is in his life. He seems to be stuck, and not in a great place, ever since the incident. The life altering insanity, what is he supposed to do? When the attractive and wonderful head nurse comes to him he knows he has to do something.
The world is turning on it's axis but what these two are wondering is, will it ever right itself?
This is a hard read. Not difficult other than in it's length. There are wonderful characters and underneath all of it a good plot line. However it is a laborious read. This is not a quick and fast paced story, but if you want a slower paced lengthy HEA this might be the read for you.

Book Info:

Publication: December 20th 2016 | Harlequin Medical |
Best man to daddy!
Nurse Lindsey Stewart knows that dancing with new, enigmatic Casualty doctor Dante Rossi is asking for troublebut when he takes her hand at a wedding she's powerless to resist. As their night turns into a weekend she learns there's more to this charming best man than meets the eye.
After returning to work, neither can escape their undeniable chemistryeven when trying to remain professional! Until Lindsey discovers she's pregnant, and realizes she might hold the key to healing Dante's damaged heart