A Thankful Heart (Love at the Chocolate Shop #2) by Melissa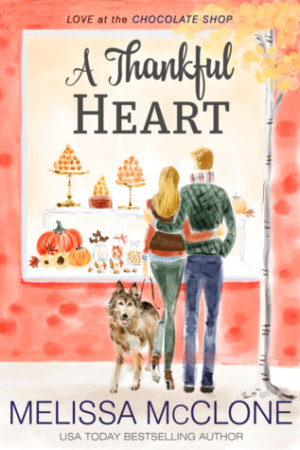 McClone is a book about family, a book about finding love, a book about trusting in your own heart. I mean come on, who does not love a beautiful HEA set in the Mountains of Montana, involves Chocolate, and has amazingly funny pets, including a pet rat. This is the beautiful HEA of Bryce and Dakota.
Bryce Grayson rushed to Marietta, Montana to help his father after an accident that left him with 2 broken legs. Feeling guilty for not taking more time to spend with his dad, and with his mother, before she passed away, he is determined to not make that mistake again. He is in Montana until Thanksgiving, and he has about a month to convince his father to pack up and move to Seattle to be closer to him. What Bryce does not count on it being conned by his father into helping with his volunteer work at Whisker and Paw Pals Animal Shelter, or his father playing matchmaker with the pretty little assistant at the shelter, Dakota.
Dakota Parker loves her life. She works at the famous Copper Mountain Chocolate Shop and volunteers at Whisker and Paw Pals, she has her own home, thanks to her Great Aunt, who could ask for anything more. But when there is a water break in the shelter, and Dakota is asked to find forever homes for the shelter animals by Thanksgiving, she is going to need help. To her shock and surprise, the handsome Bryce rides to her rescue.
But as these two spend more and more time together, share some sweet kisses, and stolen moments, Thanksgiving is closing in on them. Bryce will need to make a decision, can he leave big city life and truly be happy in Marietta with his dad and Dakota, or is it just another holiday wish.
What I loved about Dakota and Bryce is that they are both slightly damaged. Dakota has a learning disability that she hides from the world, and she feels like a failure compared to her successful brother and sister. Bryce carries around guilt that he did not come home more, spend more time with his mom and dad before it was too late. His fear of losing his dad, of not being there for him, causes Bryce to say and do some cruel things to Dakota. When he realizes what he has done, what he stands to lose, he will pull out all the stops to make it right and keep her in his life.
The HEA for these too is a sweet a any holiday dessert with a side of hot cocoa. The animals added humor and lightheartedness to this amazing Thanksgiving story.

Book Info:

Published November 3rd 2016 | Tule Publishing | Love at the Chocolate Shop #2
Chocolate is better than men, and so are dogs. At least, that's what Dakota Parker tells herself as she mends her broken heart and finds forever homes for rescue animals. So far, so good. She can indulge her love of chocolate where she works while her foster dogs provide her with the unconditional love she craves. What more does she need?
Seattle architect Bryce Grayson is counting the days until he can return home to the big city with his father in tow. That is if he can convince his dad to leave Montana. Bryce's escape plan, however, goes astray when he meets Dakota. Her sweet kisses put the chocolate she sells to shame. Maybe he should be the one to move to Marietta, but could he be happy living in such a small town?
He has until Thanksgiving to decide.