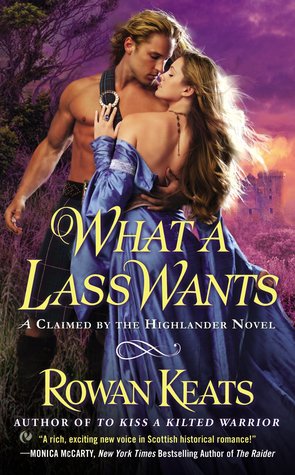 In What a Lass Wants (Claimed by the Highlander #4) by Rowan Keats, Caitrina de Montfort has been put in a precarious position by the King of England of all people. In exchange for her sister Marsailli's safety, Caitrina is to spy on the Queen of Scotland, for whom she is currently a lady-in-waiting. It goes against everything to do so, but she's given no other alternative. But when she figures out that rugged Bran MacLean has infiltrated the Queen's retinue, Caitrina strikes a deal with the Highlander to rescue her sister. Although it is more likely she'll have to save her heart in the days to come.
"I am not a traitor."
"Did I call you that?" He shook his head. "You are simply trying to save your sister."
"It does not matter what you think," she said hotly. She pointed down the hall at the closed doors of the queen's chamber. "It matters what they think."
Bran sighed. "Traitor, thief, liar…they're all just words. Labels do not define us; our actions do."
Bran MacLean may be a thief, and he may have assumed a new role in the Queen's entourage on the sly, but he'd like to think he has some morals about him. This is put to the test when Caitrina gives him an ultimatum after having found out the truth about him, and where he hid a stolen treasure. With a band of Scottish brothers on his heels, Bran will have to be careful in how he plans to find and save Caitrina's sister. The headstrong lass refuses to stay out of harm's way, though, and he finds himself getting more wrapped up in her situation, and in her beauty.
'He found her charming, despite her propensity to blackmail. He grinned. Or perhaps it was her willingness to do so that appealed to him He definitely admired her resolve.'
What a Lass Wants was everything I'd expect from a Highlander novel by Rowan Keats. It had a fast-paced plot, charming characters, and it was full of passion and romance.
I'm kind of a sucker for a Highlander story, especially where the protagonists are both strong-willed and yet have hearts of gold. That pretty much sums up Caitrina and Bran. They both had grown up in quite dire circumstances but their paths took very different turns. Ms. Keats did a great job of giving enough of their backstory to help us understand that, without it overshadowing their situation. The search for Caitrina's sister Marsailli added an element of danger and intrigue, and was ultimately what drew Bran and Caitrina together, albeit reluctantly at the start. I loved their scenes together on the trail searching. Fun and sexy.
The characters very easy to empathize with. Even with Bran, I could overlook his being a thief and focus on how courageous he was protecting Caitrina and the Queen. He might have had some bad boy tendencies, but Bran turned out to be a man of his word and was quite loyal. Gotta love that. Now, Caitrina, I definitely felt bad for, being given no choice really but to spy for the King of England or lose her sister forever. She was a brave woman who put passion into everything she did. Especially in expressing her love and respect for Bran. Theirs was such a touching story, while still holding moments of lightheartedness that I adored.
If you're like me and you enjoy an engaging story set in the Highlands (or thereabouts) with charming Scottish alpha lads and strong, fiercely loyal lasses, then I think you'll love Bran and Caitrina's tumultuous romance.
Book Info:

 Signet | Published May 5th 2015
From Rowan Keats—author of To Kiss a Kilted Warrior, When a Laird Takes a Lady, and Taming a Wild Scot—comes the newest entry in the Claimed by the Highlander novels…
In the Highlands of Scotland, danger and desire can be found anywhere—but finding them may lead to something much more perilous and passionate than anyone can handle.
Lady-in-waiting Caitrina de Montfort is in a terrible bind. With her sister held captive by a henchman of Edward Longshanks, she has been forced to spy on the dowager queen of Scotland. But the resourceful young noblewoman has a plan to set her sister free—until the arrival of a charming but steely-eyed courtier ruins everything.
Bran MacLean has made his living by his wits for most of his life. After stealing a valuable treasure, he evades pursuit by donning a disguise and joining the queen's retinue. All goes well until the lovely Caitrina pilfers his loot and demands his aid in rescuing her sister. But their enemy is ruthless—and they soon find themselves facing a desperate choice between love and survival…