In What Happens in Scotland by Jennifer McQuiston, In the early morning light, Lady Georgette Thorold finds herself in bed with a naked hunk of a man in an unfamiliar room. She also happens to be naked herself with what appears to be a wedding ring on her finger. She remembers nothing of the previous evening or night and is suspicious she may have made a great mistake somehow. Georgette is interrupted in her search for clothing when the Scotsman awakens and suggests she get back in bed. She answers by panicking and throwing the nearest item, a chamberpot,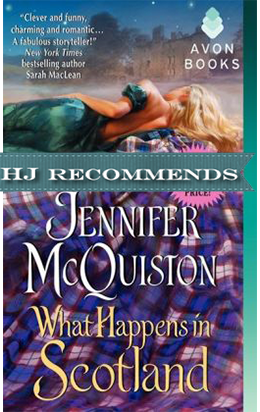 at his head and then fleeing the room. The day just keeps getting stranger as she begins retracing her steps. It seems every person she meets has a story about the wild night she spent at the Blue Gander tavern much to her dismay. The last thing she can remember was her cousin Randolph taking her to the local church yesterday afternoon and feeling woozy, like she had taken a drink. But she despises liquor thanks to her now deceased drunk of a husband. She can't imagine she would be tempted by alcohol. Although it seems like she was tempted by more than just that, considering the congratulations the townsfolk keep extending on her marriage to James MacKenzie. Her next plan of action is to locate Mr MacKenzie and get their sham of a marriage annulled.
'She wasn't sure she could forget the way her Scotsman had looked on waking this morning. His lips has curved with wicked intent, just a shade higher on the left side than the right. His eyes had been the color of new grass, and just as fresh. No, she wasn't sure she could forget him. Or that she wanted to.'
Georgette finds barmaid Elsie Dalrymple in Randolph's cottage when she arrives back there to freshen up. Elsie kindly offers her services as a ladies' maid and fills Georgette in on any information she remembers of the previous night. Her embarrassment grows with each sordid detail. Along their journey to town, they encounter several people offering up their opinions on the events and casting judgement her way. When she finally comes face to face with her supposed husband, her hopes of amicably ending their marriage are dashed when he accuses her of stealing from him. She can't remember what happened but knows she isn't a thief. From there it is a race to find a way to prove to James that she isn't the kind of woman he thinks she is and to figure out if they are actually married or not. She can't explain why, but she is drawn to James like she has never been to another man. Their safety is threatened several times, with James unfortunately taking the brunt of it, so Georgette pushes to find an ally. This move may be the catalyst that either brings them closer together or pushes them apart for good.
'He wasn't dealing with just a heartless wench who had taken him to bed and then awakened with buyer's remorse. He was dealing with a bloody thief. And he would see her hang.'
James MacKenzie has been trying to prove his worth as a lawyer and stand on his own two feet since leaving Kilmartie castle eleven years ago after a misunderstanding with his father. He's made great strides up until last night. He has woken up with a crushing headache from an apparent head wound and doesn't recall much from the past twelve hours or so. But the little bit he does remember seems to point in the direction of him having married a complete stranger. To make matters worse, his money purse containing all his savings is missing along with his very expensive stallion. His search for the truth leads him to believe his "wife" is the culprit behind all that has gone wrong since yesterday. But as his memory starts to come back, he wonders if there may be more to the events than he first assumed. James is forced to fight for his safety, along with Georgette's, once they are reunited and on the path to finding the truth. He is surprised as he becomes captivated with both her looks and her sharp wit. And she certainly challenges him, which as a lawyer he enjoys immensely. James begins to think he may be making a mistake trying to end this marriage without first giving it a chance. The challenge will be to convince Lady Georgette of the same.
'James suffocated an irrational urge to acknowledge her spirit with an answering grin. When she finally–finally–stood up to him instead of stuttering out an apology, she was glorious. Good God, was it any wonder he had behaved so impulsively last night? He was not tempted to just throw caution to the wind in response to her smile. He was tempted to wrap caution around a rock and toss it through his other bloody window.'
I really enjoyed this debut historical romance set in the mid-1800s by Jennifer McQuiston. The story switches back and forth between James and Georgette's points of view and takes place over the course of about 24 hours, which I thought was an interesting twist for a full length novel. The opening paragraph set a great tone for the rest of the book and is one of the best openings I've read in quite a while. I definitely recommend reading this if you're a fan of historical romances or if you simply want to read a wonderful story that's a bit of a wild goose chase through the Scottish Highlands.
Book Info

Release date: February 26, 2013 | Series: Avon Romance
Jennifer McQuiston's debut historical romance, What Happens in Scotland, is a lively, romantic adventure about a wedding that neither the bride or the groom remembers.
Lady Georgette Thorold has always been wary of marriage, so when she wakes up  next to an attractive Scotsman with a wedding ring on her finger, it's easy to understand why she panics and flees. Convinced that Georgette is a thief, her may-be husband, James McKenzie, searches for her. As both try to recall what happened that fateful night, they begin to realize that their attraction and desire for each other is undeniable. But is it enough?
Fans of Sarah MacLean and Mary Balogh will enjoy this utterly charming historical romance from award-winning author Jennifer McQuiston that features unforgettable characters and a satisfying mix of adventure and passion.