What Happens in Texas by Carolyn Brown is a book unlike any other Carolyn Brown book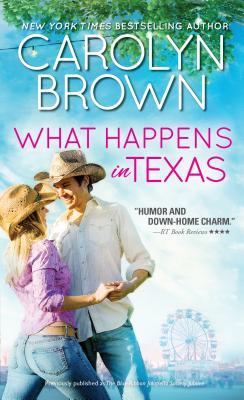 that I have read to date. Yes, it has humor, and LOTS of it, but this book felt more like a Steel Magnolias movie come to print. It is about 4 amazing women, each having a secret, each figuring things out for themselves, but each having each others back. And leading the charge and most of the humor, ornery old Auntie Agnes.
Cathy, Marty, Trixie and Darla Rose are what this story is about. Cathy and Marty are twins who could not be more different. Cathy is the quiet twin, reserved, polite, a pushover in some ways, while Marty, let's say is the wild child. Trixie is the BFF that is part owner of the Laudy Miss Claudy Cafe that the she and the twins own together. Darla Rose is a former escort, turned preacher. Can you see where the humor is coming from???
Cathy is engaged to an up and coming politan that wants Cathy to quit her job, dump her momma car, and come love HEA with him and his momma in their big house……oh and don't forget to sign the pre-nup. What her darling Ethan does not know, what ever her twin and her best friends don't know is that Cathy reads naughty erotica romance books on her kindle, and would rather spend time with her book boyfriends, than with Ethan.
Marty is worried that Cathy is going to be taken over by Ethan and his momma Violet. She teaches adult GED classes and secretly writes naughty erotica romance books under a pen name. The same naughty books that both Cathy and Trixie are in love with. You guessed it, none of them know her little secret. She is also keeping the secret from Trixie that it was her vote that got Anna Ruth into the coveted spot on The Blue-Ribbon Jalapeno Society.
Trixie divorced her cheatin husband after he slept with the town tramp, Anna Ruth, but what her best friends don't know is that every Wednesday night, she and her ex, Andy, get together for a night of ex's with benefits. That is until Auntie Agnes shows up with her shotgun trying to save Trixie from the man she is sure is there to attack her and ends up blowing a hole in the ceiling.
Now Darla Rose does not have a secret that she is keeping from her friends, but she is hiding secrets, she is helping abused women escape their situations, with the help of her sister Betty and Auntie Agnes.
Now that you have the back ground on the characters, I am not going to get into how the story unfolds because that would give a lot away about this amazingly funny and heartwarming story, but just know that Auntie Agnes is behind most of the shenanigans that keep this story light hearted and full of laughs. Let's just say that the feud between Violet and Agnes reminded me of Steel Magnolias.
If you love Carolyn Brown, than you will love this book, if you have never picked up a Carolyn Brown book, than I would highly recommend you grabbing this one.
Book Info:

Publication: June 7th 2016 | Sourcebooks Casablanca |
Carolyn Brown brings her unique voice to this tale of twin sisters finding love in a small Texas town
Cathy Andrew's biological clock has passed the ticking stage and is dangerously close to "blown plumb up." While her twin sister Marty thinks settling down with one man is just a waste of good cowboys, Cathy wants it all: the perfect husband, the baby, and a little house right there in Cadillac. But even as the town is laying bets on whose wedding will be next, Cathy doesn't see happily-ever-after happening anytime soon.
Fortunately, Cathy and Marty have best friends who aren't afraid to stir up a ruckus-and if it means Cathy's got to bust out and set the town on its ear they'll back her up-no matter how hot things get.
(Originally published as The Blue-Ribbon Jalapeno Society Jubilee.)