What Love Sounds Like by Alissa Callen: Mia Windsor is a speech pathologist who had speech problems of her own growing up. She has an absentee father, a giant in the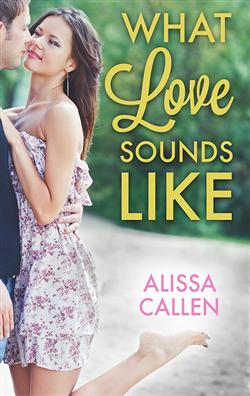 corporate world, who never showed her any love or type of emotion. She has dedicated her life to her profession helping children but has intentionally stayed away from personal relationships after being deeply hurt. When CEO Kade Reid walks in with his four year old niece Tilly, she instantly compares him to her cold and calculating father. She sees that Tilly needs her help after having recently lost her parents in a tragic accident and decides to help her not only with her speech but to also bring uncle and niece together as a family unit.
Kade is reeling after his life is turned upside down. He was named Tilly's guardian after his step-brother and wife passed away, and has no idea how to deal with a child. He was brought up that money is everything and there is no place for emotions of any kind. Mia turns out to be a talented speech pathologist and connects immediately with Tilly, but she is also a distraction to him and that cannot be allowed. He has no option but to have Mia stay with them at his family home for intensive therapy as he's sending Tilly to a boarding school in two weeks. As Mia's connection with Tilly intensifies, she somehow draws Kade in. He finds that he not only enjoys the interaction with his niece, but he can't imagine Mia leaving them.
The similarity between Mia and Kade's childhood makes for an interesting starting point for this story. They both grew up with the same type of parental figure but are very different emotionally. The different paths they have chosen as adults also makes it difficult for them to understand each others situation at first. There is something about this story that definitely pulls at the heartstrings…there's nothing like seeing a hard-nosed corporate guy melting when a child shows him love and affection.
Rating:
Book Info: Publisher: Escape Publishing – Harlequin Enterprises, Australia Pty Ltd (January 10, 2013)
Outback speech pathologist, Mia Windsor, believes her morning from hell is over. Then suited-up, city-boy Kade Reid strides into her office and announces he and his wide-eyed niece are the clients that she will be living with for the fortnight.
Kade Reid adheres to a single edict — money is as important as breathing. But when he becomes an instant father to four-year-old Tilly, he escapes to the only place he was allowed to be a child…the family property of Berrilea.
As Mia and Kade work together to help Tilly overcome her speech delay, can they face their fears in order to give Tilly the family she so desperately needs?