"He'd been in love with Lissa ever since he'd discovered girls. In fact, Lissa had been the first girl he discovered when she moved in next door at the age of nine."
In What She Wants by Sheila Roberts, Jonathan Templar has had his sights set on childhood neighbor Lissa Castle for years. He thought he had put his crush aside but after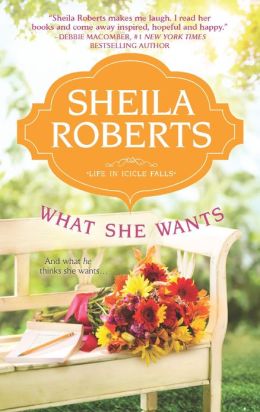 seeing her each morning hosting a Seattle morning program, he dreams of finally making a move at their fifteen year high school reunion. He knows she'd never fall for a scrawny computer guy…even if he does have his own locally successful tech company. He finds inspiration in the least likely of places: his sister's romance novels. He uses them as a textbook of sorts and makes lists of what women want and how the heroes act.
"Somehow he was going to find a way to transform himself from zero to hero, find a way to make her see that her truest childhood friend could also be her truest love. But how?"
His poker buddies are shocked at first when they find out, but then think he might be on to something. Jonathan's friend Kyle is having a difficult time landing the woman of his dreams and tries some of the "wooing" techniques in the books with mixed results. And Adam is married but gets kicked out of his own home when his wife lets him know she is feeling neglected. He wonders if books grand romantic gestures will actually work in real life and sets about to win back his true love.
Sheila Roberts has written a wonderful romance. It is filled with soul searching, laughter and lots of love. It was interesting to see this written in the male POV, especially with regard to romance novels! Jonathan, Kyle and Adam were all charming and I have to say my favorite scene with them is the poker game that becomes more of a book club than anything. This story makes you cheer for the underdog, whether it's the computer geek, the "height challenged", or the husband who's in the doghouse. You hope they all find their HEA by the end of the book.
Book Info
Harlequin MIRA Release date: March 26, 2013 | Series: Life in Icicle Falls
What do women want?Jonathan Templar and his poker buddies can't figure it out. Take Jonathan, for instance. He's been in love with Lissa Castle since they were kids but, geek that he is, she's never seen him as her Mr. Perfect. He has one last shot—their high school reunion. Kyle Long is equally discouraged. The pretty receptionist at his office keeps passing him over for other guys who may be taller but are definitely not superior. And Adam Edwards might be the most successful of Jonathan's friends, but he isn't having any success on the home front. His wife's kicked him out.When Jonathan stumbles on a romance novel at the Icicle Falls library sale, he knows he's found the love expert he's been seeking—Vanessa Valentine, top-selling romance author. At first his buddies laugh at him for reading romance novels, but soon they, too, realize that these stories are the world's best textbooks on love. Poker night becomes book club night…and when all is read and done, they're going to be the kind of men women want!