What the Prince Wants by Jules Bennett: Darcy Cooper was struggling but she was determined. She was going to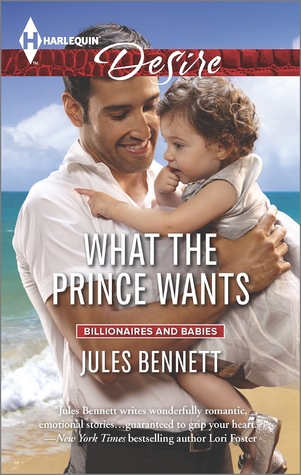 save her grandmother's business and she was going to get over her ex. All she needed to do was to spend six months as a nanny to Mr. Alexander's daughter. She could do that, right?
Prince Mikos Colin Alexander had a lot of issues, right now his main ones were anger management and taking care of his daughter. He was mad at his body for not healing from his accident quickly enough, angry at himself for allowing his wife to slip away and angry for not figuring out what he was going to do. Then there was his daughter, his world. He moved halfway around the world to give her more of a normal life, but he knew he was going to need help, so he went looking for a nanny.
When Colin answered the door and there was Darcy they were both a little shocked and both hit with a spark that could burn down the building. There were a lot of things standing in the way though and who knew if they would be able to overcome them. Just when it looked like they would be able to overcome a surprise visitor brings more secrets. Will these two be able to make a family? Or will the nanny always just be an employee?
What the Prince Wants was an amazing story, the writing flows so well and the characters are developed classically allowing you to get to know them and really become involved in the story and the outcome. It's a quick read because of the ease of language and the development of both the conflicts and the surroundings. Once you start you will look up and go oh, how much time has past. Though this is a stand alone Ms. Bennett does give you a tease about the next story.
Definitely a pick up read for anyone interested in a HEA, with a hidden identity, nanny theme, or just someone looking to end a book with a smile on their face.
Book Info:

Publication: June 2nd 2015 | Harlequin Desire Series #2377 | Billionaires and Babies
What happens when a royal daddy falls for his child's live-in nanny?
Widowed Prince Mikos Colin Alexander wants to raise his little girl out of the spotlight. Granted a six-month leave from his royal duties, he escapes to Los Angeles, posing as a regular guy, one in need of a live-in nanny. Colin reluctantly hires Darcy Cooper, the curvy beauty who easily wins over his baby duchess. But soon the lush, love-shy American wins him over, too. Now he's torn between duty to the crown and what feels like his newfound family. But when Darcy discovers her emotionally distant boss is royalty, will all bets be off?