In When All The Girls Have Gone by Jayne Ann Krentz, It isn't like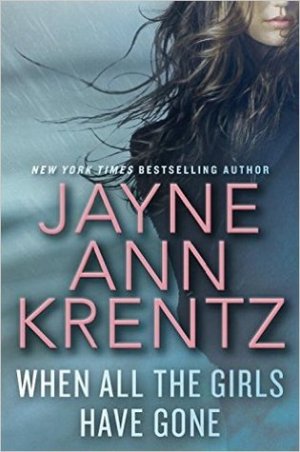 Charlotte Sawyer's stepsister Jocelyn to just disappear without having some way to get in touch with her. But while Jocelyn is on her supposed tech-free month-long retreat, her best friend Louise dies. Charlotte becomes tangled up in the situation when handsome private investigator Max Cutler has suspicions of foul play that seems to lead back to Jocelyn and her friends' investment club. The truths that are revealed put Charlotte and Max in more and more danger even as the sparks fly between them. She has to wonder if her attraction to him is because of the danger surrounding them or if they truly have something special.
'Max Cutler was not the type to make a promise he was not sure he could keep, she decided. On the other hand, something told her that if he did make a promise, you could depend upon him to walk into hell to fulfill it.'
After leaving D.C. and his career as a profiler behind, as well as his failed marriage, Max is trying to start over in Seattle as a P.I. He's had very few cases until he's hired to find out the truth behind Louise Flint's death. Then he's up to his eyes in lies and scandals that could shake a small town to its core. The addition of Charlotte to help in his investigation causes Max to rethink his stand on relationships. She's a genuinely good woman who is trying to find her sister and is doing a great job helping him sort through the details. Could she possibly think about a future with a jaded, cynical man who is slightly obsessed with tragic events in his past?
"She was trying to protect me."
"Think so?"
"She's always been that way. Almost from the start."
"I don't want to be the one to spoil your image of your stepsister," Max said, "but there are other reasons why she might have kept you in the dark. It might be herself she's protecting."
When All The Girls Have Gone had mystery, thrilling action and romance all wrapped up into one novel. Full of Jayne Ann Krentz's trademark charming banter and complicated emotions, this was a solid, dependable story that was very easy to read in one sitting.
He set his glass down on the counter. "I want to be very sure of what's going on here."
"In all honesty? I haven't got a frickin' clue."
"Do you want me?"
She took a breath. "So much for the subtle approach."
I was honestly torn between a 3.5 or a 4 star rating. The plot, which did have a few nice twists and turns, seemed to be a little on the formulaic side but it worked out well here. I think what tipped the scales for me to 4 stars were the characters. Especially the relationship between Charlotte and Max. They were just so darn cute together that I couldn't help myself. They had a nice spark between them from the start and I found them to be a sweet couple who brought out the best in each other. Max and Charlotte made a good team working to find out who killed her sister's best friend. And although things happened fast for them toward the ending, I felt like they had built a solid foundation for their relationship during the investigation, so I was okay with their HEA.
This story proved that families and friendships are complicated, so to say that the relationships between the secondary characters were complex is an understatement. It was quite a tangled web of deceit, backstabbing and dirty dealings going on. Now it might not have necessarily been difficult to figure out who was involved in the evil-doings, but the *way* in which everyone was involved was where it became really interesting. I enjoy how Krentz pieced together the storyline and kept me guessing on a few things until the end.
Jayne Ann Krentz can definitely tell a good story. And When All The Girls Have Gone is proof of that ability. With down-to-earth characters you just can't help but like and care about and a bunch of secrets to unravel, I think readers will truly enjoy this story.
Book Info:

Publication: November 29th 2016 | Berkley |
Jayne Ann Krentz, the New York Times bestselling author of Secret Sisters, delivers a thrilling novel of the deceptions we hide behind, the passions we surrender to, and the lengths we'll go to for the truth…
When Charlotte Sawyer is unable to contact her step-sister, Jocelyn, to tell her that one her closest friends was found dead, she discovers that Jocelyn has vanished.
Beautiful, brilliant—and reckless—Jocelyn has gone off the grid before, but never like this. In a desperate effort to find her, Charlotte joins forces with Max Cutler, a struggling PI who recently moved to Seattle after his previous career as a criminal profiler went down in flames—literally. Burned out, divorced and almost broke, Max needs the job.
After surviving a near-fatal attack, Charlotte and Max turn to Jocelyn's closest friends, women in a Seattle-based online investment club, for answers. But what they find is chilling…
When her uneasy alliance with Max turns into a full-blown affair, Charlotte has no choice but to trust him with her life. For the shadows of Jocelyn's past are threatening to consume her—and anyone else who gets in their way…