When the Marquess Was Mine by Caroline Linden is the third book in the Wagers of Sin series.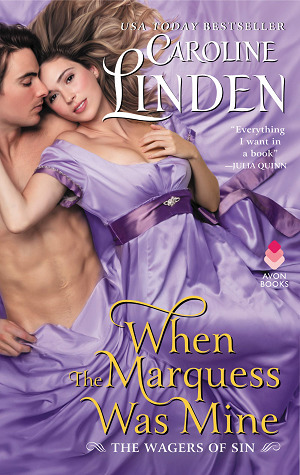 Characters from the previous series do make an appearance in the book (and some that will be in future books hopefully) but it could be read as a standalone. The book was well written and transitioned so smoothly that it was hard to put down. I don't feel the burb did justice to the book, because there was more twists and intrigue in the book than was described. I loved the main characters and they seemed to suit each other so well. They both seemed to love being mischievous.
Lady Georgiana Lucas was staying with her friend, Kitty, when a letter came saying that Rob (Marquess of Westmorland) had taken advantage of Kitty's husband and that they were not to let Rob take Osbourne House. Georgiana found Rob as he was being assaulted and took him to Osbourne House before realizing who he was. Georgiana didn't like Rob as he had made cruel comments in the past about her and her friends, but she couldn't let him die. She was afraid Kitty would not help Rob, so she quickly lies and says Rob is Lord Sterling, her fiancée. Her plan was to nurse him back to good health, then convince him to leave and not take the Winston's home. When Rob wakes up and has no memory of who he was or where he was, Georgiana is forced to continue with the lies she had told.
Rob had won the deed to Osbourne House in a card game, but he didn't want the house. While he was on his way to the house to try and correct the situation, he was assaulted. Once he woke up, Rob was upset he couldn't remember his fiancée or their courtship. As he tries to piece together information, Georgiana realizes she didn't know Rob as well as she thought. He was not the cruel, sarcastic marquess that she thought he was. When he learns the truth and that she is not his real fiancée he is devastated.
Once they are both got to London, they become caught up in the intrigue of her brother's refusal to allow her to marry anyone else and Rob's "spy" intrigue he was involved with before he left London. I loved getting a glimpse of the previous character's future and how their talents were able to help the main characters accomplish their goal. This was a wonderful book and I can't wait to see who the next book will be about.
Book Info:

Publication: September 24th 2019 | Avon | The Wagers of Sin #3
In the game of love…
Georgiana Lucas despises the arrogant and cruel Marquess of Westmorland even before learning that he's won the deed to her friend Kitty's home in a card game. Still, Georgiana assures Kitty the marquess wouldn't possibly come all the way to Derbyshire to throw them out—until he shows up, bloody and unconscious. Fearing that Kitty would rather see him die, Georgiana blurts out that he's her fiancé. She'll nurse the hateful man back to health and make him vow to leave and never return. The man who wakes up, though, is nothing like the heartless rogue Georgiana thought she knew…
You have to risk it all
He wakes up with no memory of being assaulted—or of who he is. The bewitching beauty tending him so devotedly calls him Rob and claims she's his fiancée even as she avoids his touch. Though he can't remember how he won her hand, he's now determined to win her heart. But as his memory returns and the truth is revealed, Rob must decide if the game is up—or if he'll take a chance on a love that defies all odds.