In White Trash Beautiful by Teresa Mummert, Cass Daniels has a life full of heartache and hard work. She lives with her mother and her boyfriend Jackson "Jax" in a trailer park behind the diner where she works steadily for very little money. After her father took off on her and her mother, she met Jax in high school and he's been there to take care of her since. That is until he lost his job and began using drugs, only to get her mom hooked on them as well and to start being verbally then physically abusive towards Cass. She wants to believe that there's some of the boy he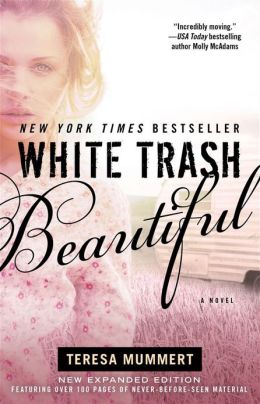 used to be still left inside him and hopes that she can help him get clean, to build a better life together. But life in the trailer park is bleak and it seems like she's stuck in a vicious circle.
"His words were what hurt the most. After being told for so long that I was worthless and no one else would want me, I began to believe it."
Cass's life changes the day that Tucker White steps into the diner. He instantly charms her, although she assumes there's an ulterior motive. He seems protective of her even though he knows nothing about her. When Jax shows up demanding money to get drugs, Tucker stands up for Cass until she tells him to back down. She knows her boyfriend well enough to know he'll be waiting for her at home, fuming, and will take it out on her. Most likely physically. Tucker ends up showing up at the diner a few more times, and even sends two friends to watch out for Cass's safety when he's not able to be there. She worries that Tucker is up to something but relishes the fact that she feels like she's worthy of someone's concern for the first time in many, many years.
"I was lost in his voice, in the fantasy of it all. Music had always been a great escape for me, but this was surreal. Being front and center at a live concert, and at a show headlined by someone I knew, was magical."
She spends an evening in town at a local bar with Tucker and has the best time of her life just taking a motorcycle ride and dancing with him. She hates that she has to lie to Jax about where she's been but wants to have a chance to make her life better. Cass waffles with her self-doubt and pushes Tucker away as he's getting ready to invite her to see his band Damaged play in Savannah. She decides to go at the last moment and is blown away by the experience. He is extremely talented and he makes her feel as though he is singing directly to her. When he invites her to another show, she knows she should say no, but she loves the freedom she feels being out in the world. She's afraid to find herself wanting to leave the trailer park behind and worried about making changes in her life. She has to figure out if she can put herself out there and trust in Tucker or if she's better off sticking to the life she already knows.
In this gritty New Adult romance written by Teresa Mummert, we get to read about an extremely tough life for a strong young woman. She wants to make changes but isn't quite sure if it is scarier to stay where she is or go out into the unknown. I feel for her and understand how Cass felt tied to Jax and her mom as they were the only constants in her life. Even if they weren't really there for her emotionally, they hadn't left her like her father had. I couldn't help but root for her to find a happy ending to her story and it seems Tucker was just the right guy to provide that opportunity. I wish we could have learned a bit more about his background and what his motivation was to help Cass so quickly, but maybe that will be explained in book two in this series. I did like Teresa's writing style and the flashbacks to particular moments in Cass's life. I would recommend this to someone looking for a romance with a more down-to-earth setting, rather than the trend of billionaires and penthouse suites.
Book Info
Publisher: Gallery Books; Original edition (July 9, 2013)
A word-of-mouth bestseller that's captivating readers with its honesty, grit, and headstrong heroine, White Trash Beautiful is a story for anyone who has ever felt trapped in life, cheated by love—and longed for something more . . .
Cass Daniels isn't waiting for her knight in shining armor. She knows that girls like her don't get a happily ever after. Not if you live in a trailer with your mom, work at a greasy spoon diner, and get leered at by old men. Maybe that's why she puts up with Jackson—her poor excuse for a boyfriend, who treats her like dirt. Cass has learned to accept her lot in life. That is, until he walks into her diner. . . .
His name is Tucker White, and he's different from any man Cass has ever known. Tall, tattooed, and bad-ass gorgeous, he's the lead singer of the rock band Damaged. From the moment they meet, Tucker sees something in Cass he just can't shake. Something beautiful. Something haunted. Something special. And he's determined to find out what it is—if only he can get her to open up and let him in. . . .