In Wicked As She Wants (Blud #2) by Delilah S Dawson, Princess Ahnastasia wakes in a cramped suitcase feeling drained, hearing a haunting melody different than anything she's ever heard before, and most importantly, someone's blood is calling to her. Upon fighting her way out of the valise, she stalks the man at the harpsichord and realizes by his scent that he's not completely human. But she doesn't care. She needs to feed if she is to find her way back to her homeland of Freesia. The man thwarts her attack and after a scuffle she settles so he can give her a few vials of blood to help regain her strength. He explains that he is Casper Sterling, or Maestro as he's called in London, and he's a famous musician. He refuses to give more details regarding his life or his oddly scented blood.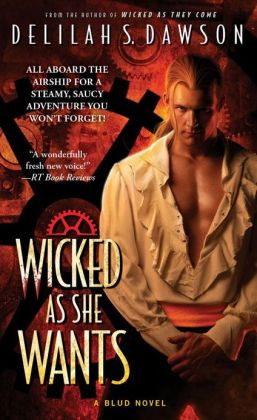 Casper and his young friend, Keen, begin to help Ahna make plans to get back to her home after he gives her the bad news about her family. While she's been locked in a suitcase for the past four years, her parents were killed by the gypsy Ravenna who overthrew their rule in Freesia, and she has been keeping Ahna's brother under some sort of spell. Her sister Olgha is also missing and feared to be dead, as many thought Ahna was. She is unsure who she can trust now with her life in such upheaval. She knows she must kill Ravenna and take back the throne which is rightfully hers by blood. But aside from that, she knows not what else to do. She allows Casper to procure their travel arrangements as he knows his way around Sangland better than she would. She finds herself feeling oddly comforted in his presence, even if he is exasperating at times. She wonders if it is the blood loss that is causing this weakness in her royal upbringing or if there really is a connection between them somehow.
"My breath was coming fast, the same feeling I would get on a hunt, watching the prey, waiting for the right moment to pounce. But I wasn't the hunter this time. My eyes met his, and I saw his beast there, roiling beneath the surface, dark and hungry. I could see the tension in his broad shoulders, his hands curling and uncurling against the blanket as if testing claws.
"Come on, beast," I whispered.
His lips crashed against mine, his body driving me back into the soft pillows with a passion just one notch above fury."
Their travels take them through various parts of the country and on different forms of transportation. Ahna's least favorite due to her fear of heights is the zeppelin airship Miss Maybuck, which is basically a floating brothel. She is horrified and knows she should feel scandalized being in such a place, but she doesn't have time to worry when they are attacked by pirates. It seems someone knows she is still alive so she must be diligent in hiding her true identity whenever possible. Casper and Keen both prove to be cunning and helpful along their journey. Casper especially is quite protective of her and it seems it's not just due to his promise to get her home safely. His feelings for her are evident in his eyes. Ahna strangely continues being drawn to him, even after he confesses his past and his current problems to her. She shouldn't give in to temptation considering she will soon become Tsarina, but she can't help her reaction when she and Casper are close together.
"He was on the verge of laughing, on the verge of crying, as if he were standing at the edge of a great precipice and deciding whether to jump or not. Which, I had to suppose, was exactly what was happening in his heart."
Ahna finally arrives in Moscovy, a city just outside the palace grounds, and hopes to find her old nursemaid who will surely be an important ally. Once they have been reunited, Verusha helps her finalize her plans to kill Ravenna in a few nights at the annual Sugar Snow Festival. The people of her country are counting on her to regain power and bring things under control, but she worries she's not strong enough and that she will not have enough allies left in the palace. Also worrying her is her increasing attachment to Casper and Keen. She fears once she is in control of Freesia, she will have to treat them like the commoners they are in her world. She has grown accustomed to their companionship and enjoys the thought of having friends for the first time in her life. When she succeeds in killing Ravenna, should she continue to rule the way her parents did? Or can she find a way to balance traditions of the past while letting her heart guide her the rest of the way?
I've read several Steampunk novels, and I must say that Delilah is one of my new favorite authors in this genre. The combination of worlds she created in this series is unique and absolutely intriguing. We get to watch Ahna grow as a woman and ultimately find a bit of humanity in herself to balance the beast within. And what can I say about Casper. He's a gorgeous musician, fighting his own personal demons, yet still watching out for Ahna and Keen, protecting them throughout their travels. How can you not fall for him just a little bit? I had to chuckle when Casper and Keen talk about their homeland and with some of the things they referred to. Trust me…you'll know when you read it and it will add another interesting (and funny) element to the story. This is definitely a very solid read, especially if you love Paranormal Romance and/or Steampunk.
Book Info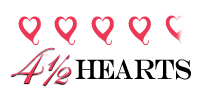 Publisher: Pocket Books Release date: April 30, 2013 | Series: Blud
True love's kiss isn't enough for this Blud princess. But blood and music may win her heart forever. . . .Delilah S. Dawson's delightfully dark series takes readers into a clever new world of endless discoveries and sensuous encounters that will leave them breathless.
After four years crammed in a suitcase, drained and unconscious, Ahnastasia Feodor, Crown Princess of Freesia, is not sure which calls to her more: the sound of music or the scent of blood. The source of both is the handsome and mysterious Casper Sterling, once the most celebrated and self-centered musician in Sangland. Fortunately, bleeding one's subjects dry is expected of Blud royalty. Much to Ahna's frustration, however, the debauched and reckless enigma—he is definitely not a Bludman, though not exactly human either—is her only ticket back to her snow-rimmed and magical homeland. Ahna needs Casper's help to defeat an evil sorceress and claim her throne—if she doesn't drain him first. But as they team up for a harrowing journey filled with pirates and painted ladies, daimons and dashing Bludmen, her craving for blood becomes an unrelenting hunger of the heart. . . .