Spotlight & Giveaway:

List Lover's Guide to Jane Austen

by Joan Strasbaugh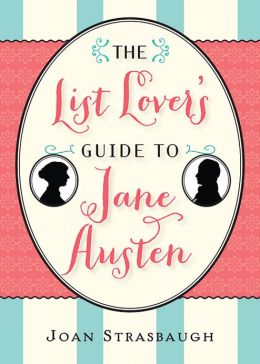 The ultimate guide to Jane Austen; that sassy, ahead-of-her-time literary genius that we know and love. Discover her likes and dislikes, her haves and have-nots, where she traveled, how she lived, what she ate, and who she loved. With on-trend illustrations and an incredible wealth of little-known facts, it's Jane Austen like you've never seen.
Find out about…
•Her friends and beaux
•Every place she lived and visited
•Books in her library
•Her pet peeves
•Last lines of everything she wrote
…and more!
 Excerpt:
What Happened to the Characters?
"In this traditionary way we learned that Miss Steele never succeeded in catching the Doctor; that Kitty Bennet was satisfactorily married to a clergyman near Pemberley, while Mary obtained nothing higher than one other uncle Philip's clerks, and was content to be considered a star in the society of Meriton; that the 'considerable sum' given by Mrs Norris to  William Price was one pound; that Mr  Woodhouse survived his daughter's marriage, and kept her and Mr Knightley from settling at Donwell, about two years; and that the letters placed by Frank Churchill before Jane Fairfax, which she swept away unread, contained the word 'pardon'."
—-James Edward Austen–Leigh and Anna Lefroy
Giveaway:
a print copy of List Lover's Guide to Jane Austen by Joan Strasbaugh
To enter Giveaway: Leave a comment and t
ell me what is your favorite Jane Austen book and why?