Wild at Heart by Vicki Lewis Thompson: Naomi Perkins is a local girl born and bred in Jackson Hole, Wyoming. She is a wildlife researcher, presently studying the nesting behavior of the bald eagle. She is confident, adventurous and does not mind living by herself in the wilderness in order to gather the information she needs for this very important project. The eagle family she is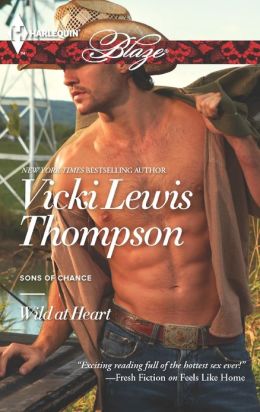 studying is located on the outskirts of the Last Chance Ranch in her hometown. Jack Chance and his ranch foreman Emmett Sterling, built a small observation deck in one of the trees a short distance away from the eagles. Naomi has a prime spot to observe. Every week or so she hikes back into town to wash some clothes and get a home cooked meal from the diner her parents own.
Sexy cowboy Luke Griffin is a drifter. He enjoys traveling, meeting new people and seeing the world so he never stays in one place for very long. Typically, he finds a job on a ranch, works for a little while and then moves on. He enjoys not being tied down to a person or place. Luke is presently working for the Last Chance Ranch and is looking for some temporary female companionship. He has no desire to have a relationship and settle down, until he meets Naomi.
Naomi and Luke have instant chemistry. Since Naomi's research ends once the eagles leave their nest and Luke plans on leaving Jackson Hole sometime over the next few months, a temporary fling is the perfect solution to their lustful needs. Naomi and Luke are great together and truly enjoy being with each other. Their relationship is hot and intense. Naturally feelings begin to develop and love is in the air.
Unfortunately, love does not fit into Luke's plans and he leaves town earlier than he originally anticipated. He is running scared. He has never felt love before and believes moving on will solve all his problems. Naomi's heart is broken, even though she had accepted the temporary arrangement. Luckily, Luke comes to his senses and returns to the Last Chance Ranch and Naomi.
Wild at Heart (Sons of Chance) by Vicki Lewis Thompson is a hot, angst-free read that is very enjoyable!. This is one of many books in the very entertaining Sons of Chance series.
Book Info
Publication Date: June 18, 2013 | Series: Harlequin Blaze (Book 755)
Some men can't be tamed…Domesticity can starve a man's soul, and drifter cowboy Luke Griffin believes in absolute freedom. His gig at the Last Chance Ranch will end soon, and he'll move on. But then Luke gets splashed by a green energy drink from a platform in a tree, and suddenly things get complicated.
Naomi Perkins was studying the nesting of a rare pair of bald eagles when she accidentally "baptizes" the delish cowboy. And when his shirt comes off…good morning, libido! But this attraction isn't just mutual—it's fierce enough to send them both tumbling into a no-strings fling.
It's a temporary arrangement, even if it is way more intense than anything Naomi could have imagined. But when the time comes, will she be able to let this wild cowboy go?