In A Walk Down The Aisle by Holly Jacobs, Sophie Johnston's wedding is cut short when a blue-haired teenager stands up and says she objects. She soon finds out that the girl, Victoria "Tori" Allen, is the baby she gave up for adoption fourteen years ago. Even though Tori shows up at the most inopportune time, she is secretly thrilled to finally get to meet her and talk to her face-to-face.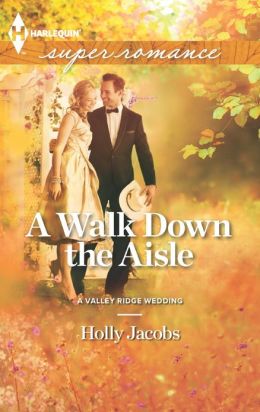 Unfortunately Colton, her husband-to-be, calls off the wedding as she had never disclosed this part of her life with him. Sophie feels like he let her down just when she needed his support most and decides to handle the situation with Tori on her own, basically cutting Colton out of her life.
'She wanted him to understand. She needed him to understand. "You knew the real me. Know the real me. The me that my parents wouldn't recognize. The me I always wanted to be. That's what I found here in Valley Ridge, not only a home, but a place where I could be the real me."
Sophie gets to spend part of the summer with Tori who is still coming to terms with finding out she's adopted. Just when she feels she's on her way to building a relationship with her daughter, she finds out she's pregnant with Colton's child. She knows he will ask her to get married but she can't allow herself to marry someone who is just trying to do the right thing. She wants unconditional love from him or nothing at all. And Sophie is worried about how Tori will handle the news. Everyone reacts pretty much as she thought they would so she decides to rely solely on herself and to take precautions so that no one can take this baby away from her. She can't go through the same thing again as when she was a teenager. As her pregnancy progresses, she slowly allows Colton to become part of the journey, coming to doctors appointments and thinking up names. Sophie still has love in her heart for him but isn't sure that love will be enough to trust him again.
'He tried to tell himself that he felt hurt, but he knew it was a lie. He didn't feel hurt–he felt angry. He felt like a fool. How could she not tell him about such a huge event in her life? And if she hadn't told him about her daughter, what else hadn't she told him? That was the questions that haunted him. What else was Sophie hiding?'
Colton McCray's world is thrown into a tailspin when he finds out his soon-to-be-wife has a past that she never even hinted about with him. Not only are her parents alive after she made it seem that they were gone, but Sophie had a baby when she was a teenager and gave her up for adoption. Colton is angry that she didn't trust him enough to disclose the information to him and worries about what else she hasn't told him. His only option is to call off the wedding until he can work through everything. But when he realizes how difficult a life Sophie has led and how hard it is for her to talk about it, he knows he should have been there for moral support. He tries to make it up to her but she won't even talk it out with him. Once he learns he's going to be a father, Colton tries to do the admirable thing, knowing how much he still loves Sophie, but even that is shot down. He continues to show her in small ways that she can put her trust in him again and hopes it's not too late to reclaim a life with the woman he can't live without.
This is the third book in the Valley Ridge trilogy. I really enjoyed the previous two novels and couldn't wait to read about Sophie and Colton. They seemed to have a fairytale romance until her past comes back to haunt her. I can empathize with Sophie not wanting to go through those emotions all over again, but this is one of those stories where I found myself frustrated, yelling at the book "just talk it out!" Colton and Sophie are obviously still very much in love but they need to work through their emotions first before they can make a go of things again. The journey to their HEA is fraught with heartbreak, the occasional harsh word, redemption and love. If you enjoy reading romance with a roller coaster of emotions and set in a wonderful small town, check out A Walk Down The Aisle and the rest of the Valley Ridge trilogy.
Book Info
Publication Date: June 4, 2013 | Series: Harlequin Superromance (Book 1858)
Speak now…or forever keep your secrets?
Colton McCray's an "I do" away from the perfect life. He's got a prosperous farm and he's lucky enough to have fallen in love with a good woman like Sophie Johnston. What more could a man who loves the simple life want?Certainly not a wedding-crasher who's only 
one
 of Sophie's secrets!
Marry a woman he doesn't really know—or take a chance and trust her? No way! Though the harder Colton tries to cut Sophie out of his life, the more he wants her…complications and all. When he finds out she's pregnant with their baby, it's impossible for him to stay away. But first, he must forgive her past in order to rebuild the future they were meant for.…