Wild Man's Curse (Wilds of the Bayou #1): Susannah Sandlin sets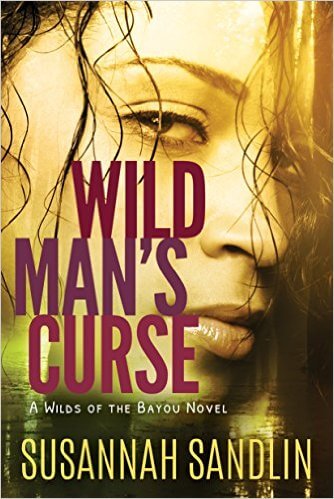 the pace and the plot of Wild Man's Curse with a prologue hinting at mystery, danger, curses and death in Whiskey Bayou. She pulled me right in and I kept reading!
With great descriptions the setting was vivid, and I could feel the heat and humidity, and see the swamp. This was a great draw for me, I was able to easily feel like I was right there!
Ceelie ends up back in Whiskey Bayous for all the wrong reasons…her career in Nashville is going no where, and her aunt has died. It's not where she wants to be, it's the place she escaped from. Gentry is a LDWF officer who has his own traumatic past, but as soon as he sees Cellie and hears her singing he wants to know her so much more. Ceelie is not looking for anything…except for answers for her aunt's death, and a way back out of a place she doesn't consider home. But things have a way of changing, and soon Ceelie not only finds herself in danger, she's starting to feel like she finally is home, and she's starting to feel a lot more for Gentry. The danger is daunting, and the fear is real. Who is after her and what do they want? Gentry has his suspicions…but his heart and devotion are with Ceelie, keeping her safe, and solving a murder. Will he have it all though? The danger heats up very quickly, and it's looking less likely.
Ceelie and Gentry both go through a lot in Wild Man's Curse. They are fighting for a future, but they both must also come to terms with the past. The suspense and mystery are powerful, and the romance and relationships play an important role in the plot. I liked that I felt like I could understand these characters. They really jumped off the page at me…Ceelie with her struggles, a family curse hanging over her, and a relationship she didn't see coming. She is strong and brave, and this is very evident in Wild Man's Curse. I liked Gentry too. He has his own demons from the past, but he is protective, honorable, and wants nothing more than to solve this crime and keep Celia safe. I liked how they were together, how they thought of each other, and most of all they trusted each other.
The mystery/suspense is strong, and I liked the character involvement in this. Sometimes I didn't know what would happen next, and sometimes I felt a bit scared at what might happen next!
With surprising revelations about the past, a sense of history and family relationships, and intensely thrilling, I'd recommend Wild Man's Curse to any romantic suspense reader.
Book Info:
\

April 5th 2016 by Montlake Romance
The bones said death was comin', and the bones never lied.
While on an early morning patrol in the swamps of Whiskey Bayou, Louisiana wildlife agent Gentry Broussard spots a man leaving the home of voodoo priestess Eva Savoie—a man who bears a startling resemblance to his brother, whom Gentry thought he had killed during a drug raid three years earlier. Shaken, the agent enters Eva's cabin and makes a bloody discovery: the old woman has been brutally murdered.
With no jurisdiction over the case, he's forced to leave the investigation to the local sheriff, until Eva's beautiful heir, Celestine, receives a series of gruesome threats. As Gentry's involvement deepens and more victims turn up, can he untangle the secrets behind Eva's murder and protect Celestine from the same fate? Or will an old family curse finally have its way?
From award-winning author Susannah Sandlin comes the first book in the Wilds of the Bayou series.