Wilde Child by Eloisa James is the sixth book in The Wildes of Lindow Castle. The book can be read as a stand-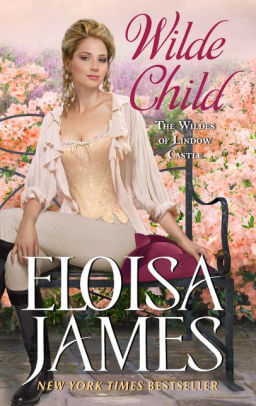 alone, but the Wilde siblings will draw you in and you will want to read all the Wilde family's adventures. The book was perfectly paced and beautifully written. The Wilde family and friends are charming and always leave me with a smile after reading their stories. This is one of those series that I can read repeatedly and never get bored.
Lady Joan Wilde created a scandal when she was born and cannot seem to avoid them. Her blond hair proved her mother's infidelity with a Prussian count, which she ran away with. The ton ostracizes Joan because of her illegitimacy but they cannot give her the cut because she is an heiress and the Duke of Lindow recognizes her as his daughter and protects her. Joan loves drama and performing plays for her family and friends but is tired of playing the damsel in distress. She dreams of playing in front of a real audience as a prince or pirate. A traveling theatre company is coming to the castle and her father is permitting her to play the part of Prince Hamlet in men's breeches. Her perception of Thaddeus slowly changes as they practice for the play and she sees Thaddeus's arrogance as his mask for society.
Thaddeus Shaw, Viscount Greywick, was the future Duke of Eversley. He had never considered Joan as a potential wife because of her illegitimacy and how annoying she is. He planned on marrying someone who would help improve their family name since his father created a scandal when he deserted Thaddeus and his mother to live with his mistress and second family. He tries to talk Joan out of playing the part of Prince Hamlet because if news of her wearing breeches got out, she would be ruined and banished from polite society. After hearing her dream of performing in front of a real audience, he surprises himself by volunteering to keep her safe while she does one show in public. Realizing there is more to Joan than he thought, he slowly comes to admire her and her intelligence.
I always look forward to reading new books involving the Wilde family because they are such a loving and supportive family. Their witty banter always keeps the stories light and fun. I looked forward to Joan's story and it was just as exciting as I thought it would be. Joan is such a lively character and always laughing and seeing her paired with Thaddeus who comes across as grumpy made them the perfect couple. The connection between the two could be felt from the beginning and I loved watching their characters grow as they slowly became friends. This was another wonderful book in the series and I look forward to the next one.
Book Info:

Publication: March 30th 2021 | Avon | The Wildes of Lindow Castle #6
He wants a prim and proper duchess, not the Wildest of the Wildes!
Already notorious for the golden hair that proves her mother's infidelity, Lady Joan can't seem to avoid scandals, but her latest escapade may finally ruin her: she's determined to perform the title role of a prince—in breeches, naturally.
She has the perfect model for an aristocratic male in mind: Thaddeus Erskine Shaw, Viscount Greywick, a man who scorned the very idea of marrying her.
Not that Joan would want such a dubious honor, of course.
For years, Thaddeus has avoided the one Wilde who shakes his composure, but he's horrified when he grasps the danger Joan's putting herself in. Staring into her defiant eyes, he makes the grim vow that he'll keep her safe.
He strikes a bargain: after one performance, the lady must return to her father's castle and marry one of three gentlemen whom he deems acceptable.
Not including him, of course.