The Prince I Love to Hate by Iris Morland: Niamh doesn't remember much about her life in Ireland after all she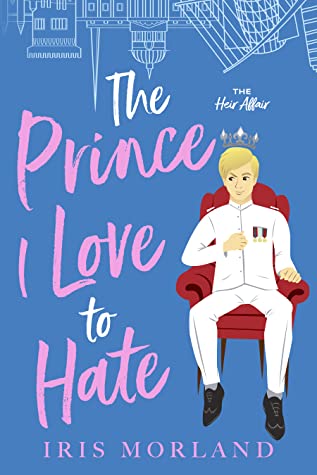 did move to Seattle with her older brother when she was still a little kid. However Niamh finds herself heading back to Ireland when a stipulation in her late grandfather's will stating that she has to find her long lost father if she wants to keep the family estate. The last thing Niamh expected was to land up going on a wild goose chase across Europe with a real life Prince!
"If this were any other day, I'd totally swoon at having a prince on one knee in front of me," I said, a hand over my heart.
He rolled his eyes. "Stop wasting time already. My trousers are getting dirty."
Prince Olivier will do just about anything to find his mother's beloved antique clock even if it means trotting around Europe with the sassy Niamh. As the two get up to a whole host of misadventures they soon realise that there might be more than just an intense pull between the two of them the question is what will they do when a major secret is revealed that could rock both of their worlds?
"If I need to, I'll sit on you until you tell me the truth. I have all night, mister." I realized I'd made a technical error when his eyes flashed.
"You make it sound like you sitting on my lap would be a burden. Not when I was done with you."
I loved reading this suspenseful modern day royal romance, with all of the unexpected twists and turns. Now normally I am not a huge fan of cliffhangers but I will say that Morland did a great job at leaving me wanting the second half of this duet asap, while leaving me pondering how exactly everything will play out! One thing I can say without a doubt is that Morland is definitely an author I will be keeping on my must read list.
"I really, really did not want to share a bed with this arrogant prince, and I really, really, did not want admit it was because a part of me want to grab him and ravish him. He said I wouldn't have to worry about him getting handsy? Joke was on him, because apparently, I was the one lacking in self-control."
I absolutely loved Niamh, she had such a fun personality with all her sassy comments. I loved that she did not instantly fall for Olivier's charms and status. I really liked the way she handled the entire situation with her father. Another thing I really liked was the relationship that Niamh and her brother had, I do hope that we get to see a bit more of the sibling dynamic in the next book.
As for Prince Olivier, now who doesn't love a cocky prince? I loved the way Olivier constantly tried to get under Niamh's skin with his rich cocky playboy exterior, while deep down he was actually just a boy looking for his parents approval. As good as the chemistry was between these two characters it was the crazy trip that made this novel a knock out in my opinion. I absolutely loved every bit of their misadventure and that it brought them closer.
The Prince I Love To Hate is an absolute must read this hilarious romcom will have you rooting for Niamh and Olivier right from their hilarious first meeting. I can not wait to read The Prince I Hate To Love and find out what Niamh and Olivier get up to next!
Book Info:

Publication: May 4th 2021 | Blue Violet Press LLC | The Heir Affair #1
This prince?
He's anything but charming.
I've never been the girl who's dreamt of a prince rescuing me from a fire-breathing dragon before whisking me away to his castle.
So when I fly all the way to Ireland to find my long-lost dad, I have no intention of playing the damsel in distress to some dude.
But the night I encounter—and accidentally wallop upside the head—Prince Olivier of Salasia, my plans are completely upended.
This prince is the opposite of charming, though. After thirty seconds in his presence, I want to feed him to a dragon.
But fate is a fickle b*tch. Before I know it, I agree to team up with Olivier in the search for my dad.
As I travel across Europe with this actual honest-to-god prince, I wonder, what's the worst that could happen?
It's not like I'll be stupid enough to fall in love with Prince Charming.