In Wildfire (Hidden Legacy #3) by Ilona Andrews, Instead of spending her childhood learning how to harness and use her magic,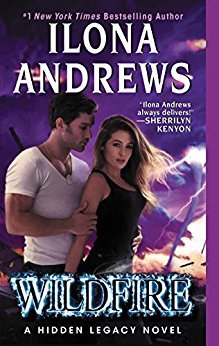 truthseeker Nevada Baylor has spent a lifetime being hidden as much as possible from that turbulent world. With the help of her powerful boyfriend, Connor "Mad" Rogan, she's quickly learning about her powers. But is it quick enough? Because with the newest case her family's private investigative business is handling, the kidnapping of Rogan's ex-fiance's husband, Nevada will be faced with more evil and demonic creatures than she can imagine. And it will take the magical abilities of all her family and friends to hopefully defeat those who are threatening them.
'What I needed was someone to teach me the ins and outs of my magic. Truthseekers were rare and they guarded their secrets. I was practicing, but I've barely began to scratch the surface.'
Nevada is also being forced to make a decision as to whether or not to let mages in Houston know exactly what magical capabilities each of her family members have. It's a risk that can unfortunately make them vulnerable. Even though she would love to have input from Rogan, who is Head of his own family's House, they must tread carefully if they wish to keep their romantic relationship a secret. With very few options to stay out of the way of potential harm from her villainous grandmother, Nevada may have to do the unthinkable and put herself and her family in the spotlight by creating their own House. She hopes it might buy them just enough time to come up with a plan to protect themselves from their adversaries.
"You're mine," he said, his voice rough. "I'm not letting you go."
"I'm glad we cleared that up."
"Do you understand me, Nevada? I'm not walking away. I thought I could, but I can't and I don't want to."
I brushed his cheek with my fingertips. "What makes you think I would let you go?"
With just the right amount of darkness, sarcasm, and nonstop action, Wildfire had me absolutely glued to my kindle. Ilona Andrews did a fantastic job creating an intriguing plot and wrapping it around a bunch of relatable and highly likable characters.
I should first mention that it would be best to read this series in sequential order as each installment picks up where the last one left off. Secondly, the fight scenes were on the detailed and gritty side, with author duo Ilona Andrews pulling no punches in the action. I thought it worked quite well, given that Nevada and her family and friends were all involved in either the family's P.I. business and/or in a House surrounded by people who wielded magic and basically created chaos. I really did get swept up in the fight scenes themselves and thought Ilona Andrews described them so vividly. The monsters and creatures were imaginative and added another element of excitement (and sometimes even humor) to the story. And I won't give any spoilers, but I'm happy to say we did finally get to see Nevada's siblings' and cousins' powers in action and it was definitely worth the wait!
Our smart-alecky heroine Nevada had her hands full this time fighting evil monsters, solving a kidnapping, sorting out family drama, and attempting to keep her romantic life private. The dynamic was just as fun–and rocky–as ever with Rogan but things evolved by the end of this book to a wonderful point for them. I do love a grumbly, tortured hero and Rogan definitely fit that bill. He was a wonderful guy who had been through horrible events and Nevada saw the innate goodness in him. I loved that she never gave up believing in him or that things would work out between them. They made an intriguing, extremely powerful couple. And while the ending of this installment was left a bit wide open (it hasn't been determined yet if there will be a book four) it wasn't a cliffhanger and did give our lovebirds a HFN finish. Although with the surprise detail the last line of the epilogue dropped on readers…I don't know. There might just be more to this storyline yet.
Ilona Andrews keeps giving us more and more to rave about with their work. Creative and entertaining as all get-out, Wildfire will be sure to please urban fantasy and paranormal fans.
Book Info:

Publication: Published July 25th 2017 | Avon | Hidden Legacy #3
Just when Nevada Baylor has finally come to accept the depths of her magical powers, she also realizes she's fallen in love. Connor "Mad" Rogan is in many ways her equal when it comes to magic, but she's completely out of her elements when it comes to her feelings for him. To make matters more complicated, an old flame comes back into Rogan's life…
Rogan knows there's nothing between him and his ex-fiance, Rynda Sherwood. But as Nevada begins to learn more about her past, her power, and her potential future, he knows she will be faced with choices she never dreamed of and the promise of a life spent without him.
As Nevada and Rogan race to discover the whereabouts of Rynda's kidnapped husband and are forced to confront Nevada's grandmother, who may or may not have evil motives, these two people must decide if they can trust in each other or allow everything to go up in smoke.