Like a Boss by Anne Harper: Nell is definitely not having a good Valentine's day, first her long-term boyfriend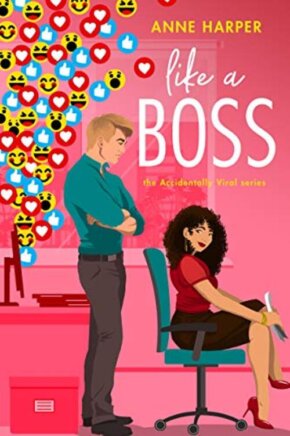 breaks things off with her then she forgets her wallet only to be caught in a major down pour and to land up at a roadside restaurant which is hosting a couples night! This is where things really go wrong for Nell when she get a bit carried away ranting about no longer being a part of a plus one, however a very cute stranger comes to her rescue inviting her to join him for dinner. Soon Nell finds her night turning around with the two sharing a chilled dinner ending in a steamy kiss. However the last thing Nell ever expected was to have her rant go vial if that wasn't bad enough she soon learns the sexy stranger who she shared that steamy kiss is her new boss.
"We forget all about the person who had to be someone's learning experience."
Arbor Bay is supposed to be the fresh start that Quinn and his son Owen desperately need, he definitely was not planning on kissing strange women. So you can just imagine Quinn's surprise when he learns his mystery woman is non other one of his new employees at Heart in Hand Rentals. Determined to keep things strictly professional between himself and Nell neither bring up their kiss, however working together soon Quinn finds it more and more difficult to keep things only business, that is until it is more than just the sparky connection that is on the line.
"Since the day I met you, I can say with absolute confidence that you, Antonella Bennett, are nothing like I was expecting."
I absolutely love Anne Harper's books, they all have such a cute balance between hilarious playfully characters and swoony romance. Like A Boss is the type of book you can't stop with just one chapter, you want more and more until next thing you know it's 4am and you are one chapter to the end!
"But one of the hardest parts of growing is learning that plans rarely hold and that mess can be the best thing to happen to you."
Nell was an absolute delight to read, she was caring and awkward in the most hilarious way possible. I loved how relatable she was and that she always had a way to tell a silly story. I liked that she chose to rebook at her love life after her break up and to see what truly made her happy. As for our cute single dad Quinn; I loved that he wanted to build a better life for his son even if it meant moving to a wacky small town. I really liked that he defended Nell but didn't get overly pushy. The chemistry between these two was hot, hot, hot and packed with witty banter.
Like A Boss is a definite must read, Nell and Quinn are a couple that you can easily find yourself rooting for!
QOTD: have you ever gotten into a major rant in public and about what?
Book Info:

Publication: April 19th 2021 | Entangled Publishing, LLC (Amara) |
Antonella "Nell" Bennett is having the worst day of her life.
Long-term boyfriend broke up with her? Check.
Drove through the pouring rain to a small roadside restaurant, only to be told all the tables were reserved for "Couples Night"? Check.
Definitely no longer one half of a couple? Check.
So maybe she got a little heated with the restaurant's host, and maybe her voice carried a bit as she lamented—loudly—that she's never anyone's "plus-one." At least an attractive stranger comes to her rescue, inviting her to be seated with him, and when it turns out to be one of the best nights she's had in a while, even ending in an innocent kiss that becomes anything but? Check please.
Fast forward a week, and Nell's rant has gone viral. Sure, her tiny hometown of Arbor Bay is collectively buzzing over their latest Internet celebrity, but Nell's no stranger to attention. Drama seems to follow her whether she likes it or not.
But even she never expected to show up to work only to discover her brand-new boss is a very familiar face…