Winning Miss Wakefield by Vivienne Lorret: Lorret is a new-to-me author, thus "Winning Miss Wakefield" was new to me also. This book is the second in her "The Wallflower Wedding Series" and was nice discovery. It begins with introducing Simon, called Bane, the Marquess of Knightswold, and part gypsy. He had a terrible childhood, since his grandfather refused to allow gypsy blood into the Knightswold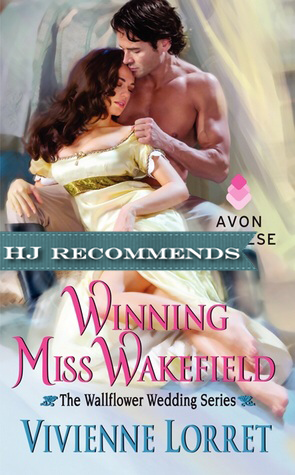 lineage, and arranged to have his parents killed and Bane declared illegitimate. Upon the former marquess's death, however, Bane was found to be legitimate, and took over the title. He declares that in revenge he would end his grandfather's line by never marrying or fathering children.
Sadly, his grandfather also drove his uncle Spencer to suicide, leaving Spencer's wife Eve cold and bitter. Bane and Eve have a fairly good relationship, and Bane supports her expensive lifestyle. Chapter One starts seven years after the old marquess's death, and Eve has taken young Merribeth Wakefield under her wing, and is sponsoring her entrance into society. Merribeth's aunt Sophie is an old schoolmate of Eve's. Despite being talented and witty, Merribeth has a huge problem. She was 'nearly' betrothed for five years to a Mr. Clairmore, who has left her for another, and she is well-nigh to being ruined. But Eve has a plan for Merribeth to win back Mr. Clairmore, and it involves spending time with a rake. Conveniently, there is a rake available, her nephew Bane, who finds Merribeth intriguing, despite his reputation as a rake, and her's as a marriageable young miss.
Typically, he knew everyone—the result of spending most of his life waiting for another sharp knife to plunge into his back. One could never be too careful. Yet within moments of their unexpected meeting, he'd gained a sense that she wasn't like the others. She didn't have an ulterior motive. None that he discerned, at any rate.
They have an attraction, but Bane's hatred of his grandfather and Merribeth's need for society's acceptance are at odds. Angst, mystery, horses, and thwarted love vie for attention in this novel of revenge and romance.
Because she doesn't tell him her name at their first meeting, Bane refers to her as "Venus" for the gap between her front teeth. I didn't know before that having a gap between your two front top teeth was a 'sign of Venus,' a reference to the Wife of Bath in The Canterbury Tales. It sweet that although Merribeth was taught to be embarrassed by her gap-toothed smile (and also by her 'fearsome brow'), and usually tries to hide it, that Bane freely encourages her to be herself and not to hide her smile. This sweetness is actually part of Bane's character; although he is dark and brooding, deep within he has untapped depth of feelings, and it takes someone like Merribeth, who is also used to hiding to look past his exterior and see the 'real' Simon beneath the Bane.
The secondary characters all have backstory that come out here and there. Some aren't fully resolved, due to further books in the series, and some are wrapped up. Eve is a very interesting secondary character, and her relationships with Sophie, Bane, and Lord Amberdeen, her neighbor, drive much of the story.
This book is a very nice read, quick and pleasant, and I recommend snapping it up, especially if you are lucky enough to find it on special! There are a few parts that drag, in particular when the other 'wallflowers' get together, but it doesn't reduce the overall enjoyability of the book. It's a lovely read for a summer day, and I'm looking forward to the rest of the series.
Book Info:

Published June 10th 2014 by Avon Impulse
She's got nothing left to lose…
With her fiancé suddenly engaged to another and her reputation in tatters, Merribeth Wakefield needs a bold plan to reclaim her life. She must be brave. Confident. She must … kiss a rake? The suggestion is ludicrous! Yet when Merribeth finds herself alone with the dark and brooding Lord Knightswold, suddenly the plan doesn't seem so farfetched. So she does something she never thought she'd do—she kisses him.
But he has everything to gain…
The Marquess of Knightswold—Bane to most—has no use for the affections of women. Well, none lasting longer than a single night. A plot for revenge weighs heavy on his mind, leaving no room for romance. But then a shy, witty miss borrows a kiss from him in a darkened room, and everything he thought he knew about innocent debutantes vanishes along with her.
When a twist of fate brings Merribeth within Bane's grasp, he'll have to resist her charms—or risk losing everything—for the sake of his heart.