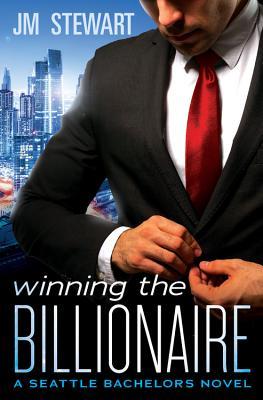 Winning the Billionaire by J.M. Stewart is a well-written tale about two friends who discover just how much they need each other. The characters are well-developed and highly enjoyable.
Christina McKenzie has loved Sebastian Blake for a long time. They've known each other for over twenty years, but Sebastian is unattainable. He's sexy, successful, and treats her like a kid sister…until one moment, when he doesn't. Christina is in the shock of her life when Mr. Playboy does the unexpected and plants a demanding kiss on her. One that leaves her breathless and aching for more.
Sebastian is the only man to have a piece of her heart and the only man who can really break it. I can see why Christina treads lightly with him. She's already had one bad relationship that left her with a bad taste and with Sebastian's reputation, it's easy to why Christina doesn't realize how true his feelings are for her. But Sebastian refuses to their relationship go back to the friend zone.
"Now, after having made love to you, the thought of going back to the way we were makes my gut ache. I'll never be able to go back to those meaningless flings. This time with you has changed me."
Sebastian and Christina burn the pages up in this sexy and addictive read. The author did a wonderful job at creating these characters to where I felt like I was in the background, watching their romance play out. I thought the conditions left for Sebastian, in order to save his own company, only added to the story and was pleased how much Sebastian was willing to give up. I also really enjoyed how both characters were on equal footing, money wise. Christina didn't need anything from Sebastian, except his love and that was the focus. If you need a quick read, filled with romance and sexy characters, I would highly recommend this book.
Book Info:

 June 14th, 2016 | Forever Yours | Seattle Bachelor's #2
When it comes to love, this billionaire is all business . . . Software mogul Christina McKenzie has loved billionaire Sebastian Blake since they were kids. So when Seattle's most famous bachelor-and perennial playboy-finally asks Christina out, her fantasies kick into overdrive. Things become hot and heavy . . . but what's she supposed to do when she starts to fall for him? Sebastian's never been one to settle down, and Christina doesn't want to be just another notch in his bedpost.
Sebastian knows that smart, kind Christina deserves better than him. But after the mind-blowing night they just shared, he's ready to turn a sexy fling into the real deal. Keeping his freedom is one thing, yet keeping Christina in his bed-and in his life-is all Sebastian can think about . . .