Words of Lust by Lise Horton: Yay! I'm so happy when I find an erotic romance that I really enjoy! Words of Lust is one of those books. I've not read this author before which is not very surprising since she only has this book and a short story in an anthology! But I can say for sure that whatever she's got coming out next is going to be on my auto-buy list!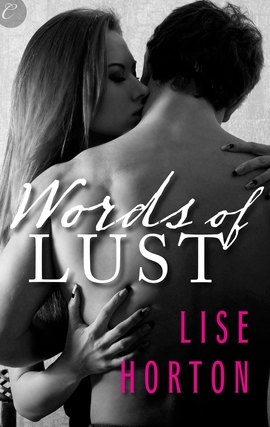 Serafina is the female character in this book and I thought she was pretty awesome! She's a college professor and teaches classes about erotica in literature. The fact that she teaches erotica is a little bit funny since she's not had many boyfriends and has never been very adventurous in bed. That's one of the things that makes Serafina such a relatable character. I think most people don't have super kinky sex lives, just like her. Plus, just like all of us, Serafina reads about hot, steamy sex but when she's presented with the opportunity to maybe have some of her fantasies come true, she sort of freezes.
I'm pretty sure that I'd have the same reaction! Like, Gulp… is this for real?! LOL! But it's not all wine and roses and smiles for her. She lost her parents years ago and was an only child, like her parents. So she literally has no one. She's shy and reserved so she doesn't have a ton of friends. Of course, even if she DID have lots of friends, nothing can really measure up to blood relatives, you know? She's used to taking care of herself and fighting her own battles. I love that about her. You know how much I love strong female characters and in a way, Serafina earns that label. Now, she's not perfect. For one, I thought she was a little TOO stubborn at times. Then, at one point, Serafina finds herself with a stalker. She takes it seriously but she still goes out alone and doesn't REALLY pay a lot of attention to her surrounding. So there was good and bad with Serafina. But I'm thinking she's met her match in Nick Stellato, at least as far as stubbornness goes!!
Nick is an awesome guy and just like with Serafina, I found that I liked him immediately. Of course, that's probably because Nick is doing his knight-in-shining-armor routine when he's introduced! He's this big, macho, construction worker guy for sure and he has a hard time talking about his feelings. But on the other hand, he obviously loves his mom and dad, his brothers and sisters and their kids. He treats everyone in his family really well (isn't that how we kind of judge a man – if he's good to his mom, he's a good guy?) and worries about them. He works hard and has a good brain. He's funny and knows how to have a good time AND he has a talented tongue! So really, what I'm trying to say is that he's juuuuuust about perfect! LOL! I mentioned that Nick isn't so great with talking about his feelings but somehow, he's able to get Serafina to relax and open up to him. I swear, this guy is The Woman Whisperer!!
I loved Nick and Serafina as a couple. I wouldn't say that I could sense they had tons of chemistry or anything. In fact, I don't know that I saw any chemistry between them for at least the first third of the book or so. But I couldn't say exactly why I thought that or even point to place in the book where that chemistry comes to the forefront. I thought that Nick and Serafina were a little typical. Shy, bookish college professor is brought out of her shell and becomes more sexually adventurous with a big, beefy construction worker. Actually, when I put it out there like that, it DOES sound a little eye-roll inducing so I'm not sure why it didn't bother me. One of my favorite things about them together is how they tease each other. I'm not talking about Sexy Time teasing, I mean just plain old joking around and tormenting each other. Once Nick gets Serafina to relax around him, they trade banter back and forth like they've known each other for years. I hate to use this cliche but they kind of complete compliment each other. Serafina is bookish, quiet and reserved while Nick is brash, brawny and open. They were a lot of fun to read.
I would recommend this book. It has plenty of Sexy Time and wow, it's hot! There are lots of laughs and a little mystery. I thought that the mystery aspect of the book was a bit obvious, slightly boring, and kind of far fetched. But that didn't affect my enjoyment of this book. Again, I really dig this author and will be snatching up whatever she offers next!
Book Info:

Published September 9th 2013 by Carina Press
Serafina Luca, straitlaced Manhattan professor of erotic literature, isn't one to blush at a few raunchy words, but her experience in the bedroom is hardly bestseller material. She's not sure the passion in the books she teaches is possible in real life, let alone for her. But then she meets Nick Stellato.
The construction foreman may look like a guy's guy, but he knows how to treat a woman. One look at Serafina's luscious figure, and he wants to prove it to her. One dinner date and their sizzling chemistry is undeniable. Soon, it's the professor getting a lesson or two…and Nick is a willing teacher. What surprises him is how much he enjoys the time he spends with Serafina outside the bedroom–and how easily he can imagine a future together.
Before long, Serafina is falling hard for Nick, too. But how can a timid academic with virtually no past fulfill his dreams of an adventurous future?