In Working It (Love By Design #1) by Kendall Ryan, Tennessee native Emmy Clarke couldn't be more excited to be working for Status Model Management in New York City. Her dream of working in the fashion industry is coming true. The downside is having to deal with her dragonlady of a boss, Fiona Stone, who belittles Emmy constantly. Being her assistant does have its rewards, though, getting to research and then meet hunky male models almost every day.
'He was mine. And I knew then that I loved him. Not the idea of him, not the model, or the prestige or luxurious lifestyle. I loved this man, this broken, sensitive, dirty-talking man.'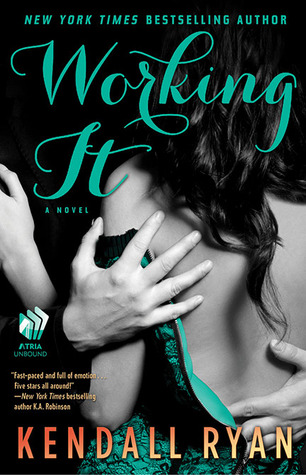 Emmy is awestruck when she meets popular model Ben Shaw for the first time. He's more gorgeous in person than in his pictures. And he seems to have taken an interest in her. When Emmy, Fiona, Ben, and the crew from the agency have to travel to Paris to get ready for fashion week, Ben's flirting with Emmy escalates until the unthinkable happens and they hook up. With everyone giving her different advice on how to handle the situation and her boss in an uproar about her relationship with Ben, Emmy isn't sure who to believe. She only knows she wants to find a way to make their relationship work long-term.
'If she knew the depravity lurking inside me, she'd flee for Tennessee without a backward glance. I'd devour a girl like her. Own her. The
thought was intoxicating.'
Working It is a steamy new adult romance revolving around a gorgeous dirty-mouthed male model and a sassy southern girl who gives him a run for his money.
While I might not be a fashionista myself, I can appreciate a novel set in the fashion world. Author Kendall Ryan takes us to some of the most memorable cities in the world during Emmy and Ben's romance: New York City, Paris, and Milan. We get an insider's look at what goes on behind the scenes for the models and just how much pressure is put on them on a daily basis. There's also a bunch of attitude, mainly in the form of Emmy's boss Fiona, who can connive and manipulate with the best of them.
Emmy was a pretty relatable character for me. She was a fish out of water, moving to NYC for a chance at a career in fashion. Emmy was a real, caring, honest person and it was interesting to see her interactions with others at the modeling agency. Fiona and her co-workers thought she would fail immediately, but she held on, raised her chin and kept working hard.
I thought Emmy was a nice counterbalance for Ben. He was raised completely opposite of her values, but she brought to light qualities he never knew he had or wanted. I didn't want to like Ben at first but he grew on me….even though he frustratingly couldn't see how omitting certain things might hurt Emmy. Their love scenes were pretty intense and raw, bordering on erotic with lots of dirty talk on his part. Plus there was this one scene where they may have been joined by another guy…but I don't want to give away too much. 😉
Overall, Working It was interesting and full of angst and drama like you would imagine, considering it is a new adult story and it's also about models. The dual POV gives us a peek into both character's thoughts which I think you'll appreciate.
Book Info:

Published February 18th 2014 by Atria Books | Love By Design #1
Straight-laced and well-mannered southerner Emmy Clarke is out of her depth in New York City's fashion world, but when she lands a job as an assistant at a modeling agency it seems like the perfect mix of business and pleasure. Working under the notoriously tyrannical Fiona Stone is a nightmare, but there's one distinct perk: ogling the ridiculously hot male models who parade through the office; particularly rising star Ben Shaw.
Ben is everything Emmy's not: exquisitely gorgeous, highly paid, and well traveled. He's also got more issues than Vogue. Emmy looks after Ben on photo shoots, but she refuses to become another one of his lusting groupies. Ben finds Emmy's refreshingly real attitude to be surprisingly attractive.
Against a backdrop of the most fashionable cities in the world, casual flirting turns into an illicit affair, but when Ben's twisted past is revealed, and the bitter Fiona catches wind of their relationship, their careers and hearts are threatened. Here is a story of heart-stopping, toe-curling passion by the beloved bestselling author of Hard to Love, Resisting Her, and The Impact of You.