Safe in the Tycoon's Arms by Jennifer Faye: It had to have been the boxers. That's why she didn't recognize the owner of the house in which Kate was staying. Lucas Carrington ambushed her during the storm that night, and things weren't the same since. She already had enough on her plate, and now she had to deal with the famous bachelor who put a wrench in her plans to save her daughter's life.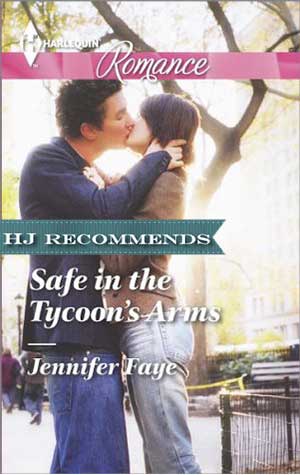 Lucas was home early, yes, but he couldn't be expected to know that his Aunt would allow some strange woman to stay in his house. She was always bringing home strays, just not to *his* home. Lucas had things to do – launch a product line and brood. Kate would get in the way of both. She was packed and ready to go when he realized even he wasn't a big enough jerk to throw her out into the storm, so he let her stay… for now.
Kate and Lucas had one thing in common – daughters in very complicated situations. Once he learns about Molly, Lucas has to find a way to help. Not that he'll get *too* involved – that would mean investing in something that reminds him of his own situation, and maybe even admitting he could do more. And after hearing about Kate's childhood, he can't let her know what's going on in his own life.
But that's before the picture. The publicity. It wasn't much, but it was enough to get the ball rolling so she could raise funds to get her daughter the help she needed. And it was also enough to push Kate and Lucas together – to force them to act on their attraction, whether they wanted to or not. To get close enough that some secrets might come out. Hopefully, relationships can be forged and survive the storm to come.
I'll say up front that this is a super clean romance, but it doesn't suffer for it. I usually like my stories a bit steamier – this one makes up for it by giving more in the way of character development and relationship building. The angst between Kate and Lucas was resolved quickly, and it was very understandable given their individual circumstances. That's refreshing – I'm used to the misunderstanding making up the entirety of the tension, and it wasn't true in this case.
The storylines about their respective daughters were both handled very well and balanced. While Lucas was torn between doing the right thing and the thing he was told to do, he wasn't made into a villain. Super refreshing. I had strong feelings about Kate's ex even though he was a very skimmy character, and that says something as well.
Great story, great characters, fleshed out, sweet, funny, and charming – with a side helping of tear-jerk.
Book Info:

Published March 1st 2014 by Harlequin Romance Series #4417
The man behind the headlines…
When billionaire Lucas Carrington returns to his New York mansion, he never expects to find beautiful stranger Kate Whitley making herself at home. Invited by his aunt to stay, he soon discovers she's a woman in need. She's raising funds for her sick daughter, so he agrees to let her stay–temporarily!
Kate may not belong in Lucas's high-society world, but she sees there is more to this tycoon than the headlines suggest. Yet with so much at stake, can she trust herself and her heart with New York's most sought-after bachelor?