Worth It All by Claudia Connor is definitely a winner with its well-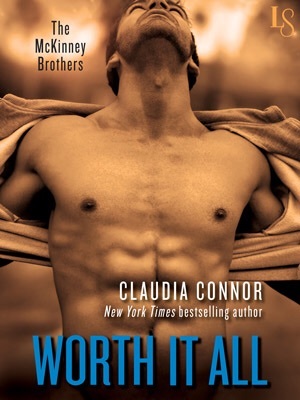 written words, beautiful storyline, and heart-stealing characters. I adored all the characters in this book. Each character, even the secondary ones, had a purpose and added something to the story.
Paige is a hardworking, single mother to an adorable five-year-old. She works two jobs and takes classes to make sure her daughter, Casey, never has to worry about not having a place to live, unlike Paige, who grew up in fear of never knowing if their landlord would kick them out for non-payment. While waitressing at one of her jobs, she meets Jake and the attraction is immediate, but Paige is determined to concentrate on Casey and put her own needs on the back burner.
Jake holds a lot of guilt inside of him. He's not the same young, cocky football player he once was. He's grown up and matured a lot since his accident, but he's never forgiven himself. When he meets Paige, he wants her, but a part of him knows she's better off without him.
"He'd never felt a kiss all the way to his heart."
It's not just Paige who he falls for. The relationship he develops with Casey will melt your heart. Since both of them have an amputation, they share a close bond, one that is sweet enough to make your teeth hurt. Jake and Casey actually form a friendship before Paige and Jake give in to their feelings, which is another thing I loved about this book.
The journey to a happy ending will take time, but they do get one. For Jake, it's not easy to let go of his guilt and for Paige, it's not easy to trust someone and be able to count on another person. Worth It All will give you all the feels. The characters are flawed on the outside and on the inside and I love them for it! This is one of the best books I've read this year and anyone who loves a good romance should give this book a read.
Book Info:

Published: April 19th 2016 | Loveswept | The McKinney Brothers #3
After a car accident stole his dreams of pro football, JT McKinney has made a new life for himself far away from his old one. He spends his time in a prosthetic research and development facility, his attention on machines instead of people until a chance meeting with a young mother and her five year old daughter who need his help. He'll have to let go of the past if he wants a future.