Wrong to Need You (Forbidden Hearts #2) by Alisha Rai is the book I have been waiting for since book 1 in the Forbidden Hearts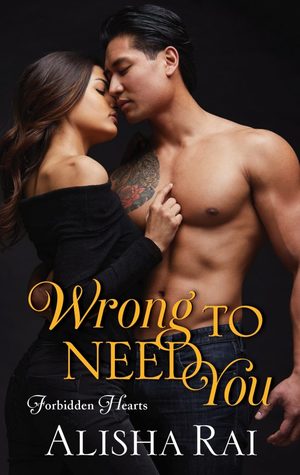 Series. Getting to find out exactly what was up with these two characters, getting to revisit the characters from book 1, and oh yes, who can forget a plot twist that I did not see coming. This is the amazing story of Jackson and Sadia.
Jackson Kane ran away from home ten years ago and never looked back. After being accused of the arson that destroyed his families store, almost going to trial over it, he knew that he would be under the microscope. It was too much for the shy and quiet Jackson to endure. So he left and stayed gone, not even returning for his brother's funeral. But now he back home, and looking to make amends with the one person he hurt the most, the one person that he has loved since he first layed eyes on her, Sadia Ahmed, his brother's wife.
Sadia Ahmed is drowning. The Kane Cafe is going under, her late husband's debts are piling up, and she needs to keep it together for her and her son. She also needs to find a new cook for the cafe, plan a anniversary party for her parents and keep her nosy sisters from finding out just how underwater she is. When she decides to let off a little steam after her night shift at that bar, she never imagined that the hottie that she has been eyeing all night is none other that Jackson Kane.
When Jackson steps up and steps in to become the temporary cook at the cafe, Sadia is confused. More than that, she is angry, hurt and frustrated. Why did Jackson stay away for so long. Why did he never answer her emails? Why is she so darn attracted to the one person who should be off limits to her.
As Jackson and Sadia spend time together, Jackson opens up to her about why he ran, why he stayed away, why he did not come back for Paul's funeral, or opened up as much as he was willing. He is still holding on to a secret so big that if it ever got out, it would ruin Sadia and her son. And when the truth comes to light, it will take everything Jackson holds dear to convince Sadia that she and her son mean more to him than anything else in the world.
I love he connection between Sadia and Jackson. This story is full of twist and turns and chemistry……very hot…..very wicked chemistry. That Jackson got to reconnect with the extended family that he had lost all those years ago was emotional and heartwarming. That he was so willing to give Sadia whatever she needed because of the love that he carried for her for so many years…..amazing. I cannot wait to see what happens and who is the next to fall in this series. HOT HOT HOT!
Book Info:

Publication: November 28th 2017 | Avon | Forbidden Hearts #2
He wasn't supposed to fall in love with his brother's widow…
Accused of a crime he didn't commit, Jackson Kane fled his home, his name, and his family. Ten years later, he's come back to town: older, wiser, richer, tougher—and still helpless to turn away the one woman he could never stop loving, even after she married his brother.
Sadia Ahmed can't deal with the feelings her mysterious former brother-in-law stirs, but she also can't turn down his offer of help with the cafe she's inherited. While he heats up her kitchen, she slowly discovers that the boy she adored has grown into a man she's simply unable to resist.
An affair is unthinkable, but their desire is undeniable. As secrets and lies are stripped away, Sadia and Jackson must decide if they're strong enough to face the past…and step into a future together.