In You Know I Need You (You Are Mine #4) by Willow Winters (12/29), Evan and Kat Thompson's romance and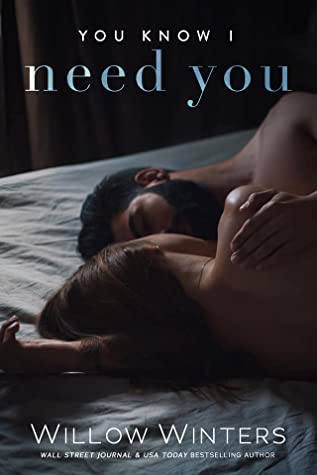 marriage might not be fairy tale material but up until a short while ago it suited them just fine. The former bad boy and the bookish, charming beauty were well on their way to a happily ever after until the bottom fell out, leaving Kat to give Evan an ultimatum that would have him making decisions he swore he'd never make. But when his wife's safety relies on those choices, he's left with no other option.
'Watching her walk away when you know she loves you and you love her; it's a torture that's immeasurable and the destruction it leaves is irrefutable.'
Kat has no idea what Evan is keeping from her. But she knows it's dangerous and is something that could change their already upended lives all over again. And although she loves her husband to distraction, Kat's not sure that she can keep going through the same struggles over and over without getting a definite answer that Evan will be there when she needs him. So far it isn't looking good. Although Kat hopes and prays that things will ultimately work in their favor so she won't have to leave behind the man she promised to love forever.
'When you shed tears over something that's truly gone, those are the tears that never leave you. They drown your soul and take a piece of your heart.'
Angst, suspense, and conflicting emotions dominated the pages in You Know I Need You, the exciting conclusion of Evan and Kat's duet of books in Willow Winters' passionate You Are Mine series.
"Kat…never forget that I would do anything for you. Everything is for you."
First things first, definitely make sure to read You Know I Love You, the beginning to Kat and Evan's duet, first before reading this one as You Know I Need You picks up exactly where that one left off (which was a mother of a cliffhanger!). This ended up being a really quick read for me. Because with the amount of danger Evan was in and the wedge it put between himself and Kat, I just had to know how they could possibly resolve everything between them, so I flew through the pages. And there were certainly a lot of thrills and emotions along the way.
Without giving spoilers, mostly-reformed bad boy Evan was fighting for his wife's safety at any cost–even if it put him in harm's way. There were some extremely sad moments he and Kat went through together, and apart unfortunately, that changed them a great deal. But it was easy to see how much love there still was between them. Now I wasn't onboard with all of the decisions Kat and Evan made. But it felt like the conflict it all created between our couple was exactly what they needed to smarten up and take a look at the big picture. (Nicely done by Winters) It also made the happy ending oh so much sweeter for Evan and Kat, after all they went through.
You Know I Need You will keep readers engaged with the danger and plot twists that did abound. Not to mention the love that proved it could overcome incredible odds.
Book Info:

Publication: Expected publication: December 29th 2020 | Pub: Willow Winters | You Are Mine #4
I married the bad boy from Brooklyn.
The one with the tattoos and the look in his eyes that told me he was bad news.
The look that comes with all sorts of warnings.
I knew what I was doing.
I knew by the way he put his hands on me; how he owned me with his forceful touch.
I couldn't say no to him, not that I wanted to. That was then, and it seems like forever ago.
Years later, I've grown up and moved on. But he's still the man I married. Dangerous in ways I don't like to think about.
I did this to myself. I knew better than to fall for him.
I only wish love was enough to fix this…
This is the second book of a duet. You Know I Love You, book 1, must be read first. It is the second duet in the series.