In Your B&B or Mine? by Melissa West, it's hard for Savannah Hale to return to Maple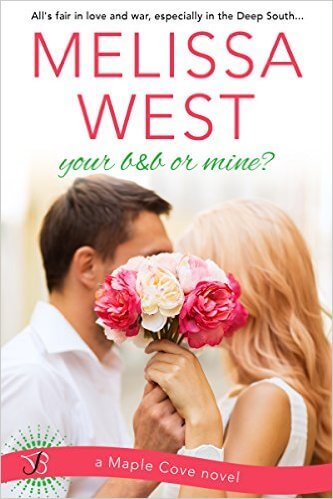 Cove. Since her hometown is bound to dredge up the most painful of memories that she's tried her hardest to get over. But after the death of her mother, returning is her best chance to keep the family legacy alive. She knows turning things around isn't going to be easy when the threat of foreclosure hangs over her head, and the B&B desperately needs repairs. The question is – can she return the B&B to its former glory, or will she lose it like she's lost so much else?
Ex-soldier Logan Park has always found it difficult to be around Savannah. Not only because, of his intense feelings for her that he's never been able to act on, but the guilt that weighs heavily on him due to his best friend, Will, being killed in combat. Now that Savannah is back, Logan is determined to repair their friendship, and hopefully see if there could be more between them. If only he can convince Savannah to take a chance on love again.
What a sweet and endearing read Ms. West has weaved with this emotional tale, encompassing the second chances trope, a heroine determined to save her family's legacy, and a hero torn between helping her or working against her goal because of the demands of his job. I liked how this author managed to draw me into this story immediately. With Savannah returning to her hometown, and some of the townsfolk making her feel like an outsider, as it made me intrigued to learn the reason why.
The dialogue was intense due to both characters back stories, the anger Savannah holds towards Logan after the last time they saw each other, and the guilt that haunts the hero due to his friend's death. There's also some great teasing dialogue between Savannah and Logan that had me smiling. Yet, most of all, what really kept me enthralled were the emotions and reactions of both characters and whether Savannah could forgive Logan, so they can have a second chance at love.
Her eyes snapped to him, and for a moment he thought she might come to him, but then she shook her head, her surprise turning to sadness. "I don't understand you. You said in the basement that you'd never been more sorry. Then you stand at my booth like a caveman, refusing to allow anyone else to kiss me."
"Did you want someone else to kiss you?"
"That's not the point."
Logan took a cautious step toward her. "I think it is."
I liked both characters, and the kissing booth scene was an absolute delight, as it was the turning point in their growing relationship. A chance for Logan to prove to Savannah that they both deserve to be happy, despite the fact that he's her late boyfriend's best friend. Savannah is very independent and stubborn, and I liked how she made Logan work for her forgiveness. While Logan, he's a great hero and very determined to win Savannah over by helping her. Since she needs it when it comes to the B&B, or dealing with her siblings, or even if she just needs someone to talk to when it seems she isn't handling things all that well. And once he accepts sage advice from various secondary characters that think he and Savannah are perfect for each other, they're being together begins the healing process for them both. Since the advice helps them realize that Will would want them to be happy.
Overall, Ms. West has written an enchanting tale that ended really well. Logan proves his love for Savannah by doing something that she never expected, which makes her remarkably ecstatic. I would recommend this story, if you enjoy sweet reads that embrace the second chances trope.
Book Info:

Publication: November 9th, 2015 | Entangled Publishing |
All's fair in love and war, especially in the Deep South…
Savannah Hale never planned to come back to Maple Cove, Georgia. Her hometown has too many painful memories, especially of her high school sweetheart, who was killed during combat. And yet here she is…broken-hearted from her mother's death and left to deal with the Hale family legacy—Maple Cove's landmark bed and breakfast. In need of repairs and near foreclosure, she's hanging on to the B&B by a thread.
And the man out to buy it is the man she's never been able to forgive…or forget.
Former soldier Logan Park is haunted by memories of his own. Some are of his best friend. Other are filled with longing for the girl he could never have. Now Savannah is back, and their attraction can't be denied. But Logan has already sacrificed everything to atone for his sins, and there's no way he'll let himself fall for a girl who might never love again.