Today it is my pleasure to Welcome author
Leigh Duncan
to HJ!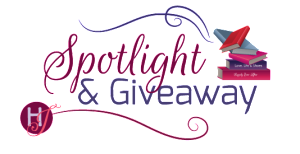 Hi Leigh and welcome to HJ! We're so excited to chat with you about your new release, A Cottage Wedding!

Hey! I'm so excited to be here today on Harlequin Junkie, to talk with readers and fans, make new friends and let everyone know about my latest release, A Cottage Wedding. Thanks soooo much for having me here! It's such an honor.

Please summarize the book a la Twitter style for the readers here: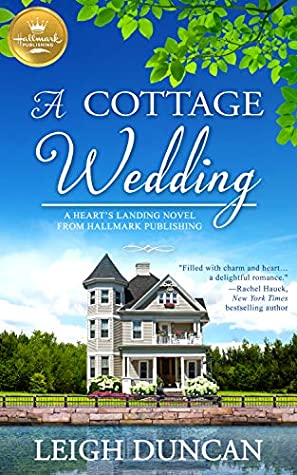 Welcome back to Heart's Landing, a charming wedding destination founded by Captain Thaddeus Heart, whose love story is the stuff of legends. When a reporter comes to town to prove true love is just a fairy tale, the owner of the Captain's Cottage is just as determined to prove she's wrong.

Please share the opening lines of this book:
Jason Heart tugged on the door of I Do Cakes and stepped into the bakery.
A sea of voices rolled over him like a wave, drowning the merry tinkle of the bell that announced his arrival.
He brushed an unseen fleck from his starched white shirt while he took a second to regroup.
The noisy crowd had thrown him off-stride.
Even though he was right on time, owners and managers of the town's businesses already crowded the dining area.
Please share a few Fun facts about this book…
Ooooh, I love fun facts!
Captain Thaddeus Heart was a swashbuckling seafarer who founded Heart's Landing. His love for his wife is the stuff of legends. Why, once he sailed his ship through a hurricane to reach port in time for his wife's birthday!
When Thaddeus's granddaughter descended the staircase of the Captain's Cottage to marry into the Rockefellar clan, socialites of the day swooned. The Cottage has been "the" place to get married ever since.
Every year, brides flock to get married in the town where shops like I Do Cakes and Forget Me Knot Flowers line Bridal Carriage Way and Procession Avenue. The town has become so popular that, Heart's Landing has been named America's Top Wedding Destination for the past ten years—the longest any town in the country has held onto the title.
After her own Heart's Landing wedding fell apart, magazine editor Regina Charm made up her mind to destroy the myth at the very foundation of the town.
If this book had a warning label, it'd be "Caution: Hunger Pangs Ahead!" Weddings almost always involve food, and the characters in A Cottage Wedding love to describe all the yummy dishes they're eating.
What first attracts your Hero to the Heroine and vice versa?
When Tara arrives at the Captain's Cottage, she is entranced by the life-sized portrait of Captain Thaddeus hanging in the foyer. She literally loses her balance when she meets Jason, who inherited his swashbuckling good looks straight from his ancestor.
Jason, however, is less than enthused about the journalist who has arrived in town a full day ahead of schedule. He suspects she has a hidden agenda…and he's right!

Using just 5 words, how would you describe Hero and Heroine's love affair?
Only 5 words??? That's a tough one! How about:
True love overcomes all odds!

The First Kiss…
Spoiler Alert: The Cottage Wedding is such a super sweet story, describing that first kiss would spoil the ending. But trust me—Tara and Jason make it well worth waiting for.
Without revealing too much, what is your favorite scene in the book?
One of my favorite scenes happens after a party to welcome Tara to Heart's Landing. The next morning, Jason tries to convince himself and his cousin that he's not attracted to the journalist. But he's in trouble, and his cousin Evelyn knows it.
Here's a snippet:
"Sorry, I've been, um, distracted."
"It wouldn't have anything to do with a certain blonde journalist, would it?" Evelyn leaned forward, a playful eagerness shining in her eyes. "Do you two have something going on besides the review?"
"Don't be ridiculous." Jason stiffened. "I'm simply doing what everyone asked me to do, showing her around town and making sure she sees the best of Heart's Landing."
"I don't know about that." Evelyn tsked. "I saw you on on the dance floor. You two looked like a pair of lovebirds."
"Was that before or after she stalked off and left me standing there by myself?"
"Ouch! What'd you do?"
"Nothing." He held up his palms. "I swear." One minute, he and Tara had been moving about the dance floor in time with the music. The next, she'd sprung from his arms like a Jack-in-the-box. He had no idea what he'd done wrong.
If your book was optioned for a movie, what scene would be absolutely crucial to include?
I adore the scenes where Jason shares his love for Heart's Landing with Tara. They're a must for any movie! For instance, when they visit Forget Me Knot Florist:
So far from the hustle and bustle of the big city, Tara doubed Heart's landing could even offer half as many choices as New York's flower district.
Her conviction suffered a minor setback a few minutes later, however, when she stepped beneath a rose-colored awning. She whipped out her camera, unable to pass up the chance to capture one of the prettiest table settings she'd ever seen. In the display window, floral swags created curtains around an elegant centerpiece that dripped orchids on satin ribbons. From an open doorway came the heady scent of flowers and greenery.
Tara took a deep breath. Somewhere in the mix, she caught the sweet, sweet smell of hyacinth…
A heaviness draped itself across Tara's shoulders. Discovering the town's Achilles heel might be more difficult than she'd imagined.
Readers should read this book …
For five reasons:
A Cottage Wedding is a sweet, uplifting love story.
It's set in a small, delightful, New England town.
Everyone in Heart's Landing shares a common goal.
There's nothing more romantic than "a perfect wedding for every bride."
Jason and Tara aren't perfect. Each of them faces difficult decisions and makes mistakes while they search for "a true Heart's Landing love for the ages." You'll love cheering them on!
What are you currently working on? What other releases do you have planned?
I am super happy that we'll be returning to Heart's Landing next spring! The third book in this series will be released in April. I can't share many of the details with you yet, but one of the best-loved characters in the previous two Heart's Landing books will play a starring role in the next one.
Thanks for blogging at HJ!
Giveaway: This giveaway has two parts:
For US shipping addresses only: 1 signed print copy of A Cottage Wedding and book swag
For International readers: 1 copy of A Cottage Wedding in PDF, Epub or Mobi format.
To enter Giveaway: Please complete the Rafflecopter form and Post a comment to this Q:

Despite their differences, Jason and Tara shared an instant attraction. Have you ever fallen in love at first sight? What happened?
Excerpt from A Cottage Wedding:
"I don't believe Heart's Landing deserves the title of America's Top Wedding Destination any longer. I think it's time to pass the torch to another contender."
Tara nodded. According to whispered gossip around the water cooler, Regina had planned a wedding that would outshine the royal wedding of a lesser noble. Her fury had been a force to reckon with when things hadn't turned out exactly as she'd envisioned. Now, it seemed, she placed the blame solely on Heart's Landing…
"Needless to say, I don't expect, or want, a glowing report on Heart's Landing. Do I make myself clear?" The Weddings Today editor arched one carefully drawn eyebrow and cast an expectant look across the desk.
"Perfectly." Tara pressed her fingers together. Okay, so this might not be the plum assignment it had sounded like at first, but it was still a great opportunity.
"The real part of your job is a little trickier. Heart's Landing has held the title for so long, it's going to take something substantial to knock the town off its pedestal. That's where your unique skills as an investigative reporter come in."
Tara leaned forward, her nose for a story on alert.
"Your real purpose while you're there will be to debunk the lies that form the very foundation of Heart's Landing's claim to fame. For nearly as long as the town has existed, rumors and whispers have circulated about the town's founder. Not everyone is convinced he was the paragon of love and faithfulness people have made him out to be. I want you to dig into the history of Captain Thaddeus Heart and find out the truth about him."
Tara sucked in a breath. Now this was the meaty kind of assignment she'd been hoping for.
"You've heard the stories, I'm sure. How, the good captain supposedly loved his wife so much that he sailed home for her birthday every year. That he battled a hurricane in order to make port on time. Like we're supposed to believe that." Regina gave an indelicate snort. "Then, there's the heart-shaped stones mounted all over town. Locals claim Captain Thaddeus personally chiseled them as birthday presents for his wife." She examined one blood-red fingernail. "Rocks—how perfectly droll. That, in itself, speaks volumes about the true nature of his relationship with his wife."
Looking up, she continued, "I've requested access to the captain's logs and records. Everything you need to expose his story as nothing more than a fairy tale will be available to you. Think you can do it?"
"Of course, Ms. Charm. I'll do my best."
"You must know how important this is, Tara. Debunk this myth, and you're on your way up in the world. Fail, and well…"
"I won't." She didn't need anyone to spell it out for her. Succeed, and she'd get that promotion she'd been angling for. She'd remain on staff at Weddings Today, have her own office, write the kind of stories she'd dreamed of writing. Fail, and at best, she'd be stuck in the bullpen for the rest of a very short career.
Excerpts. © Reprinted by permission. All rights reserved.


Book Info:
Captain Thaddeus Heart founded Heart's Landing, the charming town known as America's Top Wedding Destination. The good captain's own love story is the stuff of legends and takes center stage in the town's annual pageant. But layers of tulle shudder all along Bridal Carriage Way when an investigative journalist sets out to undermine the myth surrounding Captain Thaddeus.
When Tara Stewart's recently jilted editor at Weddings Today orders the young journalist to debunk the myth at the center of Heart's Landing, Tara sets out to prove once and for all that true love is just a fairy tale. Her plans hit a snag when the town assigns Jason Heart as her tour guide. The owner of the Captain's Cottage, Jason has inherited his charm and swashbuckling good looks straight from his sea-faring ancestor, and he—like Tara—is instantly smitten.
But when Tara uncovers the hidden truth behind the town's legend, will she follow her heart? Or will she betray Jason and all of Heart's Landing to reach her goal?
Book Links: Amazon | B&N | iTunes | Goodreads |


Meet the Author:
Leigh Duncan is an Amazon best-selling author and a National Readers' Choice Award winner, the author of more than two dozen novels, novellas and short stories. However, the biggest thrill of her career came when she saw her book, Journey Back to Christmas, featured on the Home and Family Show after Hallmark Publishing chose it to introduce its new line of romance novels. Leigh currently writes the Heart's Landing series for Hallmark. These sweet, contemporary romances take place in a small town known as America's Top Destination Wedding, where businesses and residents work to provide the perfect wedding for every bride. Leigh lives on Central Florida's East Coast. When she isn't writing, she spends her free time crocheting afghans for her grands (whether they want them or not—LOL!).
Website | Facebook | Twitter | | Instagram |