Today, HJ is pleased to share with you

Nikky Kaye's

new release: 

A Friendly Wager

When friends become lovers, is their relationship screwed?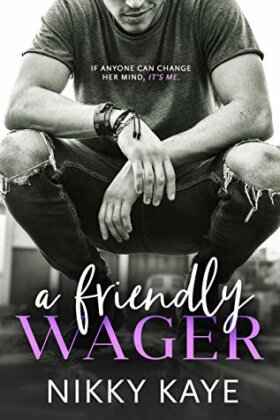 When I told my friend Will that I was done with dating, he looked at me like I'd decided to give up oxygen.

I'm not the first college princess to swear off kissing frogs, and just because we have a biology lab together doesn't mean that he's an expert on the birds and the bees, except… he's given me a challenge—a friendly wager, so to speak.

A thousand bucks is on the line, and all I have to do is prove that he doesn't affect me. It'll be the easiest money I'll make all semester.

Only, I didn't count on how hard it would be to resist his panty-dropping smirk, dirty promises, and the way he gets inside my head. Giving up oxygen might be easier.

We're both playing to win, but at what cost?
Enjoy an exclusive excerpt from A Friendly Wager 
"I think I hate sex."

I wasn't sure which went down the wrong way first—Cassie's casual announcement or my chocolate shake.

"What the—?" It was hard to cough and swallow at the same time.

Her face turned pink and she wouldn't look me in the eye. My own eyes were watering pretty badly as I tried not to choke. The noise and colors of the little diner swam around us as I processed her words.

Hate sex? She said sex?

Part of my shock came from the fact that she was confessing this to me instead of one of her girlfriends. But that was the awesomeness of our friendship.

Cassie was the perfect female friend for a guy to have. She was shy but not fake, unlike a lot of girls on campus. She wasn't one of those types who wore pajamas to class, but she didn't put a ton of shit on her face either. She was the kind of girl that didn't care if you saw her eating like a guy, and she never expected you to pay for her like you were on a date or something.

Maybe she was joking?

After meeting in our first Biology lab where we dissected a dead cat, she dragged me to a really disgusting spaghetti dinner and made terrible Dad jokes. I thought maybe the cat traumatized her or something, but that really was her weird sense of humor.

When we recently turned twenty-one in the same week, we went out to celebrate together. Her puns got worse with every drink, and she blushed like a nun at every dirty joke I made. You actually could see her embarrassment go down her creamy neck and under her shirt, since her long, dark hair was usually up in a ponytail.

At the time I'd wondered where that blush stopped.

I'd be lying if I said she wasn't attractive, even hot. Today her legs looked even longer than usual in the knee-high leather boots she wore. Unfortunately, her long sweater coat thing her hid her incredible ass. Her lips were always pink, even without gloss, and her eyes… She had these eyes that felt like they could see through me—when she was actually looking at me, which she wasn't at that moment.

What could I say? She was kind of amazing. She was also kind of off-limits.

Every one of my buddies probably suspected we were secretly hooking up, but we weren't. Maybe it was the cat guts or maybe it was the way I laughed at her jokes, but somehow I'd been silently friend-zoned.

And now she threw this on the table? Shock rendered me temporarily speechless. I tilted my head, waiting for her to say more.

She didn't. Clearly, she expected me to say something. But what?

"Cassie, don't you think this is kind of a big thing?"

"That's what she said," she mumbled and picked at a fry.

We sat in silence for three more fries while my heart rate returned to normal.

"Okay," I finally said, "if you want to talk about it…"

She shook her head. "I just don't get it."

"Maybe that's the problem," I joked.

Ignoring me, she focused on wiping her fingers with a paper napkin. "I've been thinking about it," she said slowly, "and I think maybe sex isn't for me."

"If it hasn't been for you, then somebody hasn't been doing it right."

"Hardy har har." If it was possible, she was turning redder.

"Okay, what do you mean then?" I shook my head.

It was like she was suddenly speaking Japanese and my brain couldn't process the sounds she was making. This was all so weird. Cassie never talked about sex.

In fact, I would have wondered if she was a virgin if I hadn't overheard her dickhead ex complain about how tiny her tits were and how they barely moved when he fucked her. I felt a frown coming on just thinking about him. Her tits were just fine.

"I don't think…" She trailed off, and we sat in a pretty fucking uncomfortable silence for the first time—ever.
Excerpt. ©Nikky Kaye. Posted by arrangement with the publisher. All rights reserved.

Giveaway:

2 ebook copies of A Friendly Wager by Nikky Kaye
To enter Giveaway: Please complete the Rafflecopter form and post a comment to this Q:

What did you think of the excerpt spotlighted here? Leave a comment with your thoughts on the book…
Meet the Author:
Nikky Kaye likes to read and write feverish, fearless books for your funny boner, such as A Model Fiancé and the Billionaire Book Club series. A former college professor, she has worked with movie stars and the United Nations—but prefers happy endings. She has young twin boys, loves living where there are four distinct seasons but loathes getting out of bed, has a terrible addiction to diet cola, and hates talking about herself in the third person.
AUTHOR LINKS:
Website: http://www.nikkykaye.com
Newsletter: http://www.subscribepage.com/nikkykaye
Amazon: http://www.amazon.com/author/nikkykaye
Bookbub: http://www.bookbub.com/authors/nikky-kaye
Facebook: http://www.facebook.com/officialnikkykayeauthor
Facebook Reader Group: https://www.facebook.com/groups/AuthorNikkyKaye/
Instagram: http://www.instagram.com/nikkykayebooks
Twitter: http://www.twitter.com/readnikkykaye
Goodreads: https://www.goodreads.com/author/show/15398094.Nikky_Kaye
Pinterest: http://www.pinterest.com/nikkykaye