B.J. Daniels has a new series and readers are going to love it! Restless Hearts  is the first book in her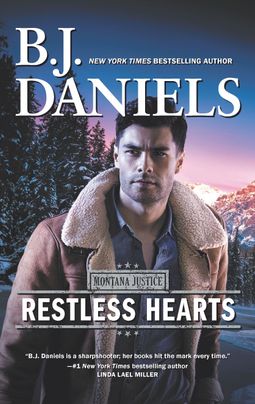 Montana Justice series.
B.J. Daniels is very talented when it comes to mystery, suspense and romance. This comes through quite clearly in this story. This book is a super beginning to the series.
PI Blaze McClintock is returning to her hometown and family ranch for the first time in years. Not that she really wants to but her estranged father, Montgomery "Monte" McClintock is in jail charged with murdering fellow rancher Frank Anson.
The judge who set Blaze on her reformed life's path, after her wild ways got her into enough trouble that she had to face Judge JT Landusky, has sent her home to help her father. Monte wants to plead guilty to the murder but Blaze believes he is trying to protect someone else. The judge also sends bounty hunter Jake Horn to assist Blaze. Oh no! Not Jake Horn! Blaze and Jake had a thing going the previous year until Jake took off to help a "friend." Blaze's heart was broken and she is not real inclined to give Jake a second chance. Then again she never let Jake explain his actions and Jake is determined to make her listen because he loves her. He is also determined to keep her safe. That's a difficult, dangerous job. Arson, buffalo stampedes, break-ins and all kinds of danger.
The suspects in the murder case are numerous. Blaze and Jake have so many people to question. This author has really outdone herself with the characters in this story, especially the main ones, Blaze and Jake. The chemistry between Blaze and Jake is off-the-charts. Their ability to get answers is outstanding. I love these two characters. And I loved the suspense of this story. Thrills and chills are awaiting readers of this book.
Book Info:

Publication: November 26th 2019 | HQN Books | Montana Justice #1
He's fighting for a second chance with his first love…before it's too late.
The last time PI Blaze McClintock was on her family's ranch, she left in handcuffs. She vowed then to never go home again…until her estranged father is accused of murder. He's not a good man—this entire Montana town knows that. But Blaze believes her father is innocent and she'll do anything to prove it, even ask the one man who broke her heart for help—the only man in town who's on her side.
No matter how hard he tried, Jake Horn could never forget Blaze. As teenagers, their passion ignited, leaving destruction in their wake. Now, years later, it's obvious little has changed. But as they work together to unravel what really happened that night, a dangerous secret threatens to separate them for good. This time, though, Jake won't let Blaze go without a fight—even if it means risking his own life.