Today, HJ is pleased to share with you

Karla Kratovil's

new release: 

A Perfect Engagement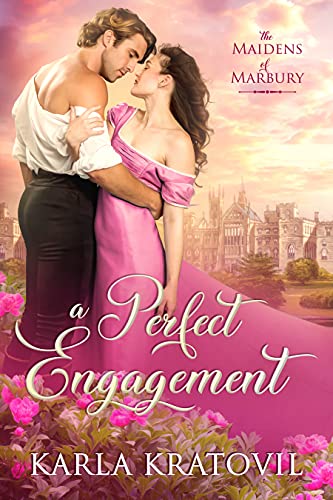 When Charlotte Grisham is saved from an out-of-control carriage by a handsome gentleman, she knows fate has sent her the perfect man. The Marquis of Hawksridge is titled, handsome, and heroic—precisely the kind of gentleman her parents want for her husband. Before Charlotte knows it, she is engaged to be married.

Daniel Weston can't believe his identical twin brother is marrying a lady he barely knows. Moreover, he's begging off his own engagement party. Daniel allows his twin to talk him into going to the week-long house party in his stead…just for a few days. They used to pretend to be each other all the time in their youth. What could possibly go wrong?

Charlotte immediately realizes her fiancé has sent in a doppelgänger, but continues the ruse so no one will realize her fiancé has all but abandoned her. Everyone sees her as perfectly behaved. But perfect girls do not share searing kisses with men who are not their betrothed. Charlotte knows her duty, but what about her heart?
Enjoy an exclusive excerpt from A Perfect Engagement 
Charlotte paced back and forth in front of the long row of orchids. The soft light of early evening slanted in through the glass walls of her conservatory. The sun a dusky pink as it sank toward the horizon. She frowned at a brown leaf hanging from one of the plants.
He was not Hawksridge; she was sure of it. Perhaps it was just her nerves were playing tricks on her eyes. He looked exactly like him, except for the scar, and the dimple, and the good humor present in his eyes. She plucked the dead leaf from the plant, tossing it to the floor.
No, just because she happened to notice these things for the first time didn't mean anything. She and Hawksridge had only spent a small amount of time together over the last couple of weeks. She must have missed these small details about his appearance. She asked him to meet her here so they could have a few moments alone. The sensible thing would be to be calm, ask questions, and learn more about him before accusing him of being an imposter.
"Hello, darling, fancy meeting you here." The low words came from directly behind her.
Charlotte whirled around and found herself less than two feet from six foot plus of solid man. Her gaze traveled from his dark blue satin encased chest, up past the crisp white of his cravat to a freshly shaven chin, and finally to a pair of eyes filled with a mischievous light. All her careful plans dissolved as she opened her mouth.
"Who exactly are you?"
The faux-Hawksridge stiffened. "Pardon me?"
"You are not Miles Weston. Who are you?"
He closed his eyes briefly. When he met her gaze again, curiosity had replaced the mischievous light in his eyes.
"When did you figure it out?" he asked quietly.
There it was, the admission which proved she wasn't crazy. She inhaled sharply through her nose. I knew it. "Almost immediately. Your manner is far more relaxed and open than his. You also have a dimple there on your right cheek when you smile." She pointed to the spot. "But the scar which runs through your left eyebrow was the final clue. I know I had not seen it before." She crossed her arms. "So you are his brother, I presume."
He nodded. "I am Daniel, Miles' younger brother by eight minutes."
Twins? "I have never met anyone who is an identical twin. It's quite rare, isn't it?"
"You are quite rare. Almost no one can tell us apart. Even Aunt Diana can never get us straight." He grinned, and the blasted dimple emerged.
Charlotte studied the man in front of her carefully. The similarities were striking. He had the same warm chestnut brown eyes, straight dark eyebrows, and sharp cheekbones. His full lips curled into another smile as she studied him. He spread his arms wide, inviting her to look at her leisure.
He stood just as tall as Hawksridge. He was perhaps a bit broader in the shoulders, and his superfine jacket encased thick muscular arms and a barrel chest. He slowly turned in a circle, and she admired the backside of him discreetly. Muscular thighs and calves filled out his breeches, and Charlotte wondered how the pants looked stretched over his rear underneath the tails of his evening jacket. His causal confidence showed in his cocky grin as he faced her once again. This man was not her fiancée.
She was alone in a secluded part of the house with a strange man. "The real question is, why are you here pretending to be your brother?" Charlotte took a large step back.
Be brave. He is Hawksridge's brother, not a mass murderer for goodness sake. Although Hawksridge is missing, and his brother pretends to be him. Perhaps he murdered him and planned to take over his life, starting with wooing his fiancée. Her hand slid up to her throat. "Where is Hawksridge?"
Daniel hesitated. He ran a hand through his hair, disheveling the carefully combed back locks. "Miles needed to take care of some business in Derbyshire. There was a fire at his mill. He didn't want to disappoint you so early in your relationship, so he asked me to come and be him for a few days. Just to fill in, so to speak."
Charlotte breathed in a sigh of relief. That was certainly a more probable explanation. Hawksridge wasn't here because of business? How typically male of him. Really! This engagement party was meant to be their debut as a couple. Her thoughts switched tracks from alarm to annoyance. "Hawksridge has disappointed me. He could have just told me about the fire at the mill. But instead, he arranges this deception. Does he find me simple-minded?" Her cheeks became heated as her temper rose. Daniel opened his mouth as if to say something, but she held up one hand to shush him.
"And why couldn't he have sent one of his land stewards or whomever to handle the issues at the mill? It seems to me he didn't want to be here at the party." She turned and paced to the wrought iron bench in the middle of the room. She raised her arms up in frustration. "I have been jilted at my own engagement party. What will my parents think? And all the guests? I have already introduced you to everyone." Panic formed an icy ball in the middle of her chest. She covered her face with her hands, what a disaster.
Two hands gently pried her own away from her face. Daniel gripped her fingers gently. She stared down at his thumbs as they drew circles across the white satin of her gloves.
"Listen, we will simply keep up the farce. I will continue to be Miles. No one needs to know. When he arrives, we will switch back, and you can tear the hide off him for placing you in this predicament."
She raised her head to look at his face. "You are willing to keep pretending?"
He shrugged. "I planned on being Miles for the next several days. Nothing has changed for me. Except now, I'm doing it as a favor for you instead of as a favor for that stupid brother of mine. I can't imagine why he would not want to spend every available minute with such a lovely creature as you."
Excerpt. ©Karla Kratovil. Posted by arrangement with the publisher. All rights reserved.


Giveaway:

An ebook copy of A Perfect Engagement & 3 Tule ebooks
To enter Giveaway: Please complete the Rafflecopter form and post a comment to this Q:

What did you think of the excerpt spotlighted here? Leave a comment with your thoughts on the book…
Meet the Author:
From the time she read fairytales as a child, Karla Kratovil was hooked on stories that ended in Happily Ever After. Now as an author of sexy historical romance she gets to craft her own happy endings. Karla lives right on the edge of Northern Virginia's wine country with her college sweetheart, two terrific teenagers, and two blond terriers. She is a Taurus. Like any good earth sign she loves good food, good wine, and getting her hands dirty growing things in her garden.
Buy: Amazon | Barnes and Noble | Apple | Kobo | Google Play