A Proposal They Can't Refuse by Natalie Caña: There is nothing that Kamilah Vega wouldn't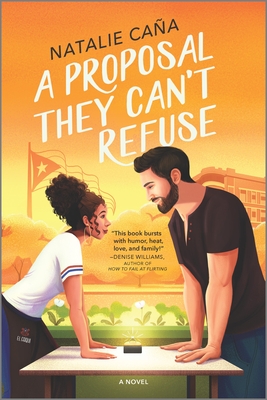 do in the name of family especially when it comes to her families traditional Puerto Rican restaurant El Coqui. But with their neighbourhood becoming more and more of a hub for hipster food joints their date traditional restaurant is in dire need of a facelift or they may have to face closing their doors. If only her parents would listen to any of her ideas or allow her to enter the restaurant into the foodie tour. Which is kind of how she finds herself fake engaged to Liam Kane.
Da is the only remaining family that Liam has so when he learns that his grandfather will not be seeking treatment Liam does the unthinkable and agrees to the wacky plan set up by two old men with too much free time on their hands. If Liam and Kamilah get engaged then Da will agree to going for treatment and Papo will agree to Mila to entering the foodie tour and all the renovations that she wants to be done on El Coqui. But soon Liam and Mila find that their fake arrangement is starting to feeling very real and they both kind of like it… but can they really make this work when some of their old hurt feelings resurface?
A Proposal They Can't Refuse was so much more than I had expected in the best way possible. This deeply family rooted romcom was the perfect combination of meddlesome oldies, enemies to lovers and second chance romance. The thing that I loved about this book was the way this story flowed and that we got to see thing for both Mila and Liam's points of views.
"Like the goddess to her love, my heart has always called for you."
Mila was definitely an interesting person to follow, I loved her sunshine personality and her love and dedication to her family. I really enjoyed getting to see her recreate El Coqui and trying to bring new life into their family business. There were a few moments that I just wanted to shake some sense into her and be like girl wake up. I will say that I did not like the way she handled a lot of things and what lead her to feeling so attached to El Coqui, but I think this largely helped her reconnect to her family and getting them to see her as an adult again. As for her relationship with Liam, well this was a complicated one. I really enjoyed getting to see them rebuild their friendship and that things kind of just flowed naturally. Good gosh the chemistry between Mila and Liam was HOT!! These two had that insanely hot connection that was bubbling under throughout the novel and once they finally got it on boy was it steamy!
"I want to strip you bare, and once you're naked, I'm going to sit you down on my tasting table and do exactly what its name dictates I do. That's right. I'm going to taste you, I'm going to savour you like you are one of my whiskeys, and I'm not going to stop until I'm drunk on you"
As for Liam, well simply put he just stole my heart. Liam's story truly was a hard one, this poor guy has really been through a lot which has caused him to put up a lot of walls around his heart. I just loved getting to see him falling for Mila and how naturally they blended together. Also how swoony was that whiskey that he created inspired by her? I really liked getting to see him finally be truthful with not only himself but with his grandfather and talk about how losing his father changed him. For all his gruff, rough and closed of exterior Liam was actually a sweetheart that was just scared to let someone into his heart again.
For me it was Da and Papo that made this book such a hit, I'm a sucker for the meddling oldies trope and this two had this down to an art! I loved the way they played both of their grandkids and finally gave them that much needed push to realising their true feelings. I will say that initially I had hoped that Da was making up his entire cancer story but sadly this was not the case, even though this might pose as a trigger for some readers I still found that it added to the over all story and added a layer of realism to Liam and Mila's story. I just loved that family played such major role throughout this novel and that Cãna made this such a rich cultural read.
A Proposal They Can't Refuse was a brilliant fake turned real, childhood romance mixed in with tons of meddling, bickering and all-round family mayhem. This is a definite must read and I can not wait to see what meddling drama Papo has up his sleeve next!

Book Info:

Publication: May 24, 2022 | Mira Books |
Kamilah Vega is desperate to convince her family to update their Puerto Rican restaurant and enter it into the Fall Foodie Tour. With the gentrification of their Chicago neighborhood, it's the only way to save the place. The fly in her mofongo–her blackmailing abuelo says if she wants to change anything in his restaurant, she'll have to marry the one man she can't stand: his best friend's grandson.
Liam Kane spent a decade working to turn his family's distillery into a contender. Now he and his grandfather are on the verge of winning a national competition. Then Granda hits him with a one-two punch: he has cancer and he has his heart set on seeing Liam married before it's too late. And Granda knows just the girl…Kamilah Vega.
If they refuse, their grandfathers will sell the building that houses both their businesses. With their futures on the line, Kamilah and Liam plan to outfox the devious duo, faking an engagement until they both get what they want. But soon, they find themselves tangled up in more than either of them bargained for.