Today it is my pleasure to Welcome author
Karen Rock
to HJ!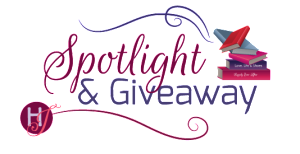 Hi Karen and welcome to HJ! We're so excited to chat with you about your new release, A Rancher to Remember!

Hi, everyone! Thanks so much for having me today.

To start off, can you please tell us a little bit about this book?: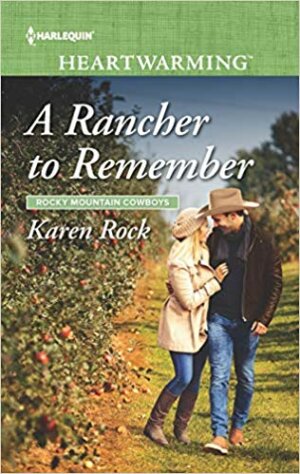 Welcome back to the Cade-Loveland extended family! Their 100+ year-old feud is finally over, the water rights dispute settled, and now they can live peacefully, right? Oh… if only it were that simple… Lots of drama still ahead for these strong, faithful and hardworking ranchers in the sixth book of my Rocky Mountain Cowboys series, a raw, complicated second chance love story with a dramatic plot twist you won't forget!
A Rancher to Remember is Daryl Loveland's romance, the adopted son of the Lovelands who has striven to prove himself worthy by always doing the right thing, even if it meant giving up his first love, Cassidy, years ago. A misguided night of passion and an unplanned pregnancy ended with him marrying Leanne sister instead of Cassidy. Since Cassidy had been wavering between settling down with Daryl and the conflict-journalist career she'd pledged to pursue, it should have ended well for all… except Cassidy never stopped loving Daryl and second-guessing what could have been. She hadn't been in contact with her sister or Daryl in ten years but after a call from her sister, she wakes in a hospital back in Carbondale with no memory of why she is there or what caused the car accident that killed her sister. Daryl needs answers, too. He doesn't understand why his wife had a packed suitcase and her passport in that car. Was she leaving him and their two, adorable children? What follows is a story with themes of family, intrigue, betrayal, overcoming grief, redemption, forgiveness and a second chance at true, and lasting love.

Please share your favorite lines or quote(s) from this book:
"Man plans, God laughs. Remember what I said. Happiness isn't meant to be postponed."
What inspired this book?
While I'm always inspired by Happily-Ever-After and the power of love to help us heal and grow, this book was also inspired by the profound bond only shared by sisters.
How did you 'get to know' your main characters? Did they ever surprise you?
Daryl, a rugged rancher, was also an outstanding father who was determined to give his children the secure and loving home he didn't have prior to his adoption by the Lovelands. I planned his character long before I even wrote the first book in the series. I thought long and hard about each family member on both the Cade and the Loveland sides, what their personalities were like, what they experienced in their childhoods that effected who they became as adults and the mistakes they made. As for Cassidy, I didn't create her until I began planning Daryl's book. I knew I wanted a strong, independent and career-driven woman who worked overseas as a conflict journalist. What surprised me about Cassidy was how naturally her maternal instincts took over when she decided to take on a mothering role to Daryl's children, her niece and nephew . Their scenes together were some of my favorites to write.
What was your favorite scene to write?
My favorite scene was actually in the opening when the reader first meets Daryl. He's this big, buff cowboy who's also trying to cook a spaghetti dinner while also helping his two rambunctious children with their homework all while on the phone searching for his estranged wife. It's a complex scene with belly laugh moments as well as the pathos Daryl is going through wondering if his wife left him and what's happened to her and what to tell the children. I like scenes with a lot of layers of emotion like this and–of course–who doesn't love a macho guy who also happens to be an awesome and loving father?
What was the most difficult scene to write?
The most difficult scene was the one where Cassidy finally regains her memory learns the truth about why her sister betrayed her long ago and the events leading up to her sister's death. It's a moment so raw that I cried when I wrote it, cried again when I read it when revising and cried a third time when I edited it! Have your tissues handy.
Would you say this book showcases your writing style or is it a departure for you?
The book definitely showcases me as a author. I'm an emotional writer and this romance takes you on a rollercoaster of feelings–lots of laugh-out-loud moments, tears, rage, regret, forgiveness, love, joy and, ultimately peace. Imagine all the stages of grief and throw in plenty of moments of happiness, silliness and swoony moments, too.

What are you currently working on? What other releases do you have planned?
I'm currently working on HEALING A COWBOY'S HEART (Rocky Mountain Cowboy's Book 8) which features wildlife veterinarian Sierra Loveland and a hunky Hotshot firefighter who's battling his own demons along with the fire threatening Sierra's wildlife clinic. My next release is TO CATCH A COWBOY (Rocky Mountain Cowboys Book 7) in September. It has a pregnant heroine, Ella Parks and bull-rider Maverick Loveland.

Thanks for blogging at HJ!
Giveaway:

One autographed print copy of WINNING THE COWBOY'S HEART (Rocky Mountain Cowboys Book 5) to U.S. address only and one digital copy of WINNING THE COWBOY'S HEART open internationally.
To enter Giveaway: Please complete the Rafflecopter form and Post a comment to this Q:

Would you rather read a romance with a deeply flawed hero who eventually redeems himself or an almost perfect hero who acts nobly?
Excerpt from A Rancher to Remember:
Why had she come back to Carbondale?
It was a mystery Cassidy desperately wished to solve, not just for herself but for a grieving Daryl. She wanted to help her sister's family pick up the pieces—an altruistic wish, nothing more. So why did her eyes follow handsome Daryl, then? "I know what a big heart your mama had." Cassidy rubbed Emma's arm. "How could she help but love you?"
Cassidy had come to love them as her own these past few weeks.
"I'm too messy and I forget to put my clothes in the hamper," Emma whispered, breaking Cassidy's heart. "And one time I ruined Mama's makeup when I borrowed it to put on my Barbie."
"And I'm too loud and I don't clean behind my ears," Noah sniffled.
"You're right," Cassidy announced, sitting up and taking the children with her. She wrapped an arm tightly around each, the paint on her hand now dry and flaking. "None of us are perfect and sometimes we annoy each other, right?"
Emma and Noah nodded.
"But we still love each other, don't we?"
Emma shrugged. "I guess."
Noah heaved out a long-suffering sigh. "Girls are gross, but Emma's okay. Sometimes."
"See. You love each other. Just like I love you." She showered their faces with kisses until they giggled and shoved her away.
"Hey! What's this?" boomed a deep voice from the doorway.
Emma and Noah leaped to their feet and raced to their father, catching him around the waist. "Aunt Cassidy was just telling us we're annoying," Emma informed him.
Cassidy's heart lurched when Daryl's brown eyes landed on her, a teasing light in them. "Oh, she did, did she?"
"But she still loves us because we're lovable," Noah added, hanging on to his father and bending backward until his hair swept the floor. "And she gave us slobbery kisses. Do you love Pa, too, Aunt Cassidy? He's not perfect because he still can't make mac-n-cheese and he burns stuff but that's okay, right?"
"Oh—ah…" Cassidy shuffled her feet, her face aflame.
"Are you gonna kiss him?" Noah dragged his father closer.
Excerpt. © Reprinted by permission. All rights reserved.


Book Info:
They can't change the past…
but they can choose their future
Globe-trotting journalist Cassidy Fulton is back in Carbondale, Colorado. Only she can't remember why—or the accident that killed her estranged sister. Helping her piece together this mystery is her brother-in-law and former fiancé, Daryl Loveland. Overcoming their grief seems impossible. Yet one thing is clear: Cassidy can't imagine her life without Daryl or her adorable niece and nephew. But can the ranch ever really be her home?
Book Links: Amazon | B&N | iTunes | Kobo | Google |


Meet the Author: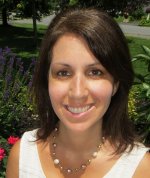 Award-winning author Karen Rock is both sweet and spicy—at least when it comes to her writing! The author of both YA and adult contemporary books writes sexy suspense novels and small-town romances for Harlequin and Kensington publishing. A strong believer in Happily-Ever-After, Karen loves creating unforgettable stories that leave her readers with a smile. When she's not writing, Karen is an avid reader who also loves cooking her grandmother's Italian recipes, baking and having the Adirondack Park wilderness as her backyard, where she lives with her husband, daughter, dog and cat who keep her life interesting and complete. Learn more about her at http://www.karenrock.com or follow her on twitter at  Website | Facebook | Twitter | Instagram | GoodReads |