In Fatal Reckoning (Fatal #14) by Marie Force, Things are never calm and quiet in the lives of Washington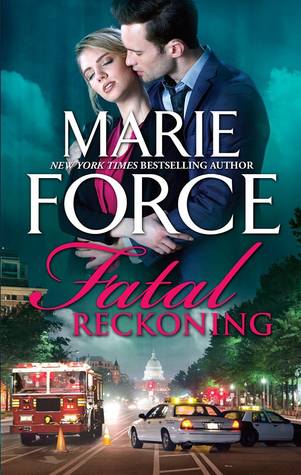 Metro Police lieutenant Sam Holland and her husband, Vice President Nick Cappuano. But the few moments of peace they have found are suddenly shattered when Sam's father Skip passes away. After suffering for four arduous years since a gun shot left the former decorated police officer disabled, the only solace Sam has is that her father is no long struggling or in pain. The fact that he has succumbed to injuries sustained from that shooting, however, now means his cold case is bumped up to homicide. And it lights a fire in Sam and her fellow officers, making them newly determined to find the gunman.
'Getting justice for Skip Holland would now become their top priority.'
While Nick and Sam are also adjusting to a new addition to their family, in the form of twin five-year-olds who are grieving their own loss, new details emerge about the day her father was shot. As much as she doesn't want to believe what has been uncovered so far, Sam knows she needs to track down every person who might know something about the case. Even if it points the finger close to home. What she and her colleagues find out will surely change not only the lives of those who have lost a loved one, but will also have them questioning who can really be trusted. Something that is terrifying to such a close-knit community as theirs.
"We're closer to answers than we've ever been. Keep reminding yourself of that."
"I'm afraid I'm not going to like the answers."
"I know. I can't believe where it's led so far."
A thrilling yet incredibly moving installment in Marie Force's popular Fatal series, I think readers will be knocked out by the level of emotions and challenges our heroine Sam faced in Fatal Reckoning.
'Even in the midst of despair and sorrow, joy crept in to remind her that life went on even when you didn't think it possibly could.'
Author Marie Force has called this a "bombshell" book and she is absolutely right. Everything about it was larger than life. This part of Sam and Nick's journey was fraught with danger (of course), loss and grief, and ultimately, closure to a couple of cases that had been hanging over Sam and her fellow officers for some time. Now, I willingly admit that Force reduced me to tears several times over the course of this book. And I mean ugly-crying. It's not an easy storyline to get through in some respects, due to Sam losing her father and with other issues that happened. But I think this was an extremely important part of the series and it really showed Force's ability to draw emotion out of her readers.
I do also want to note that sadly, Force lost her own father during the process of writing Fatal Reckoning so I have to give her tremendous credit for continuing with this particular installment during such a tough time. Particularly where it somewhat mirrored her own life. My hope is that in doing so she was able to use Sam to a certain extent to work through her own grief, as a cathartic experience.
Every book in the series has been wild, exciting, passionate, and relatable in the basic way that Sam and Nick–even though they are such important people–can remain down to earth. I loved the connection that seems to grow deeper every time we check back in with them. And with so much going on in Sam's personal and professional life, it was amazing to see how Nick was there for her each step of the way. Their family went through a lot this time around. But we got to see how truly strong not only Sam was but also the strength of each person she had surrounded herself with. There were finally answers to some of the questions and cases she's been working on, so there was some resolution, but it's anyone's guess as to where Force will take Nick, Sam and their family & friends from here.
Poignant. Heartbreaking. Redemptive. Inspiring. Fatal Reckoning ran the full gamut, making this a standout novel in a long-running series full of memorable moments. Highly recommended.
Book Info:

Publication: Published March 26th 2019 | HQN Books | Fatal #14
When tragedy strikes, a cold case suddenly turns hot—and deadly
A peaceful morning is shattered when Washington Metro Police lieutenant Sam Holland's beloved father succumbs to injuries from an unsolved shooting while on duty four years ago. As the community rallies around Sam and her family, one thing becomes crystal clear: her father's death has turned the unsolved case into a homicide—and it's on her to bring her father's killer to justice.
But the case has been cold for years…until an anonymous tip that's too shocking to believe leads Sam down a dark and dangerous path. Her husband, Vice President Nick Cappuano, knows if she can't solve this case, it will haunt her for the rest of her life. She'll need the strength of their bond to pull her out of the darkness before it's too late, because as the missing pieces rapidly fall into place, Sam realizes the truth might just break her all the same—and that her father's killer isn't done yet…