Today, HJ is pleased to share with you

Christi Caldwell's

new release: 

Along Came A Lady

In a reverse retelling of My Fair Lady, ALONG CAME A LADY follows the budding romance between the irascible son of a duke and the lady hired to teach him the ways of a gentleman. As the lessons go on, the two engage in a battle of wits and passion.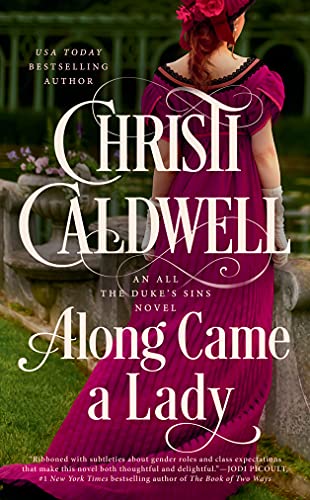 Rafe Audley lives to thwart his father, the Duke of Bentley. The ne'er do well who abandoned his children claims he wants to make up for his failures, but Rafe only cares about protecting the people of his mining community and providing for his three siblings, who've been his sole responsibility since childhood. So far, Rafe has turned away the duke's man of affairs, solicitor, and other interlopers, until the clever duke sends the unlikeliest of people to convince Rafe to join English High Society—a bold and intriguing woman.
Edwina Dalrymple has never failed a charge. She's quite adept at successfully transforming young women of the gentry and daughters of newly minted lords to take their place in society. Taming a bastard son of a duke will be child's play, plus this job promises to enhance her reputation within the ton. All she has to do is fetch the wayward Rafe and groom him to be presentable to Polite Society.
As the tenacious teacher and her domineering, stubborn, refuses-to-be-taught pupil engage in a fiery battle of wills, their chemistry ignites and the true lesson becomes clear: opposites attract and hearts must be heard.
Enjoy an exclusive excerpt from Along Came A Lady 
She dragged her chair closer, until she was seated on the same side of the table as Rafe. So that their knees brushed. "Come with me." He went completely motionless under that sultry whisper, and his eyes went to her mouth. "To London," she finished with her big smile.

Come with her…to London.

When she said it as she did…in those husked tones, a plea in her voice and her eyes, it was as though she wanted it. And that she didn't speak for and because of the duke. And perhaps it was a product of drink or the celebratory mood of the room, but there was…an appeal to Edwina's request.

Then, she took his hand in hers. "Do you know, I rather like this." He glanced down at their connected fingers. "being in the country. And I didn't think I would," she rambled on. "But I do. And if you came to London, you would, too, and you know it." She jabbed him with a finger. "I know it, but you're scared."

He opened his mouth to debate that point. He wasn't afraid…of anything.

And yet, a voice whispered, What if that's what it was? Fear and resentment? Of the mother who'd loved that place, and a determination to have nothing to do with it for how it had weakened her?

Edwina jumped up, saving him from the tumult of his musings. He stared questioningly, as she wound her way to the makeshift stage, and hefting up her skirts, she climbed atop. She spoke several words to a blushing Alan Meadows, on fiddle. The young man nodded, and then raised the instrument to his chin. And when Meadows plied the strings with his bow, Edwina lifted her hands above her head, and clapping in time to the beat, she launched into gusty song.

"Lord Lovel he stood at his own castle gate,
A combing his milk-white steed,
When up came Lady Nancy Belle
To wish her lover good speed, good speed.
To wish her lover good speed."

Cradling his drink in his hands, Rafe sat back bemused and watched on as she danced about the small stage. Singing and motioning with her arms for the men and women around her to join in.

Which…they, of course did. Because the same way she'd enthralled Cailin, she'd managed to beguile the whole of the damned village.

And you, too…

Rafe took a long drink; hoping liquor might dull that silent realization. Reclining in his seat, he continued to watch on.

This was yet again another, new glimpse of her.

Granted, this present exuberance was a product of strong ale, but that didn't take away from the fact that she knew those old folksongs, and moved comfortably amongst the villagers. Rafe looked on at the engaged crowd…including his brother.

Smiling, as Rafe had never seen him, and clapping enthusiastically alongside the other miners. Edwina's surprisingly deep, husky contralto soared throughout the room.

"He had not been gone but a year and a day,
Strange countries for to see,
When a strange thought came into his head,"

And it was in that moment the depth of his selfishness and resentment hit him, as he acknowledged that perhaps Edwina had been correct. That Rafe's going to London, might be for the best…just for reasons he'd not before considered. He could simultaneously free his sister from this place…if even just for a short while, and allow his brother to have this opportunity without Rafe here. Rafe, who had gone out of his way to protect his siblings, but might have also inadvertently constrained them. And the most unlikely of persons had opened Rafe's eyes to that.

From across the crowded room, Edwina caught his eye, and as she sang, it was as if the lyrics spilling from her lips were reserved for him.

He found himself returning her smile.

He'd only had two tankards, and yet, perhaps it was a stronger-than-usual brew. There was no accounting for…any of this.
From ALONG CAME A LADY published by arrangement with Berkley, an imprint of Penguin Random House LLC. Copyright © 2021 by Christi Caldwell.


Giveaway:

1 Print copy of ALONG CAME A LADY by Christi Caldwell
To enter Giveaway: Please complete the Rafflecopter form and post a comment to this Q:

What did you think of the excerpt spotlighted here? Leave a comment with your thoughts on the book…
Meet the Author:
Christi Caldwell is the USA Today bestselling author of the Sinful Brides Series and the Heart of a Duke Series. She blames novelist Judith McNaught for luring her into the world of historical romance. She enjoys torturing her couples before they earn their well-deserved happily ever after. Originally from Southern Connecticut, Christi now resides in North Carolina, where she spends her time writing and being a mommy to an energetic little boy and mischievous twin girls who offer an endless source of story ideas. Learn more at christicaldwell.com.