Today it is my pleasure to Welcome author
Michelle McLean
to HJ!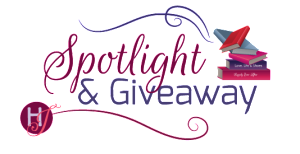 Hi Michelle and welcome to HJ! We're so excited to chat with you about your new release, Hitched to the Gunslinger!

Hi! Thanks so much for having me here today!

Please summarize the book a la Twitter style for the readers here: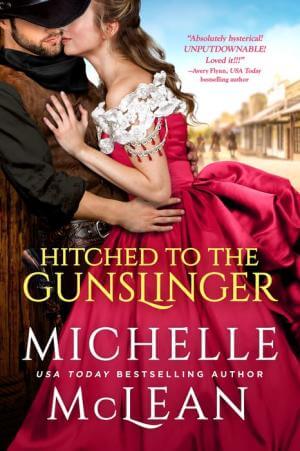 A cantankerous gunslinger who's hellbent on retiring at any cost must work with the spitfire of a woman with an unfortunate proclivity for life-threatening altercations who he accidentally marries to defeat the bad guy.

Please share the opening lines of this book:
Gray Woodson didn't know much, but he knew one thing… Life had been a lot easier when he was killin' people.
This whole retirement thing, on the other hand, was a pain in his saddle-hardened ass. It had taken all of two days for him to be recognized in a new town this time. He hadn't thought his face would be so well-known way out here. It wasn't much to look at. Nothing he'd call memorable. Now, his trigger finger? Sure. He was the fastest draw in the country, after all. Gave him some bona fide bragging rights. But it wasn't like he was wandering down the streets of town, drawing his gun on complete strangers.
Please share a few Fun facts about this book…
The name of the town, Desolation, was chosen in part because all the towns in the western movies I'd seen always had such depressing names – Deadwood, Purgatory, Tombstone, etc. Desolation seemed like a fun place name.
The name of one of the characters, Jason Sunshine, started out as a placeholder that grew on me as the story progressed, so we kept it.
I had a gigantic diamond painting made out of the book cover. It's…going to take me a while LOL
The playlist I made for this book includes Old Town Road, Save a Horse (Ride a Cowboy), and Will Smith's Wild Wild West.
The hero is inspired by Harrison Ford's gruff, rough rogues.
What first attracts your Hero to the Heroine and vice versa?
He's exasperating but he makes her laugh. And he's stubborn as a mule, but then, so is she. She senses a kindred spirit in him even if they are polar opposites. And she likes that he speaks his mind. There's no games with him. He just is who he unapologetically is. It's refreshing.
She drives him nuts, but he can't help but admire how strong and brave she is. She's a spitfire and he loves it. She's not afraid of him and isn't afraid to speak her mind. She treats him like he's a regular ol' pain in her ass and it's been a long while since anyone has done that. And though he'll deny it and it annoys the hell out of him, he kind of likes that stubborn streak in her.

Using just 5 words, how would you describe Hero and Heroine's love affair?
Unexpected, counterparts, funny, teasing, sweet.

The First Kiss…
Gray tugged gently on her hands, gazing down at her as he tugged her nearer, giving her time to back away if she wished.
She wasn't sure what she wished. But she didn't pull away.
He wasn't soft or gentle. Like with most other things he tried to avoid, once committed to action, he dove in with everything he had. His lips molded to hers, one hand coming up to cup her face and bring her even closer as the other gripped the back of her dress in a fist. Her head swam and she wrapped her arms around his waist to anchor herself. The sensation of his full, warm mouth against hers was unlike anything she'd ever experienced. And she had been kissed before. And kissed well. But no one had ever sent her spinning with just one touch of their lips. So warm and demanding she'd feel the heat of them long after he pulled away.
Without revealing too much, what is your favorite scene in the book?
The first shoot-out/fight scene is soooo much fun. Absolutely one of my favorite scenes!
A bullet grazed the post that Mercy hid behind, and Gray's feet dropped from the railing.
She peered out from behind the post, her face a masterpiece of righteous anger. "You almost hit me!" she shouted, and Gray chuckled. Only Mercy would berate a man trying to shoot her for daring to get too close to actually hitting her. He sighed. She was startin' to grow on him.
If your book was optioned for a movie, what scene would be absolutely crucial to include?
Hmm all of them? LOL I really love their wedding scene. It's such a turning point for them and turned out much sweeter than I anticipated.
I do think, actually, that the same scene from above (my favorite) is pretty crucial. It showcases the main characters and side characters and their personalities, shows the main villain and the problem they are fighting, shows off the dynamics between all the characters, is both action-packed and funny. It's really, in my obviously biased opinion, a great scene 😉
Here's another snippet:
He glanced around for some kind of weapon and spied the stool Mercy used while washing clothes. He grabbed it and held it over his head.
"Don't you dare!" Mercy called out, sticking her head out from behind her post.
He almost rolled his eyes. "Do you want my help or not?" he shouted back to her.…He got a better grip on the stool and raised it again.
"I use that!" Mercy said, coming out from behind her post long enough to get a shot off in the general direction of the men coming toward him. The shot hit the ground at his feet.
"Aim for the other guys!" he shouted, smashing the stool against the ground.
"I am!"
He shook his head. That woman was going to be the death of him.
Readers should read this book …
because it is a great read that will leave them with warm hearts and smiling faces 🙂 It's got the best parts of an adventurous old Western mixed with a feel-good humorous rom-com vibe that is just an all-around fun time.

What are you currently working on? What other releases do you have planned?
Book 2 of the How to Marry a Gunslinger series! I also have a fun Victorian series featuring a few disgruntled and fish-out-of-water dukes and their daring ladies that will start releasing at the end of the year, and as Kira Archer, I've got a new contemporary rom-com series releasing in Oct.

Thanks for blogging at HJ!
Giveaway:

A paperback of Hitched to the Gunslinger (US only)
To enter Giveaway: Please complete the Rafflecopter form and Post a comment to this Q:

Who is your favorite cowboy? (And yes, space cowboys count because Capt Mal from Firefly is definitely on my top 5 list!)
Excerpt from Hitched to the Gunslinger:
Gray scratched at his chest and waved his hand at a buzzing fly. His belly was full of a surprisingly edible breakfast, his feet were propped on the railing of the porch of his small bungalow, and he'd reached that pleasantly dizzy stage of almost-asleepness that he so enjoyed.
It had been quiet for nearly a week, aside from Jason's incessant chattering and Mercy's interminable nagging. And having to deal with Jason bunking with him in the bungalow since Mercy said it was either that or she'd let the kid stay in the main house with her. Which wasn't going to happen.
He'd even managed to ignore them both long enough to transplant a few wild daisies into his window boxes. He'd been quite enjoying caring for the cheery little buds. All in all, it was a damn fine morning.
That alone should have warned him that it was all about to go to shit.
The distant pounding of several horses' hooves rumbled the floorboards beneath his rocking chair, and he squinted up from under his hat. Judging by the dust cloud coming at them, Josiah had rounded up a few new men and had come to call.
He didn't move. Just watched as they rode in. Jason, on the other hand, came running out of the house as though it were on fire. Gray snorted. The enemy wouldn't be frightened off by hysterics. Might as well save the energy for when it was needed.
"Mr. Woodson! They're here!" Jason called to him.
"Great. Get rid of them for me, would ya?"
Gray pulled his hat back over his eyes and tipped his head back on his chair, taking a deep breath. Such a lovely morning for a nap.
Someone shoved his feet off the railing, and Gray sat up with a grunt. Mercy glared down at him, her ancient shotgun in her hands. "You going to help or just sit there?"
"I should have thought that was obvious," he said, leaning back in his chair again so he could prop his feet back up on the railing.
She made a cute little growling sound in the back of her throat that had him chuckling and stomped off, her muttered curses colorful enough to burn his ears.
"Are you really going to sit there and do nothing?" Jason said, gesturing to the rising cloud of dust that was nearly upon them.
Gray sighed and peered at him. "I doubt they're here to do more than blow a little hot wind. And if they do start some trouble, Mercy is nothing if not capable of defending herself. I should know."
Jason gaped at him. "But…"
In his experience, men rarely came at him in a thundering cloud of dust for a fair fight. They knew he'd win. So whatever Josiah was on about today, he doubted it was going to amount to much of anything. Later though…well, he'd likely have to deal with some sneakin' and shootin', which meant he needed a nap.
Gray pulled his hat lower. "When we made our deal, she said my presence should be enough to scare them off. Well, I'm present. Now go away."
Jason scattered with a few impressive curses of his own. Good for him. Gray didn't think he'd had it in him.
He must have dozed off for a second, because when shouting started, he came back around with a rattling snore. He pushed his hat back enough so he could see what was going on. That damn nuisance Josiah Banff was sitting like a general in the middle of Mercy's yard, giving her some sort of ultimatum, Gray assumed. His voice was too low to make out everything he was saying, and Gray didn't want to move closer so he could hear better. He could guess what the man was saying well enough. He'd met plenty of men like Josiah. Mercy, spitfire that she was, had no such issue with volume.
"I've told you a hundred times, Josiah Banff, my property is not for sale. And neither am I!"
She hitched the shotgun up on her shoulder a little higher. Good girl.
"You want it, you'll have to pry it from my cold dead hands!" she shouted.
He shook his head. Not so good. Giving your enemy ideas is really not a great strategy.
"Suit yourself. We all have to live with the consequences of our choices, Miss Douglas," Josiah said. "Have a pleasant morning."
The sound of one lone horse riding off triggered a nagging feeling of foreboding in Gray's gut. Men like Josiah rarely stuck around to do their own dirty work. So, if he was the only one leaving…things were about to get messy.
Excerpts. © Reprinted by permission. All rights reserved.


Book Info:
Gray "Quick Shot" Woodson is the fastest gun west of the Mississippi. Unfortunately, he's ready to hang up his hat. Sure, being notorious has its perks. But the nomadic lifestyle―and people always tryin' to kill you―gets old real fast.
Now he just wants to find a place to retire so he can spend his days the way the good Lord intended. Staring at the sunset. And napping.
When his stubborn horse drags him into a hole-in-the-wall town called Desolation, something about the place calls to Gray, and he figures he might actually have a shot at a sleepy retirement.
His optimism lasts about a minute and a half.
Soon he finds himself embroiled in a town vendetta and married to a woman named Mercy. Who, judging by her aggravating personality, doesn't know the meaning of her own name. In fact, she's downright impossible.
But dang it if his wife isn't irresistible. If only she'd stop trying to steal his guns to go after the bad guys herself.
There goes his peace and quiet…
Book Links: Amazon | B&N | iTunes | Goodreads |


Meet the Author:
Michelle McLean is a jeans and t-shirt kind of girl who is addicted to chocolate and Goldfish crackers and spent most of her formative years with her nose in a book. She has degrees in history and English and is thrilled that she sort of gets to use them. Her novel Truly, Madly, Sweetly, written as Kira Archer, was adapted as a Hallmark Original movie in 2018.
When Michelle's not working, reading, or chasing her kids around, she can usually be found baking, diamond painting, or trying to find free wall space upon which to hang her diamond paintings. She resides in PA with her husband and two teens, the world's most spoiled dog, and a cat who absolutely rules the house. She also writes contemporary romance as USA Today bestselling author Kira Archer.
Website | Facebook | Twitter | | Instagram |