Today it is my pleasure to Welcome author
Janie Crouch
to HJ!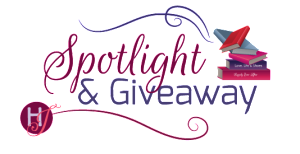 Hi Janie and welcome to HJ! We're so excited to chat with you about your new release, Armed Response!

So stoked to be back on HJ again!

Please summarize the book for the readers here: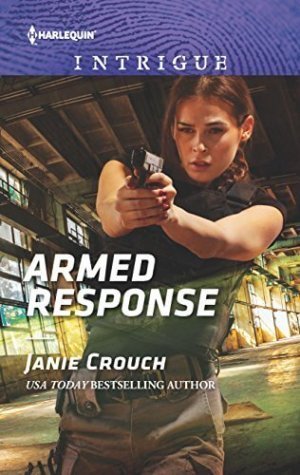 In this second-chance love story, a lone female member of a close-knit SWAT team can outfight anyone or anything that gets in her way. Except her past.

Please share your favorite line(s) or quote from this book:
"What's the guy's name?" Lillian asked. "I promise I'll make an effort at learning it."

"Jace Eakin."

Lillian's head snapped up and she glared at Roman, about to make him repeat it.

Roman gestured to the door. "Here he is."

It could not possibly be. There was no way. She turned, slowly. No. Way.

Yes way.

"Jace. Jace Eakin," she whispered.

"You know him?"

"I did. A long, long time ago."

She felt like her heart had completely stopped beating. Jace was the new guy? Part of her wasn't surprised that he was qualified. He'd been strong, fast and smart when she knew him twelve years ago. Evidently the army had turned him into someone even more dangerous.

Jace Eakin knew every secret she'd made sure no one else at Omega Sector knew.

Except one. And he would never know that one.
Please share a few Fun facts about this book…
The heroine Lillian Muir was modeled after Pvt. Vasquez in the movie ALIENS. I always loved Vasquez and her absolute fierceness, not to mention her ability to throw down with guys and stand her ground.
Lillian made an appearance in SEVEN other Omega Sector stand-alone books before finally getting a HEA of her own.
This book definitely had one of the most tragic backstories I've ever written. It was a unique challenge to write a strong heroine who was so damaged, but refused to let her past cripple her.
What first attracts your Hero to the Heroine and vice versa?
They met each other–and fell in love– when they were teenagers! Jace was a few years older than Lillian and refused to let their relationship become physical (despite her urging) until she was a legal adult, but he was always attracted to her intelligence and zest for life.
They both had bad home situations and Jace looked out for Lillian when they were younger. Unfortunately, his protectiveness of her opened her up to a monster.
Jace has always been everything to Lillian. She understood why he walked away, but he'd always been the man for her.
If your book was optioned for a movie, what scene would you use for the audition of the main characters and why?
I think this scene where both Jace and Lillian are trying to defuse bombs in an elevator would be a great audition piece!
"We're under two minutes, Jace. Which wire am I supposed to cut?" Lillian asked.

They both heard the guy in the elevator start crying, promising God he would go to church every day for the rest of his life if he survived this.

"Tell Him you'll stop making sexist remarks, too. Maybe that will help," Lillian called down to him.

Jace grinned. This woman.

He couldn't wait to get her back in his bed. All the thoughts about keeping his distance from her seemed ridiculous now.

The bomb was clever. If that tiny wire got cut by accident—by someone who didn't see it—the explosive would detonate.

They were in serious trouble.

"Lil, you need to go."

She didn't even look up. "Like hell I will. Especially not without you."

"Negotiator was right. Whoever rigged this didn't plan on anyone surviving here today, no matter what demands he gave."

Guy below them began crying louder.

"Is it possible to defuse it?" she asked. Their eyes met across the roof of the elevator. Hers were calm, like his. Lillian could handle it.

"Yes, but it's tricky."

She grinned. "Tricky is my middle name, Eakin. What do I do?"

He quickly explained about the aluminum wire, the need to separate it gently from the other wire that had to be cut. Just getting the device in front of him defused would take all his time. There was no way he'd be able to help Lillian with hers.

"Okay, I see it." She muttered a curse. "I really don't like whoever put this damn thing together."

"You found the adhesive, I see. Forty-five seconds."

"Yep, damn it. Wanna race?"

Jace couldn't keep from chuckling. Lily. God, if he had to go out, there was no one else he'd rather go with.

Guy inside was wailing now.

Jace carefully eased his blade through the tiny wire, using the utmost caution not to cut the aluminum wire around it. He took in a breath to focus and then made the final cut.

"Clear," he breathed.

He looked over at Lillian. They had less than fifteen seconds. Jace stayed where he was. The best thing he could do now was let her do her job. Trust her to do it. And he did, he realized. She was crouched there, small flashlight now in her mouth pointing down at the device, completely focused on the task at hand.

That was the Lillian he'd always known. Able to handle anything.

–C'mon, Tiger Lily. Save our lives.–

He'd no more than finished the thought when she looked up, grabbed the flashlight out of her mouth and grinned.

"Clear."
Readers should read this book….
Because it's a wonderful second-chance love story about finding your strength when the world rips you apart.
What are you currently working on? What other releases do you have in the works?
The next Omega Sector: Under Siege stand-alone (IN THE LAWMAN'S PROTECTION) will be available September 1.
CYCLONE, a longer, steamier romantic suspense stand-alone will be available September 25.

Thanks for blogging at HJ!
Giveaway:

Janie will give away a copy of any of the Omega Sector: Under Siege series books to one randomly drawn winner. (USA – paperback or ebook; International – ebook only)
To enter Giveaway: Please complete the Rafflecopter form and Post a comment to this Q:

We're right in the middle of summer and the heat is on! Tell me, what's your favorite season?
Excerpt from Armed Response:
He brushed his lips back down her throat, the bruises still noticeable even in the semidarkness. She was hurt, a little fragile, he needed to remember that.

"You okay, sweetheart?" He moved the edge of her shirt aside with his lips, kissing across her collarbone. She still didn't answer.

He leaned up on his elbows so he could look down at her more clearly. Her brown eyes stared directly at him. "This can wait, you know." He smiled and trailed a finger across her cheek. He brushed her lips against his and her mouth seemed to automatically open for him. He kissed her again softly. "We can just sleep if you want. Believe it or not, I can convince certain parts of my body to simmer down when needed."

Again, no smart-aleck remark. He didn't even think Lillian was capable of that.

"You're going pretty easy on me tonight," he said. "Are you sure you didn't get some sort of head injury?" He kissed her again. Her lips opened as soon as his touched hers, but then she didn't respond.

As a matter of fact, her hands were still on his shoulders, and hadn't moved. Her leg was still around his hips, where he'd placed it.

As soon as he removed his lips from hers, her mouth closed. Jace bent down to kiss her again and they opened.

But then did nothing.

What the hell was going on?

"Lillian?" He eased his weight off her farther. Her hands remained on his shoulders, her eyes open and looking right at him.

"Lillian." He shook her a little. "Lily? What's going on? Talk to me, sweetheart."

Did she have some sort of head injury he hadn't been aware of? She'd been fine earlier. Maybe a little off her game, stressed, but she certainly hadn't been blanking out when she handled that bomb scare today.

He rolled his weight completely off her. Her arms dropped to her side on the mattress. Her eyes still had that blank stare. Like the body lying here was just an empty shell of the strong, vibrant woman she usually was.

Jace had seen this sort of blank stare before…a checking out of reality. But it had been men in the army suffering from PTSD.

And always, if the person was in no danger of hurting himself or others, the best thing was to leave his subconscious to work through it in his own way.

"Come back to me, Lil. Whatever it is, whatever you're going through, we can work through it."

Tears streamed out of her open eyes and down the sides of her face, but she didn't move, didn't blink, didn't talk.

She was trapped in some hell in her mind and there was nothing Jace could do.
Excerpt. © Reprinted by permission. All rights reserved.


Book Info:
Lillian Muir is the lone female member of the close knit Omega Sector SWAT team, but that's never been a problem. She can throw down with the best of them. Can outfight anyone or anything that gets in her way.
Except her past.
She's made damn sure no one on her team suspects the darkness that haunts her. But when former Special Forces soldier Jace Eakin arrives to help fight a terrorist mastermind, he sees Lillian not only as the fierce warrior, but as the wounded woman. He's determined to stand beside her as she battles her demons.
But he never dreamed those demons would dwell so close to home…
Book Links: Amazon | B&N | iTunes | kobo | Google |


Meet the Author: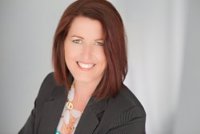 USA TODAY bestselling author Janie Crouch writes what she loves to read: passionate romantic suspense. She is a winner and/or finalist of multiple romance literary awards including the Golden Quill Award for Best Romantic Suspense, the National Reader's Choice Award, and the coveted RITA© Award by the Romance Writers of America.
Janie recently relocated with her husband and their four teenagers to Germany (due to her husband's job as support for the U.S. Military), after living in Virginia for nearly 20 years. When she's not listening to the voices in her head—and even when she is—she enjoys engaging in all sorts of crazy adventures (200-mile relay races; Ironman Triathlons, treks to Mt. Everest Base Camp) traveling, and movies of all kinds.
​
Her favorite quote: "Life is a daring adventure or nothing." ~ Helen Keller.
Website | Facebook | Twitter | Instagram | GoodReads |