Today it is my pleasure to Welcome author
Victoria Davies
to HJ!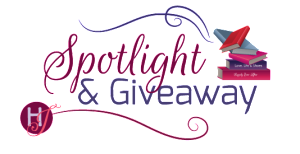 Hi Victoria and welcome to HJ! We're so excited to chat with you about your new release, Betraying the Billionaire!

Hi everyone. Great to be here.

Please summarize the book for the readers here: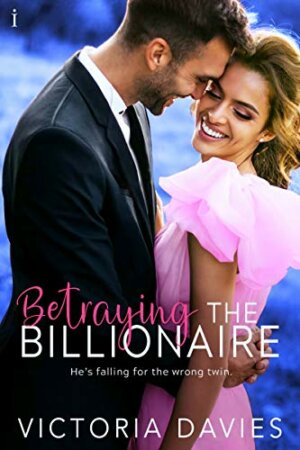 Betraying the Billionaire is a story about twin sisters trapped by circumstance. Julian Worth wants to expand his corporate empire by marrying the right blue blooded woman. Unfortunately, said woman has different plans and runs off to avoid the arrangement. But that leaves her younger twin, Holly, with little choice but to follow her father's plan and pretend to be her sister to buy time. It should have been simple enough to distract the busy CEO but the more time Holly spends with Julian, the more she realizes he's nothing like she expected and everything that she's dreamed of. Only problem is, he doesn't even know her real name.

Please share your favorite line(s) or quote from this book:
"I like a man who thinks ahead," she said.
"Then you're going to love me."
I hope those words aren't prophetic.
Because God help her if they were.
Please share a few Fun facts about this book…
I came up with this idea while on a family vacation in Maui. The pitch was written on a beautiful beach with sea turtles bobbing in the water.
I spent some time with twin acquaintances of mine to see how they interacted with each other and what they thought of their dynamic of looking the same while being completely different. Some of their experiences helped shape the sister characters in the book.
In one scene the characters opt for the Olivia Pope diet – popcorn and wine for dinner – and I have to confess, that's my favourite guilty pleasure too.
What first attracts your Hero to the Heroine and vice versa?
Julian is a man focused on his company so who his bride is doesn't matter as much as what she brings him. Holly, however, is unnerved to be pretending to be her sister and the contradictions she poses catches Julian's interest as he realizes there's a very human element to his plan that he hasn't accounted for. Her.
On Holly's side, being with a businessman like her unscrupulous father is her worst nightmare. But when she learns Julian has a history of silently and anonymously helping others, she can't help but wonder what else she's been wrong about. She has no right to get involved with him but the cracks in his perfect CEO shell intrigue her into digging deeper.
Did any scene have you blushing, crying or laughing while writing it? And Why?
I really loved creating this heroine and writing scenes where she had to face her own complicity about the situation she'd found herself in and the reality of what she was truly going to lose if Julian never learned her real name was very hard to do at some points. It's much easier to put your characters in painful situations when you don't like them so much!
Snippet:
His face was shadowed but even so, those eyes that practically burned as they watched her.
He sees me.
But only when she was dressed as someone else.
"You've been different lately," he said.
Her breath caught at the words. Had he really noticed something had changed? Did he recognize her in some small way? Her battered heart clung to that tiny piece of
hope that maybe, just maybe, she'd made a mark on him the way he had on her.
Readers should read this book….
If you like arranged marriages or twin swap books. You should also read this book if you like characters who grow and evolve over the course of a book into better versions of themselves that are only able to exist because of their shared experiences together.
What are you currently working on? What other releases do you have in the works?
Well what's a twin series without hearing from the other sister? Next up will be Lillian's story of what really happened when she ran to San Francisco for help taking down her devious father. Only problem is, the one man she needs to save her company hates her entire family with a vengeance.

Thanks for blogging at HJ!
Giveaway:

$10 Amazon Gift card
To enter Giveaway: Please complete the Rafflecopter form and Post a comment to this Q:

Did you ever want a twin to share your secrets with when you were growing up?
Excerpt from Betraying the Billionaire:
"I'll show you the rooftop. There's nice little seating area up there."
"Perfect."
Squinting, she tried to keep an eye out for anyone who might be watching them as she ushered Julian into the elevator and punched the button for the long ride up to the top floor.
He leaned back against the far wall, crossing his arms in a clear effort to look relaxed, and it nearly made her smile. Julian wasn't a man who could ever tone down his intensity. Even now, the hairs on the back of her neck stood on end, making her acutely aware of who was before her.
One step closer and she'd been within touching distance.
Bad girl. Ignore those thoughts.
But his dark suit jacket hung unbuttoned. It would be so easy to slide up beside him and slip her hand beneath the cloth. He'd look down at her, and she'd rise to her tiptoes, taking the kiss she'd had to deny before…
"Not that I mind, but what are you thinking about?"
She jerked at the words, spinning around to face the door. "Sorry."
He moved then. Pushing from the wall, he stalked forward on silent feet.
"I don't need an apology when a beautiful woman looks at me the way you just did."
She cleared her throat. "What way is that?"
"Like I'm a present she can't wait to open," he whispered in her ear, sending a shiver down her spine.
"I shouldn't…"
The words died when he ran his hand lightly down her arm.
"We can move at whatever speed you want," he told her. "But for the record, you absolutely should look at me the way you just did. As often as possible."
But you're not mine.
Then whose is he? an insidious voice asked. Lillian had made it clear she wanted nothing to do with this man. She was out there finding another way to avoid the layoffs. All Holly had to do was fill time until she returned.
And if there's never going to be a wedding, couldn't I have just a little taste?
Once Lillian was back and they confessed the truth, Holly wasn't naive enough to think Julian would jump at the chance to date the younger Abbott. All she could ever have were a few stolen moments with a man she shouldn't find fascinating.
What a tempting idea.
She closed her eyes to try and regain her balance, but the second her sight was gone, she realized her mistake.
He surrounded her, delighting every sense. The feel of those careful carcasses on her arm. The sandalwood scent of his skin. The warmth that seemed to envelop her. Never in her life had she been this attuned to another person.
Lips brushed against the vulnerable nape of her neck, startling a gasp from her. Clearly, she would have to wear her hair down from now on around this man.
"Julian…" she breathed, turning. "We shouldn't be doing this."
He stepped forward into her space, his hands splayed against the door on either side of her. "Why not?" he asked. "Because this time you can't run away?"
"You've met me twice. You don't know what I'd do."
A smile curved his lips, a real one, not like the ones he'd offered her at their first meeting. "You're right. I shouldn't know anything about you." He lifted a hand to her face, dragging his thumb along her cheek. "But I know you have a kind heart. You don't like new fiancés wasting your time. And"—he paused, his gaze dropping to her lips, "I know it's easier for you to fight than drop your guard. Am I wrong?"
She swallowed. "That's not fair. You're a business guru. Reading your opponents is second nature."
He shifted closer. "Yes, it is. Except you missed one thing."
"What?"
His gaze drifted lazily over her. "You're not my opponent. You're my wife."
The words shook her.
"Might," she qualified. "I might be your wife."
Those dark eyes returned to hers. "Do I seem like a man who doesn't get what he wants?"
She looked away. "And you want my company."
"That wasn't what I was referring to."
Excerpt. © Reprinted by permission. All rights reserved.


Book Info:
Julian Worth isn't a man with time to spare. Ruling his billion dollar empire with an iron fist, work is the true love of his life. Which is why when it comes to marriage, a strategic alliance matters more than love. Julian is more than ready to sign on for a little superficial dating and a marriage of convenience if it allows him to take his company to the next level. What he wasn't ready for was the woman who shows up as his prospective bride.
Holly Abbott has spent her whole life coming in second. Being born four minutes behind her twin sister has defined her life. But when her headstrong sister refuses to go along with their father's plan to marry her off into a cold business arrangement, Holly has to step up. Knowing the infamous Julian Worth will only entertain marrying the Abbott heir, Holly sets her identity aside to transform into her sister. It's an easy enough plan. A few dates with a man who isn't hers won't hurt anyone.
Except Julian is nothing like the ruthless tycoon she expected. Soon she's left to wonder, what will happen when her sister comes back and worse, how will she ever be able to give up a man who doesn't even know her real name?
Book Links: Amazon | B&N | iTunes | kobo | Google |


Meet the Author: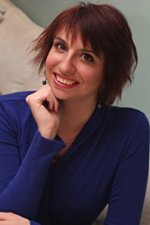 Victoria Davies's passion for writing started young. Luckily she had a family who encouraged believing in magic and embracing imagination. From stories quickly scribbled in bright pink diaries, her love of storytelling developed. Since then her characters may have evolved and her plots may have grown decidedly more steamy but she never lost her love of the written word. Writing is not only a way to silence the wonderful voices in her head, but it also allows her to share her passions with her readers.
Website | Facebook | Twitter | Instagram | GoodReads |