In Don't You Forget About Me by Mhairi McFarlane , At thirty years old, you would think that Georgina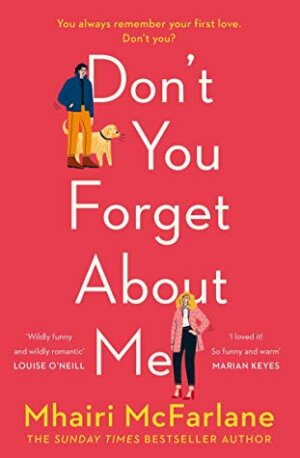 Horspool would have found her niche by now. Unless you count waitressing at crappy bars and restaurants her calling, considering she had dreams while in school of becoming a writer. She will admit it's taught her how to read people quite well–or so she thought, until she misses the signals completely that her boyfriend Robin is cheating on her. Although, in her defense, Georgina *had* just been sacked from her job in the most humiliating, public way just hours before she walked in on Robin and another woman in the act. Or she might have put the pieces together sooner. Maybe.
"If you want to help me then I wouldn't mind a bit of faith and emotional support, thanks."
"Georgina, you're still working in bars at thirty. You have no savings, no pension, no home. No relationship. What am I supposed to emotionally support, exactly?"
"Me, as a person? Aren't I enough?" I say, pretending to be coolly in control and not on the verge of tears.
Tired of her mother and sister nagging about not acting responsibly enough, Georgina hunts down a new job. And wouldn't you know that the best offer she has is working at the bar in a freshly renovated pub–which just happens to be owned by Lucas McCarthy, the boy who broke her heart twelve years ago. Now a very fine-looking man, he somehow doesn't recognize Georgina. She's not quite sure if that's good or bad. So as their time in the pub wears on and bits and pieces of her past somehow come out in conversations, she'll have to figure out if the sparks of attraction between herself and Lucas are new or if he actually remembers Georgina. The answers just might surprise them both.
'There's no shame in traveling the long way around to get where you want to go. It doesn't matter if you take wrong turns. Arriving somewhere you want to be, in the end, is what counts.'
Dry humor and an interesting backstory dominated Don't You Forget About Me, the latest offering by Mhairi McFarlane.
'Sometimes the truth is messy and difficult but it isn't always best left. Sometimes it saves you.'
I read Here's Looking at You by Mhairi McFarlane a few years back, so with this book I knew to expect a lot of laughs, some poignant moments, and self-reflection. That was absolutely true with Don't You Forget About Me. But I will admit to some mixed feelings here. I generally love modern British/UK women's fiction and romance. And while I did have fun with our heroine Georgina's lovely sense of humor and the antics she and her friends got up to, I was a bit (a lot, actually) lost with much of the slang and pop culture references. It made it more difficult to grasp what was truly going on in a scene at times and to understand a character's personality when I didn't quite get who they were being compared to. But, that might just be my limited knowledge and it could work fine for other readers.
Georgina really was a hoot, though. There were things she did that I didn't necessarily agree with, some of which gave the feeling that she was trying to hold on to her youthful days. But it felt like her heart was in the right place and she went into situations always with the intent to help someone. She just had a knack for being in the right place at the wrong time, much to our amusement. I did like how McFarlane dragged out part of Georgina's past over the course of the book–which partly involved our hero Lucas–and really built up what happened, bit by bit. The "incident" might be difficult for some readers. It's rather scary and heartbreaking when viewed through Georgina's eyes. But I thought it gave us a glimpse into just how strong she was and how many emotions she'd been dealing with since her teens.
I will warn as well that the book begins with Georgina's boyfriend cheating on her, as you can clearly tell from the book synopsis. McFarlane did a fantastic job of showing the full range of emotions our heroine went through, while also keeping a sense of humor in her setup of the scene and subsequent dealings with Georgina's ex. (What a jerk he was!) I think it was the reappearance of Lucas in her life that put her ex's treatment of her–and his personality overall–in perspective for Georgina. Although I wasn't sold on Lucas either at first. But by the end, boy did he win over everyone's heart. Including mine! Let's just say things were not quite what they seemed and there was a heck of a lot more to Lucas *and* Georgina's stories than you expect.
If you're looking for a humorous, heartfelt work of women's fiction with a good smattering of romance, Don't You Forget About Me might just do the trick. It will certainly entertain. (And have you humming the Simple Minds' tune from the 80s that shares a title with this book, which is quoted at the start of the story…)
Book Info:

Publication: July 2nd 2019 | HarperCollins |
Sometimes you have to hit rock bottom to rise again…
The hilarious new heartbreaker from Mhairi McFarlane!
If there's one thing worse than being fired from the grottiest restaurant in town, it's coming home early to find your boyfriend in bed with someone else.
Reeling from the indignity of a double dumping on the same day, Georgina snatches at the next job that she's offered – barmaid in a newly opened pub, which just so happens to run by the boy she fell in love with at school: Lucas McCarthy. And whereas Georgina (voted Most Likely to Succeed in her school yearbook) has done nothing but dead-end jobs in the last twelve years, Lucas has not only grown into a broodingly handsome man, but also has turned into an actual grown-up with a business and a dog along the way.
Meeting Lucas again not only throws Georgina's rackety present into sharp relief, but also brings a dark secret from her past bubbling to the surface. Only she knows the truth about what happened on the last day of school, and why she's allowed it to chase her all these years…