Today it is my pleasure to Welcome author
Mimi Jean Pamfiloff
to HJ!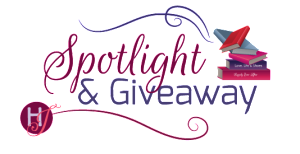 Hi Mimi Jean and welcome to HJ! We're so excited to chat with you about your new release, Brutus!
Hello to all my goddesses and gods out there!

To start off, can you please tell us a little bit about this book?: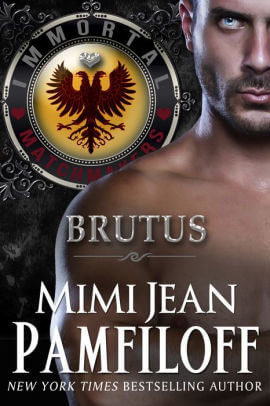 BRUTUS, is the story of an immortal warrior who works for the gods. Unfortunately, his work always seems to get in the way of having a life, and he's feeling a little restless.
Now he's been sent on a very important mission, to find a group of female warriors, and nothing is going right!
On top of that, he finds himself attracted to the one woman of the group who wants nothing to do with him!

Please share your favorite lines or quote(s) from this book:
I love this line, when Zac, the God of Temptation, is taken prisoner by an unruly unicorn who wants him as her sex slave. His heart, however, belongs to another:
"Hey! Where the hell do you think you're going, huh? Get back here!" Zac yelled. "Look at my limp, but very large, manhood. It's like a flag on a windless afternoon! A deflated party balloon! A floppy garden hose! All for you, Minky! In your honor." Zac waited for a response to his taunts, but the unicorn was gone.
What inspired this book?
The entire series started as a spinoff of the Accidentally Yours series, inspired by my love of Pre-Hispanic culture. Now, after 13 works in both series, I'd definitely say it's my readers who inspire me. Mostly, I just look forward to messing with their heads and giving them a good giggle. (Plus a steamy romance.)
How did you 'get to know' your main characters? Did they ever surprise you?
Generally described as a man who drinks martinis made from rusty nails, Brutus doesn't talk much in the other books, so it was A LOT of fun getting to hear him say more than a few minor words! We learn about what truly motivates him. Hint: it's his big heart.
But to answer the question, I feel like I've known him for years. The silent but deadly type who loves to knit.
As for our heroine, Fina, I think it was her sense of duty to the greater good that drives some of her best moments! To get to know her, I really had to imagine being in line for the throne, when demands of your family are high, but you have no power.
What was your favorite scene to write?
Ugh! I always hate this because I SO, SO, SO want to share the scene but it 's a spoiler. Ummm… Okay, for those who end up reading the book, my favorite part is when we finally get to meet Fina's mother. I'll share a snippet of right before that moment so I don't ruin the fun!
The women gathered around and snickered.
Fina's tanned face turned an angry red. "I said kneel."
Brutus grunted. He could tell he was embarrassing Fina by defying her authority. And, honestly, all he really wanted was to say what he came to say and then get the hell out of there. I miss my dog. Though, he might stay for supper. Whatever was cooking in that giant pot off to the side of the bonfire smelled delicious. He inhaled the scent of stewing onions and herbs wafting in the air.
With another grunt, he got to his knees and stared up at Fina. "Fine. I'm kneeling. Can we get this over with now? I have places to be, and this skirt is annoying." The leaf in the back kept sticking in his butt crack. And with a such a large strong muscular ass, he had to tug pretty hard to unwedge it. Very undignified.
Fina was about to speak when the crowd of women parted like the sea.
What was the most difficult scene to write?
That's easy! The ending! There is just so much going on in this story line and for the series. I THINK I got the ending right, but my readers will be the judges!

Would you say this book showcases your writing style or is it a departure for you?
This book leans toward my classic snarky style with sprinkles of just weird crap. But honestly, that's how I envision this group of unruly deities and their cronies. Pure insanity.
What do you want people to take away from reading this book?
A deep hatred in their hearts for me. LOL! I want them to read the last page and say… "OMG. I can't believe she went there."
What are you currently working on? What other releases do you have planned?
I am VERY pleased to announce that I am working on…
The Librarian's Vampire Assistant, Book 5! October release.
Fanged Love, co-written by Kyle Gilmore. Also an October Release. And OMG, is this book hilarious!
The Dead King (King Series #6). A Dec/Jan. release.
Thanks for blogging at HJ!
Giveaway:

A signed paperback copy of BRUTUS.
To enter Giveaway: Please complete the Rafflecopter form and Post a comment to this Q: I asked my readers to help me name the hero's penis. I have to say, their answers were hysterical! I ultimately went with "the General" because it was so fitting for Brutus.
But if you were to name his shlong, what would it be?
Excerpt from Brutus:
Helga was the first to break away from the crowd under the thatched roof to their right. "Fina! What is the meaning of this? No man is allowed inside our village." She drew her long hunting knife from the sheath strapped to her side.
"Put a fig in it, Helga, or I'll have you walk the coals tonight." Fina pushed Brutus from behind once more. "Keep moving, big man."
Helga snarled, but proceeded no farther. The other women held their fierce, dark gazes on him. Some even yelped, like they were terrified by his presence.
What am I missing?
Fina brought him to one of the few huts at the base of the cliff. A tiny flower garden occupied the front, along with a large clay statue next to the bamboo door. The figure was only three feet tall, but the big eyes and perplexed expression were unmistakable. "Why do you have a statue of Cimil?"
"She is the goddess who protects us. We serve her and only her."
Oh boy. That can't be good.
"Now get inside." Fina opened the bamboo door. "And if I were you, I would not step outside until I come for you. You are now on sacred land, and your male energy is considered a bad omen."
He might take that as an insult if it weren't for the fact that these women were completely nuts. Anyone who worshipped Cimil couldn't be right in the head.
Brutus ducked inside the small one-room structure and turned to face her. "And what do you believe? Am I poison?"
"I believe that nothing good can ever come from a man except his seed—to make more women, of course."
"That's a little sexist, don't you think?"
She shrugged. "If what you say is true, and a plague is upon us, I assure you it is because your sex has displeased Cimil—the almighty goddess."
He tried not to vomit in his mouth. "Cimil is a—" He was about to say lunatic but decided it wasn't wise to insult their favorite deity. "She is sister to thirteen other deities, you know. She is not the only god."
Fina smiled. "Stupid man. She is the only one who has the ear of the Universe. Cimil holds our fates in her hands."
That was like saying his left ass cheek could decide the weather. "How do you know this?"
"Time for chitchat is over. Someone will return shortly with clothing and hot water for bathing. You are to make yourself presentable to speak to my mother before dinner." She turned to leave. "Oh. And feed my cat. There's monkey jerky in that chest." Fina left, and he heard something hit the door. Likely a brace of some sort.
Brutus looked down at the little kitten in his arms. "Is she always this grumpy?"
Meow.
"I agree." Fina was wound tighter than a hemorrhoidal vampire. "What do you think will happen to me tonight?"
The kitten looked up at him with its big green eyes. It didn't know.
Excerpt. © Reprinted by permission. All rights reserved.
Book Info:
From New York Times Bestseller Mimi Jean Pamfiloff comes BRUTUS, a Paranormal Romantic Comedy that will surely cause evil vampires to kidnap the author.
CAN THE WORLD'S TOUGHEST IMMORTAL WARRIOR WIN THE HEART OF THE WORLD'S TOUGHEST IMMORTAL WOMAN?
Brutus is not your average immortal warrior. He leads the gods' army, he's tough as nails, and his mind is so powerful, he no longer speaks to communicate with his men. Some call him telepathic; he just calls it being a badass.
But despite the many bloody battles and hard-won victories, this is one mission he's not so sure about. There is a plague sweeping the immortal world. Gods, vampires, incubi—no one is safe, except for those with mates, and sadly, there just aren't enough women to go around.
To keep the gods' army intact, ready to protect the human world, Brutus must convince a group of ancient female warriors, located deep in the Amazon jungle, to return home with him, and…well…go on dates with his men.
But when the toughest, meanest, man-hating, sexiest woman of the group catches his eye, all he can think about is conquering her heart.
WARNING: This book contains a smokin' hot immortal warrior looking for his forever love, a randy invisible unicorn, and bad, bad, such bad language. Okay, and some sex. Fine, yes! Lots of sex! And a kitten, a bit of violence, a man who loves knitting, mannibalism, unruly deities, Mayan priests who babysit animals, a naked goddess who wears a bee bikini, leather pants (for men), a very randy ghost who's desperate for her HEA, anecdotes about evil mermen, a BIG plot twist even the author didn't see coming, and a ton of romancy kind of stuff.
Book Links: Amazon | B&N | iTunes | Kobo | Google |


Meet the Author:
MIMI JEAN PAMFILOFF is a New York Times bestselling author who's sold over one million books around the world. Although she obtained her MBA and worked for more than fifteen years in the corporate world, she believes that it's never too late to come out of the romance closet and follow your dreams.
Mimi lives with her Latin lover hubby, two pirates-in-training (their boys), and their three spunky dragons (really, just very tiny dogs with big attitudes) Snowy, Mini, and Mack, in the vampire-unfriendly state of Arizona.
She hopes to make you laugh when you need it most and continues to pray daily that leather pants will make a big comeback for men.
Website | Facebook | Twitter | Instagram | GoodReads |