Today, HJ is pleased to share with you

P. Dangelico's

new release: 

Carried Away

Sometimes going back home requires a big leap forward.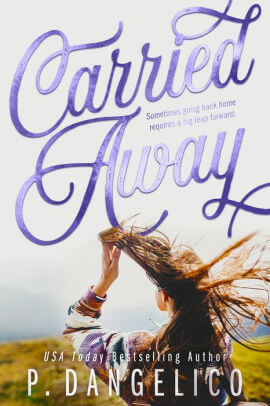 Carrie Anderson––truth seeker, storyteller, journalist-at-large––is bad at social media and great at getting herself into trouble.
When she's fired from her dream job for an ill-advised tweet, she has no other choice but to return to the small town where she grew up with her head hung low.
It's temporary after all. She can work at her family's bed and breakfast, shore up her finances, and get back to her life and her home in Los Angeles.
There's only one not-so-little problem…the grouchy ex-NHL star making her rethink what home means.
Jake Turner––great at hockey, bad at people––is not a happy man.
Haunted by his past, all he wants is to disappear into obscurity, to get away from the scrutiny of the press he's been under since turning pro at nineteen. But when the press finds him, disappearing is no longer an option.
Worse yet, the same journalist he's trying to avoid is making him reconsider whether being forgotten is what he really wants.
Enjoy an exclusive excerpt from Carried Away 
Grabbing my sister's down coat and the leather carrier, I throw it on and walk out back to fetch some wood. Turner is still there––except now he's shirtless. Give me a break. Even with the sun out, it's in the 30s, which for April is completely normal. In contrast, I have so many layers on I look like the Michelin tire man.
He places a piece of wood on the stump, raises his arms above his head, muscles tensing and rippling, and comes down hard on it. Tossing the two pieces aside, he sets up another one.
"Put it away, Turner. No one here is interested." Walking past him, I reach a neat pile siting against the side of the woodshed.
"You've been staring at me from the kitchen window for the past half hour"––he brings the ax down hard, grunting as it impacts the wood––"so I beg to differ."
Heat blankets my face while I clutch my jacket like an uptight heroine from an 18th century novel. "It's more gross fascination. Like being at the zoo. Or a freak show."
I don't know what it is about this man that brings out the worst in me. Or is it the best? Whatever it is, my practically nonexistent ability to defend myself rises like a phoenix from the ashes whenever he speaks.
Turner stops and leans on the handle of the ax, chest heaving as he takes deep breaths. I look away, out yonder, but as a suspicious length of silence grows curiosity gets the best of me and I'm forced to look at him again.
A slow sinister smile transforms the brute force of his face into something not at all unappealing. And this is where things take a turn for the worse because a creeping sensation of dread fills my chest. God help me, I can't be attracted to him.
"Difference is…you can't touch those animals."
He's got me so on edge I start to walk away. Then, realizing I came out here for a reason, I make a quick U-turn. Aaand come up short when I find him standing right behind me, holding two pieces of wood.
My gaze moves up his chest, covered in a light dusting of dark hair, nipples pointing from the bite in the air. It slowly moves over his Adam's apple and his tense jaw. By the time I reach his face, his expression is back to being as serious and intense as always.
Watching me intently, he places the wood in the leather carrier.
"Thank you," I force myself to mutter, because it always pays to be kind.
The quiet chuckle I hear come out of him as I walk back inside sets my teeth on edge though.
Excerpt. ©P. Dangelico. Posted by arrangement with the publisher. All rights reserved.


Giveaway:

A Signed Paperback copy of Carried Away by P. Dangelico
To enter Giveaway: Please complete the Rafflecopter form and post a comment to this Q:

What did you think of the excerpt spotlighted here? Leave a comment with your thoughts on the book…
Meet the Author:
P. Dangelico loves romance in all forms, cuddly creatures (four legged and two), really bloody sexy pulp, the NY Jets (although she's reconsidering after this season), and to while away the day at the barn (apparently she does her best thinking shoveling horse crap). What she's not enamored with is referring to herself in the third person and social media so don't expect her to get on Twitter anytime soon. Oh, and although she was born in Italy, she's been Jersey Strong since she turned six.
Website | Facebook | Twitter | Instagram | GoodReads |