Insatiable Hunger by Yahrah St .John is the latest entry in the multi-authored Dynasties: Seven Sins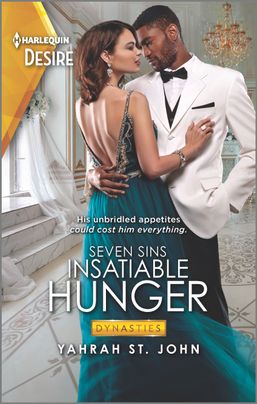 series and features a 'friends to lovers' trope romance.
Jessie Acosta is planning to do what her parents' expect of her – marry Hugh O'Malley, the son of the family that helped them through the difficult time when her parents lost everything because of the actions of Vernon Lowell. At the helm of the Black Crescent Investment firm, he'd stolen the wealth of many local families and while the company had since made reparations and taken a new and better path, bitterness still remained for many including Jessie and her parents.
But she can't deny that spending time with Ryan Hathaway, at one time a very close friend is becoming more and more appealing, especially after they reconnect at a school reunion. With her and Hugh on an official break of their long distance relationship, it's easy to fall for Ryan's charms and Ryan has made no secret of his feelings for her. But Ryan is being courted for the position of CEO at Black Crescent, a fact that can't be ignored. Will Jessie let her head, or her heart decide their future?
There were aspects of this story I really liked and some that fell flat. Jessie is accomplished and smart, an associate at a law firm hoping to make partner. She's definitely on equal footing with Ryan who works in investments. There's believable chemistry between them that leads to some sexy scenes. Because she and Hugh were on an official break and debating whether to move forward with their relationship, it didn't feel like she was cheating on him by spending time with Ryan and she does eventually make it clear with Hugh that they are over. I like that she realizes that she's been letting her parents dictate her actions and that she's ready to take control of her own life.
What I didn't care for was there were several times that Jessie had the internal thoughts that Ryan had been overweight and now that he was thinner, she found him attractive. To me that came across as fat-shaming, and even later it's also mentioned that Ryan's father is now the picture of health having lost weight after being diagnosed with diabetes. Also Jessie is described as being a size 4, the same size as her roommate Becca and it just emphasizes the incorrect (for me) assumption that slim equals attractive.
The plot proceeds with Ryan and Jessie getting closer and then the issue of the CEO position comes to a head. There's also some unexpected family drama that came out of nowhere! Ryan and Jessie get their happy ending and while this isn't one of my favorites, fans of friends to lovers romances will find things to enjoy and I look forward to reading the next in the series.
Book Info:

Publication: July 01, 2020 | Harlequin Desire | Dyasties: Seven Sins #3
She's just a friend but he craves so much more…
His unbridled appetites could cost him everything.
Ryan Hathaway isn't about to let his friend marry the wrong guy—not when the right guy is him. But getting out of Jessie Acosta's friend zone could destroy his plans to become Black Crescent's CEO. He can't afford to give in to the overwhelming temptation of wanting her. But with another man looming in Jessie's life, Ryan can't afford not to…