Today, HJ is pleased to share with you

Kait Ballenger's

new release: 

Cowboy Wolf Trouble

Seven shifter clans call the Montana mountains home. But a new evil will stop at nothing to tear their world apart.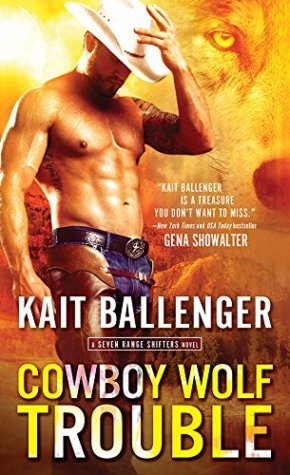 For centuries, the shifters that roam Big Sky country have honored a pact to keep the peace. Even bad-boy rancher Wes Calhoun, former leader of a renegade pack, has given up his violent ways and sworn loyalty to the Grey Wolves. But his dark past keeps catching up with him…

Human rancher Naomi Evans cares only about saving the ranch that was her father's legacy. Until a clash with Wes opens up a whole new world—a supernatural world on the verge of war—and Naomi, her ranch, and the sexy cowboy wolf stealing her heart are smack dab in the middle of it.
Enjoy an exclusive excerpt from Cowboy Wolf Trouble 
"Don't move." Wes uttered the words with every bit of urgency he could impart as he glared at the intruder in their midst.
Naomi's eyes widened in alarm. "Please don't tell me there's a wolf behind me," she breathed.
"No." His gaze fell to the gnarled monstrosity in her arms. "It's worse than that."
She followed his gaze to the massive feline, an eyebrow quirking in question. "You can't be serious?" She gripped the cat tighter, as if to shield the flea-bitten beast from him.
"Deadly serious."
"You don't like cats?" she asked the question as if he were the monster, rather than the deranged beast in her arms.
"I don't like that thing," he said.
She pointed to the blubbery ball of fur. "You mean this ca–?"
"Shhh," he hissed. "Don't say the C-A-T word. Peaches hates that. It will only make things worse."
"Peaches?" She glanced down at the hefty ball of patched, aging fur in her arms in confusion. The cat somehow managed to look overfed and decrepit at the same time. Its ancient yellow eyes, one larger than the other, were transfixed on Black Jack. Its mouth opened in a silent hiss, displaying a mouthful of rotting teeth complete with breath Wes knew firsthand reeked worse than the inside of the Grey Wolf's pig pen. From the alarmed look on her face, how anyone could deem the name Peaches appropriate seemed to fail even Naomi's tender heart…
Wes put forward a cautionary hand. "Just whatever you do, don't let go of her. I'm going to step toward you now before he sees her."
Naomi looked at him as if he were insane. "Before who sees her?"
Slowly Wes inched forward, attempting to place himself smack-dab in the line of fire to block the impending brawl.
But it was too late. At the sight of Wes' approach, the furred devil in Naomi's arms chose that moment to release a deafening yowl. The noise silenced the low chatter of the horses in the stable. Immediately, Black Jack's ears perked up and his dark black eyes fell to where Naomi stood, holding his arch nemesis.
Without hesitation, the horse bared his teeth and snarled. Actually snarled. The terrifying noise was rivaled only by the huff of an angry bull prepared to charge. Wes was fairly certain he'd never seen another horse snarl before. Huff? Yes. Whinny? Yes. But snarl? No.
Then again, not every horse was Black Jack, and not every cat was that glorified hair-ball dispenser Blaze called a pet. Catcher of rats or not, he'd told Blaze time and time again to keep that damn beast where it belonged—far from the stables. Wes didn't care where, though if he'd had his choice, preferably a dark trunk, a locked dark trunk, without holes and buried six feet underground.
The feline locked eyes with Black Jack. Their prolonged stare-down filled the stable with unspoken tension that called to mind every film Wes had ever seen featuring a traditional western standoff. But instead of guns, their weapons were claws, teeth, and hooves. The air was wrought with tension. Naomi, Wes, and the other horses remained the helpless, terrified onlookers.
The feline monster released another petrifying yowl in a challenge that sounded less like an aged cat and more like the pits of hell had opened and Satan himself were singing.
Realizing exactly to whom Wes referred, Naomi sought to rectify the situation. "Oh, quit it, you two," she cast a smiling glance between them. "I'm sure you can, learn to be frien–" Naomi reached out a hand, attempting to stroke the battered brute cradled in her arms.
"Naomi, no!" Wes shouted.
The snarling cat twisted around and sunk its tiny, sharp fangs into the meat of her hand.
Naomi yelped, releasing the cat, and exactly as Wes feared, all manner of hell broke loose within the stable.
Free from Naomi's grasp the Satanic feline spawn hissed before lunging toward Black Jack, attaching itself to the horse's long face by the hook of its razor-like claws. Blinded by the fur covering his eyes, Black Jack reared up, prepared to charge.
And Naomi stood straight in the line of fire.
Wes dove toward Naomi just as she lunged toward him to escape Black Jack's path. They smacked into one another in a tangle of falling limbs. Naomi shrieked her flailing arms, making them further careen as Black Jack tore through the stable doors.
In his hasty exit, the horse knocked over the wheelbarrow full of manure Wes had finished mucking minutes earlier. The manure scattered, causing Wes and Naomi to slip through the damp grass as they stumbled out of the stable. Slipping and sliding, arms still flailing, they both landed—hard—on their asses, several feet away in the mountain dirt.
Both pairs of their boots were covered in horse manure.
In the distance, a terrifying yowl followed another snarl. Black Jack had now shaken off the furred devil and was chasing Peaches around the patch of grass outside the stables, biting and snapping at the cat's feet as it attempted to outpace the beast.

And as if sitting in the middle of the Grey Wolf pasture with his boots covered in manure, his horse running wild after a half-dead cat, and the human woman responsible for it, sitting at his side complaining about him accidentally groping her weren't enough, the Montana sky chose that moment to open up and downpour.
Excerpt. ©Kait Ballenger. Posted by arrangement with the publisher. All rights reserved.

Giveaway:

Print copy of Cowboy Wolf Trouble (Seven Range Shifters #1) by Kait Ballenger
To enter Giveaway: Please complete the Rafflecopter form and post a comment to this Q:

What did you think of the excerpt spotlighted here? Leave a comment with your thoughts on the book…
Meet the Author:
ROMANCE AUTHOR, WORLD TRAVELER, ENGLISH PROFESSOR, AND FORMER PROFESSIONAL
BELLYDANCER, Kait Ballenger hated reading when she was a child, because she was horrible at it. Then by chance she picked up the Harry Potter series at the age of eight, fell in love with reading, and never looked back. When she realized she could tell her own stories, the deal was sealed. After stints working as a real vampire (aka a phlebotomist), a bingo caller, and a professional bellydancer, Kait finally decided that her eight-year-old self knew best: Kait's meant to be a writer…though the jury is still out on being the next J.K Rowling.
When Kait's not preoccupied with writing captivating paranormal romance, page-turning suspense or love scenes that make even seasoned romance readers blush, she can usually be found spending time with her family or with her nose buried in a good book. She lives in Florida with her husband and two young sons.
And yes, she can still bellydance with the best of them…
Author website: http://www.kaitballenger.com/

Buy links:
Amazon: https://amzn.to/2UWMU8m
B&N: http://bit.ly/bncowboywolftrouble
Kobo: http://bit.ly/kobocowboywolftrouble
Apple: https://apple.co/2GxTwqw