In Deal with the Devil (The Forge Trilogy #1) by Meghan March, Shipping tycoon Jericho Forge doesn't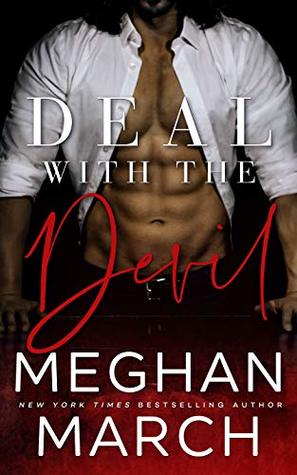 make it a habit of rescuing damsels in distress. Especially women that have trouble written all over them, like cardsharp India Baptiste does. But when a high stakes poker game leads to Forge winning a bet where the blonde beauty is the prize, how can he say no? It's clear from the start that there's more going on with Indy than she's letting on. Something that's forcing her to be reckless when she's normally anything but. Forge is determined to figure out what it is that has her running scared. And once he realizes how strong a connection they have, for the first time in his life he thinks about a relationship not just based on physical needs but rather with emotions playing into the mix.
'She's not just a means to an end anymore. She's mine. And I take care of my own.'
India should have known better than to get involved in a game where there was the possibility Jericho Forge might show up. He's a man who never loses–and never backs down when he sets his sight on something. And that something is her, much to Indy's chagrin. Her life is complicated enough considering she's got to come up with some serious cash in the next week or bad, bad things will happen. So when Jericho offers to help with her situation, Indy is tempted. Although she's worried that her strong attraction to the billionaire might cloud her judgement, which is unacceptable when the stakes are so high. Things get even more complicated when Forge makes her a final offer Indy can't refuse, leaving her to wonder if she can trust the intense businessman or if he'll be someone else in her life to treat her wrong.
'He's a marauder, plundering just like the pirate I thought he was the first time I saw him. He takes without permission or apology.
And I love it.'
Holy cliffhangers! I'm not sure I can wait another month to find out what happens next in Meghan March's super sexy new trilogy all about the delectable Jericho Forge and the indomitable India Baptiste.
'She doesn't trust me or any other man.
Now, I have a new goal. Win her trust…and make her want me as badly as I want her.'
Getting a glimpse of Jericho Forge at the end of Meghan March's Sin series wasn't quite enough for this reader, so I've been looking forward to her new trilogy which is all about the billionaire who's more pirate than businessman. And oh my goodness! I still don't know what to think about Jericho Forge. Well, aside from he's one of the most complicated, hottest, demanding, cunning, did I mention hottest?, heroes you can picture. Think: Jason Momoa, which is mentioned in the book, and which will make the phrase #ReleaseTheKraken never be the same again. (lol) But it was so difficult to nail down whether Forge was the good guy he seemed to be under the alpha-hole exterior or if he was as manipulative as his adversaries made him out to be.
India was a kickass heroine, a femme fatale if you will, in a no-win situation. I love that she wasn't afraid to stand up to Forge and that she still kept trying to sort her issues out herself all the way up through the end of this book. I think India brought out a side of Jericho he's never dealt with before, an emotional side rather than just physical. And it seemed like he did the same in her, with India not only wanting to give in to the lust between them but also wanting to believe that Forge was being honest in offering her protection and help with her predicament. It was still up for debate at the end, but with the combustible connection between them, it's obvious they'll end up together somehow. But not before some mighty fireworks happen as they test each other's will. So. Much. Fun. *sigh*
A smexy delight that I devoured in one sitting, Deal with the Devil had just the right amount of heat and emotion to keep me enthralled. Not to mention a twisting and turning plot full of secrets and power plays. Definitely recommended.
Book Info:

Publication: Published January 15th 2019 | Red Dress Press | The Forge Trilogy #1
"You can put that man in a suit, but he'll never be tame."
One look at Jericho Forge and I knew the rumors were true. He was a predator, and he had set his sights on me.
I knew better than to bet more than I could afford to lose that night. I knew better than to bet myself. But desperation leads to bad decisions, and I thought there was no way I could lose.
I was wrong.
Now I have no choice but to make a deal with the devil.