Today it is my pleasure to Welcome author
Christi Caldwell
to HJ!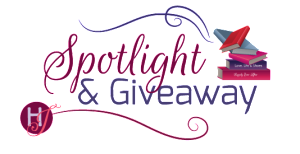 Hi Christi and welcome to HJ! We're so excited to chat with you about your new release, Desperately Seeking a Duchess!

Hello! It is ALWAYS such a joy to be invited to visit Harlequin Junkie! Thank you so much for always being so gracious.

Please summarize the book for the readers here: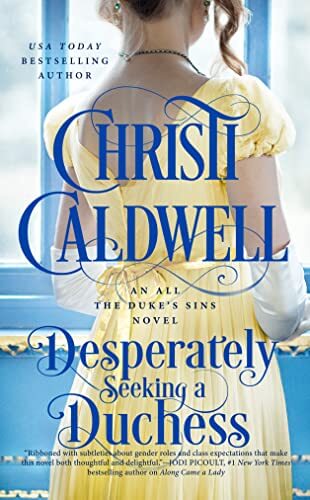 In DESPERATELY SEEKING A DUCHESS, an impoverished duke collides with a strong-willed heiress as she navigates the world of polite society and must become the one thing he dreads the most—a fortune hunter. Growing up in a small mining community, Cailin Audley dreamed of London, full of bookstores and museums that would fulfill her curious mind. She has no interest in the men of the ton, except perhaps for the frustratingly charming Duke of St. James. Courtland Balfour, devoted brother and notorious rogue, knows that his duty lies at the altar. But it's just his luck that the one woman who would make that fate bearable is the only one completely unfazed by his title. When Cailin and the duke land at the heart of a scandal, Courtland will have to convince Cailin that he is worthy of her affection before he loses everything.

Please share your favorite line(s) or quote from this book:
Hesitantly, Courtland took the seat across from him. "You . . . saw Cailin, then."
"And her brother." Keir's nostrils flared. "Her very big, very powerful brother who attempted to kill me."
"That seems to be his way," Courtland muttered.
Please share a few Fun facts about this book…
Desperately Seeking a Duchess is just an all-around FUN book. Courtland is constantly tongue-tied around Cailin, and it was just so endearing to me.
The sibling dynamics in Desperately Seeking a Duchess had me laughing out loud as I wrote. As I mentioned, the hero is a doting big brother…and we get to see this powerful, handsome duke playing make-believe with his baby sister.
What first attracts your Hero to the Heroine and vice versa?
Courtland and Cailin's first meeting is explosive–in every way! (This will make SO much more sense when readers read the opening of Desperately Seeking a Duchess.) Courtland is a roguish duke, and when he meets Cailin…a woman whose grown up in a mining village, he is instantly enchanted. He's captivated by her lack of artifice and her realness and directness…and for her, Courtland may be a duke, but he's a man who treats her as a social equal…and since she's been sent to London to have a Season, having a man who sees *her* is heady stuff.
Did any scene have you blushing, crying or laughing while writing it? And Why?
Oh, my gosh. I laughed through SO much of this book. Courtland and Cailin both come from large families; with noisy siblings, all with HUGE personalities. Courtland has three sisters AND an identical twin, and they are all equally a handful. (They always say write what you know…having twins of my own, and three wildly spirited children in total, I know a bit about it!) Not unlike my family, the Balfours are ALWAYS having a great time.
"Freeze there, you dastardly cur!"
From the side of the Louis XVI walnut commode he knelt beside, Courtland kept as still as possible for so long the muscles in his legs screamed in protest.
He'd learned long ago his sister's every trick on the pre- tend battlefield.
Too many times when she'd called out, he'd revealed himself, inadvertently giving himself away.
Courtland brought his toy weapon slowly up.
The click of a toy bayonet filled the quiet parlor.
"Do not move. Not one bit." His youngest sibling issued
that gleefully menacing order, her voice coming close enough to confirm he'd been found out.
Caught.
Courtland sighed. "This really isn't an honorable way to fight, you know," he felt inclined to point out, and he let his toy weapon drop.
"How convenient that you only should mention that when you've been cornered," his sister drawled. "It works for the Americans. In fact, that is how they defeated the British army, you know."
"A man should know who his opponent is."
"A woman knows it doesn't matter if one sees one's op- ponent, only that one knows who that person is, and that they are defeated."
He shuddered. "Egad, you are ruthless." And she was. Utterly terrifying. Of course, he'd have her no other way, but she terrified him out of his ever lasting mind.
She waved her weapon. "On your feet, Courtland."
Coming up and out slowly with his hands up, he faced Ellie, the fourteen-year-old dervish.
She released the trigger and it made another little click.
Courtland let his weapon slip from his fingers, and with an exaggerated groan, he staggered back several steps until he collided with the wall.
He sagged, making himself go limp, then absolutely still.
"You're dying is much improved," she praised, and he t o o k t h a t a s s l l l e e e a a av v ve e e t t o o p e n h i s eye s a n d cl i m b t o h i s fe e t .
" I've had a good deal of practice at it," he said, coming over. He ruffled the top of her cropped curls. When she'd been a girl of five—to their father's horror and fury—she'd hacked them off herself, and she'd continued chopping them short.
"I am good at what I do, aren't I?" Ellie puffed her small chest out.
"Committing fratricide? The absolute best."
Readers should read this book….
If you LOVE a slow burn romance, a roguish duke in need of an heiress, and an independent commoner turned heiress, of course who has absolutely *no* intention of getting married, you're going to want to gobble up Desperately Seeking a Duchess! : )
What are you currently working on? What other releases do you have in the works?
I'm actually in the process of finishing up the next installment from my All the Duke's Sins Series with Berkley Romance. The book actually takes us several years into the future and Courtland's *youngest* sister, Ellie is the heroine! She was just so vibrant and spirited on the pages of Desperately Seeking a Duchess, I HAD to write hers next!
Later this summer, I have several Heart of a Duke installments coming to my readers. The Heart of a Duke has been a reader-favorite series and I had to set it aside for a couple of years, and it was *really* fun returning to the world. It's very heartfelt Regency and I missed writing in it.

Thanks for blogging at HJ!
Giveaway:

I'm offering up a $25 Barnes and Noble Gift Card and several signed books and swag to one reader! This is open to US Readers Only.
To enter Giveaway: Please complete the Rafflecopter form and Post a comment to this Q:

I love ALL kinds of heroes. The brooding ones. The wounded warriors. But I'm REALLY enjoying the tender, loyal, loving heroes like my duke, Courtland. What kind of hero do you find yourself in the mood for lately?
Excerpt from Desperately Seeking a Duchess:
Rankled by that reminder, Cailin scowled at him. "I met my father's man of affairs this week," she said. "He was decidedly not the same gentleman to come and try and col- lect me in Staffordshire, and you"—she jabbed another gloved index finger—"are decidedly him."
Shifting on his makeshift seat on the edge of the billiards table, the young duke folded his arms at his chest.
All the while he elegantly reclined there, he eyed Cailin. Suspiciously? Warily? Concernedly?
If the nob had even a smidge of a brain in his head, the sentiment was decidedly the last.
"Nothing to say, Your Grace?" she jeered.
"Miss Audley." This time, when the powerful nobleman spoke, he did so with a chilliness and reserve that more matched the frosty fellow she'd maneuvered into one of her father's many parlors, the brusque tones belonging to a peer below a prince. "I don't know how to account for the cer- tainty of your opinion; however, it is an erroneous one."
And for the first time since she'd caught sight of him that evening, her confidence flagged.
"Though I expect," he continued in that cool, clipped way, "that it is humbling to find yourself both in the wrong and incorrect about your opinion."
Humbling?
In the wrong and incorrect about her opinion?
Her opinion?
Oh, this was really quite enough.
Shooting a hand out and up, she pushed the curls away
from his noble brow, revealing a narrow, raised, thin, puck- ered scar just at his hairline. A thrill of triumph went through her. "Tell me, do both you and your identical twin brother also have matching scars, Your Grace?"
Excerpt. © Reprinted by permission. All rights reserved.


Book Info:
What happens when an impoverished duke with a reputation for being a rogue collides with a strong-willed heiress who wants to explore the world? An unlikely friendship…and unexpected passion.
Cailin Audley doesn't fit in with Polite Society. A life spent among the working class taught her to value her independence in a way no newfound fortune or glittering ballroom could ever erase. When a major misstep sees the new heiress whisked away to the English countryside, Cailin soon realizes the vexing lengths her family will go to see her settled. But having risked her heart once before, Cailin has no interest in the men of the ton—especially not the frustratingly charming Duke of St. James.
Courtland Balfour, the Duke of St. James, devoted brother and notorious rogue, despises what he must become—a fortune hunter. But with the ducal coffers drained by his late, spendthrift of a father, Courtland knows his duty lies at the altar and he will do anything to ensure a future for his siblings. Just his luck that the one lady who could make this new fate bearable, who enflames him like no other, is the one woman who wants nothing to do with him or his title.
But when an act of desperation inadvertently lands he and Cailin at the heart of another scandal, Courtland knows better than to waste his chance. Surely he can convince Cailin to love him?
Book Links: Amazon | B&N | iTunes | kobo | Google |


Meet the Author:
Christi Caldwell is the USA Today bestselling author of the Sinful Brides series and the Heart of a Duke series. She blames novelist Judith McNaught for luring her into the world of historical romance. When Christi was at the University of Connecticut, she began writing her own tales of love—ones where even the most perfect heroes and heroines had imperfections. She learned to enjoy torturing her couples before they earned their well-deserved happily ever after. Christi lives in Charlotte, North Carolina, where she spends her time writing, and being a mommy to the most inspiring little boy and empathetic, spirited girls who, with their mischievous twin antics, offer an endless source of story ideas! –
Website | Facebook | Twitter | Instagram | GoodReads |