Today, HJ is pleased to share with you

Jamie Wesley's

new release: 

Fake It Till You Bake It: A Novel

A reality star and a cupcake-baking football player pretend to be a couple in order to save his bakery in this sweet and sexy romance from Jamie Wesley, Fake It Till You Bake It.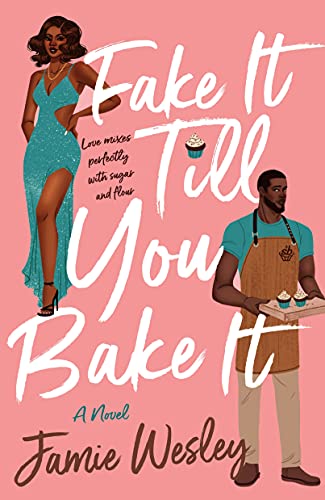 Jada Townsend-Matthews is the most reviled woman in America after turning down a proposal on a reality dating show. When she comes home to lick her wounds, Jada finds herself working at San Diego's newest cupcake bakery, Sugar Blitz, alongside the uptight owner and professional football player Donovan Dell.
When a reporter mistakenly believes Jada and Donovan are an item, they realize they can use the misunderstanding to their advantage to help the struggling bakery and rehabilitate Jada's image. Faking a relationship should be simple, but sometimes love is the most unexpected ingredient.
Fake it Till You Bake It is a sweet confection of a novel, the perfect story to curl up with and enjoy with a cupcake on the side.
Enjoy an exclusive excerpt from Fake It Till You Bake It: A Novel 
Chapter Two
"Not a word," Jada Townsend-Matthews said to her best friend, Olivia Madison, as she strode down the sidewalk away from the cupcake shop. And that guy with a stick up his ass.
"I'm not going to say anything. I'm just going to enjoy the best cupcake I've had since the last time I stopped by Sugar Blitz." Olivia took a bite of the dessert and stared hard at Jada.
Jada's shoulders hunched defensively. "What? I didn't do anything."
Olivia's stare didn't waver.
"I mean I wasn't trying to do anything." Somehow, she just found herself in these situations.
"No, you were speaking your mind like you always do." Olivia grinned. "Which is one of the things I love most about you."
"Thanks." She needed to hear that, especially now. Olivia was her ride or die, the one who stuck by her side no matter what. Jada's mouth always got her into trouble. Always. One day she'd learn to control it. One day.
"At least he didn't know who you were," Olivia added.
Thank God for small favors. For a moment there, when he'd said "excuse me," she thought she'd turn around to find a phone in her face, either so the guy could take a picture and post it to his social media app of choice or show her the most humiliating moment of her life, a clip she'd seen, oh, a million gazillion times over the last two weeks since it had first been broadcast to the world.
Most people didn't have their most embarrassing moments recorded by a professional camera crew, then aired on national TV and then replayed over and over and over on the internet. She wasn't most people. Never had been. Never would be, apparently.
"It's not like I was lying," she said. "The place was like a mausoleum. Cold and sterile."
"Girl, I don't care what the place looks like." Olivia saluted her with the treat she'd had the good sense not to get rid of on her way out of the store. "The cupcakes are amazing."
Jada shrugged, then took a deep breath. She needed to relax. Being home, close to the beach, basking in the fantastic San Diego weather and the cool breeze from the nearby ocean was supposed to accomplish that feat. So far, mission not accomplished.
"More importantly, dude was fine," Olivia added.
Jada made a face. "Was he? I didn't notice. Not with that stern high school principal vibe he was giving off."
"You didn't notice those thick, hard thighs that could crack walnuts?"
A vision of Cupcake Guy and his aforementioned thighs crystallized in her mind. Jada shook her head, doing her best to dislodge the image, and took the opportunity to study the oh-so-fascinating cracks in the sidewalk. "Nope."
"The wide, broad shoulders and biceps threatening to break the seams of his polo?"
"Nope." That was her story, and she was sticking to it like Ariana Grande did with her ponytail.
"The scrumptious dark brown skin? The full lips? The deep, commanding voice?"
Jada rolled her eyes. "You mean the lips that I'm pretty sure are permanently pressed tight in disapproval? The how-dare-you-not-agree-with-everything-I-say voice?"
Her BFF snorted in disbelief. "Yeah, okay." Olivia's second snort morphed into laughter. "You called the man's cupcakes stale," she said through her cackling.
Jada's nose lifted. "I said they were decent." They were actually fantastic, not that she'd admit that out loud in a million years, especially not to him. Granted, she'd never see him again, but still it was important to take a metaphorical stand. See you next time, he'd said in that deep, commanding voice she'd just told Olivia she didn't think was deep and commanding.
"After you called them stale," Olivia corrected.
Jada tried not to squirm. "I mean . . . well . . . it's not like they were his cupcakes. He was toeing the company line."
Olivia scrunched her nose in reluctant disagreement. "No, I'm pretty sure he's the owner. One of them, anyway."
Oh. Oops. Her inability to keep her thoughts to herself had bitten her in the ass yet again. And she knew exactly who to blame. "You know, this is all your fault."
"What? " Olivia threw her hands up in the air, then cried out as her cupcake went flying. She made an impressive acrobatic dive to stop it from meeting an unfortunate end on the pavement. She landed in a crouch, saving the dessert a split second before catastrophe struck, cradled it in her palms, and rose back to her full height with a dramatic sigh. "If I didn't love you, I'd hate you for almost making me lose my cupcake." Her voice rose. "And how is it my fault?"
"Oh, I don't know. Something about how you can't hide out for the rest of your life, Jada," Jada answered in a singsongy tone. "Let's go to your favorite store, Jada. Why don't we stop in for a snack, Jada? Be the badass I know you are, Jada."
Olivia side-eyed her. "I meant every word. Admit it. You were miserable staying cooped up in your condo."
True. She'd always been social. Loved being around other people. Except now she'd become public enemy number one.
"Besides, you're the one who went all Joanna Gaines on the shop," Olivia continued. Ride or die did not mean not keeping it real.
"I was just talking. I didn't think anyone was paying attention to us. There was no one paying attention to us." Except the finest man she'd seen in forever. Wait. No. "He winked at me. Who does that?"
"I think he was being cheeky."
Jada squinted at Olivia. "Cheeky? Are you British now?"
"Must be all those episodes of Doctor Who and Great British Bake Off." Olivia swung an arm around her shoulders and squeezed. "Sorry he brought up marriage."
The sorest of subjects. Turning down a marriage proposal on national TV was how she'd ended up in this mess, although to be honest, messes were her specialty. She blew out a breath. "Yeah, well, he didn't know he was stepping into it."

From Fake It Till You Bake It by Jamie Wesley. Copyright © 2022 by the author and reprinted by permission of St. Martin's Publishing Group.
From Fake It Till You Bake It by Jamie Wesley. Copyright © 2022 by the author and reprinted by permission of St. Martin's Publishing Group.
Giveaway:

One Print copy of Fake It Till You Bake It by Jamie Wesley, US Winner Only
To enter Giveaway: Please complete the Rafflecopter form and post a comment to this Q:

What did you think of the excerpt spotlighted here? Leave a comment with your thoughts on the book…
Meet the Author:
Jamie Wesley has been reading romance novels since she was about 12 when her mother left a romance novel, which a friend had given her, on the nightstand. Jamie read it instead, and the rest is history. When she's not writing or reading romance, Jamie can be found watching TV, rooting for her favorite sports teams, and/or planning her next trip to Walt Disney World.