Today it is my pleasure to host debut romance author from Forever Yours

Kate Meader

to HJ!
Thanks to Harlequin Junkie for letting me chat about Feel the Heat, the first book in my Chicago-set Hot in the Kitchen series about an Italian restaurant-owning family and the sizzling, sexy chefs who love them.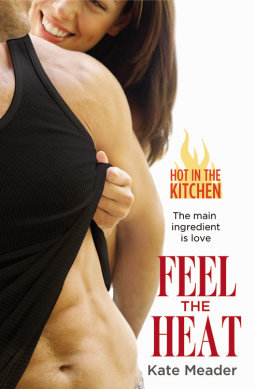 Jack Kilroy, the British celebrity chef in Feel the Heat has a reputation in the tabloids for his expertise in both the kitchen and the bedroom. But when he becomes better known for his sex life than his cooking credentials, he realizes he has an image problem. Right about the same time he meets a curvaceous smart mouth who has her own reasons for avoiding the limelight. Of course, Lili DeLuca is happy to go along with those pre-conceived notions she has about "Red Hot Kilroy Peppers," as Jack is known in the gutter press, and grab that one night of no-strings passion—but Jack's not putting out until she agrees to a date.
And that's when the fun begins.
Their steamy smooch goes video viral. Her butt starts trending on Twitter. The Jack Kilroy fan club is wielding bitch forks. There are a million tweeted reasons why these two can't be together, but the single-minded focus that makes Jack an alpha in the kitchen and the bedroom keeps him on target. He drives her crazy with hot kisses. He seduces her with goat cheese caramel gelato. He teases her until she can't take it anymore. And while it kills him to hold out, he knows that when they finally come together, it's going to be explosive and real between them. This guy's not messing around!
Until then, this is their problem:
"Maybe we should slow down. Talk a little first." She looked befuddled. He tried again. "What happened to getting to know someone?"
She cracked a sexy smile with a side of condescension. "Jack, I'm not looking to know you."
No, she wasn't, unless you counted biblically. She was looking for the guy who indiscriminately dated and bedded famous women. A guy whose life could be reduced to adjectives, most of them unflattering. That guy.
He's got his work cut out for him, for sure…
Giveaway: 2 e-copies of 
FEEL THE HEAT by Kate Meader
To enter Giveaway: Please complete the Rafflecopter form and post a comment to this Q:
What do you think is the main ingredient in a relation and why?
FEEL THE HEAT by Kate Meader
Hot in the Kitchen, Book 1
IF YOU CAN'T STAND THE HEAT . . .
Photographer Lili DeLuca spends all her time managing her family's Italian restaurant, instead of following her dream of getting an MFA. When famous British chef Jack Kilroy unexpectedly challenges her father to a cook-off, Lili decides she's tired of playing it safe and vows to seduce the tempting Brit. But once a video of her and Jack kissing goes viral and her luscious butt starts trending on Twitter, Lili fears she's cooked up a recipe for disaster.
GET INTO THE BEDROOM
Jack Kilroy's celebrity has left him feeling used and used up. While Lili's oh-so-sexy moans when she tastes his delicious creations turn him on, he's even more aroused by how unimpressed this beautiful, funny woman is with his fame. He knows they could be amazing together, if she could only see past his bitch fork-wielding fan base. Now, as he's about to start a new prime time TV cooking show, can Jack convince Lili to realize her own ambitions – and turn up the heat in his kitchen?
During the Feel the Heat release tour, I am giving away foodie-related swag: one Grand Prize and five smaller prize packs! Details and pics on my website.
About Kate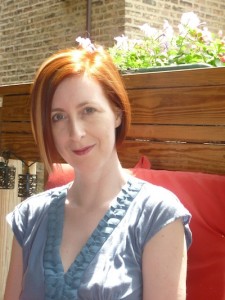 Kate Meader writes contemporary romance that serves up delicious food, to-die-for heroes, and heroines with a dash of sass. Originally from Ireland, she cut her romance reader teeth on Catherine Cookson and Jilly Cooper novels, with some Mills & Boons thrown in for variety. Give her tales about brooding mill owners, oversexed equestrians, and men who can rock an apron, and she's there. She has a bachelor's in law (useless), a master's in history (not as useless), and another master's in library and information science (yay, using). When not writing about men who cook and the women who drool over them, she works in an academic library. Her stories are set in her adopted home town of Chicago, a city made for food, romance, and laughter – and where she met her own sexy hero. For news, excerpts, and recipes, check out her website at http://www.katemeader.com.
Links
Contact: [email protected]
Website: http://katemeader.com
Facebook: https://www.facebook.com/authorkatemeader
Twitter: @kittymeader
Goodreads: http://www.goodreads.com/author/show/6551743.Kate_Meader
Blogs: http://katemeader.com/blog/